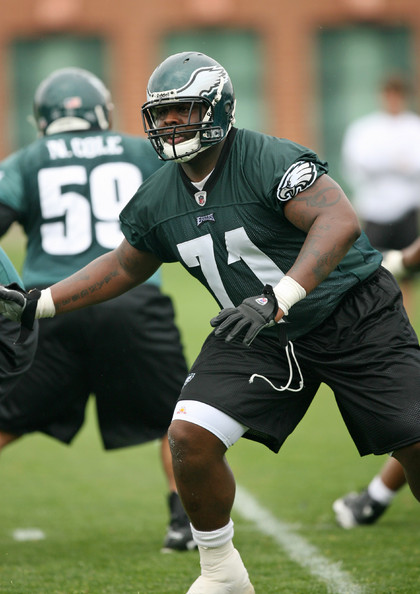 Here's a nice piece of trivia for you this weekend. Who are the only two men to have played in both the NCAA Final Four and the NFL's Super Bowl?
That would be Eagles quarterback Donovan McNabb and Carolina Panthers defensive end Julius Peppers.
Peppers would like the two guys to have something else in common on Sunday afternoon in Charlotte. He'd like them both to spend a lot of time on the ground together in the Eagles backfield. Donovan -- not so much.
Julius (who was named after Dr. J) is the right defensive end for the Panthers, but he likes to move around, shifiting to the left side sometimes, standing up and jokering his way along the defensive line looking for an opening sometimes.
At least to start the game, he should be lined up against left tackle Jason Peters, but Julius can read a scouting report. Expect him to test Shawn Andrews on the other side fairly quickly.
Here's a prediction that wouldn't surprise me at all if it comes true. Shawn Andrews will be just fine in this game. He's a beast when he's right and, although that hasn't been the case for more than a year, he appears to be OK now. That's what he says. That's how he looks. That's what the coaches say. So, until further notice, he's OK.
Where the problem may arise Sunday is with Peters. He has looked extremely ordinary since arriving in Philadelphia. As weird as things have been with Shawn Andrews, my greatest concern for the offensive line -- and that covers a bunch of problems -- is with Peters.
Peppers will tell you where the weak link is. By the second quarter, he'll have it figured out and that's where he'll be lining up.
If nothing else, Peppers is a motivated man. He asked to be traded to a 3-4 defense during the offseason because he thinks outside linebacker is the place for him to extend his career. The Panthers didn't accomodate him. In fact, they put the franchise tag on him, which didn't please Peppers all that much. But he will be an unrestricted free agent after this season and the NFL appears to be headed into an uncapped year in 2010. That means Julius Peppers isn't just playing for contract. He's playing for CONTRACT!
Motivation is a wonderful thing in sports, but it might not be so good to be lined up opposite Peppers this season. Peters and Andrews have the first chance to enjoy that experience, with Peters having the job of protecting McNabb's blind side. Watch your back, Don.