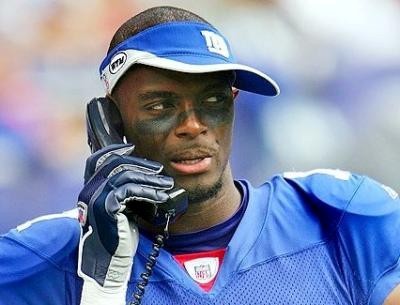 The weekly Post Patterns feature in which Plaxico Burress brings you his NFL Power Rankings almost didn't happen this week because, well, they took PBurr off to Rikers Island on Tuesday.
Fortunately, he was still packing his cell phone and was able to get the rankings to Post Patterns before the steel door shut. A little garble in the transmission, but they go something like this:
1. New York Giants -- I know the guys have dedicated this season to me and that makes me feel good, but, man, can't they miss me a little bit?
2. Pittsburgh Steelers -- Lost to the Bears, but it'll be a while before they lose again. Like Week 12 in Baltimore? Hope I got TV privileges for that one.
3. Baltimore Ravens -- Might have lost Sunday but that Norv Turner could mess up a pop-top.
4. New England Patriots -- Yes, I know they lost. Shut up!
5. Dallas Cowboys -- Pains me to say it. Truly.
6. Indianapolis Colts -- The dude that waves his hands around caught up with some cat named Unitas. Beats me, too.
7. Philadelphia Eagles -- Check it out. My man Michael gets the rock now and it's on.
8. New Orleans Saints -- I ain't crazy. They could lose at Buffalo and then ya'll can stop that nonsense.
9. Chicago Bears -- Beat up ain't the same as done. Hasselbeck better stay injured this week. And that Dobie Gillis looking cat can throw the ball for the Bears.
10. Minnesota Vikings -- Give the ball to Purple Jesus and get out of the damn way.
11. San Diego Chargers -- I'm in jail and Norv Turner is a free man? No justice.
12. Atlanta Falcons -- Couldn't intercept Jake Delhomme, but I still like 'em.
13. New York Jets -- J-E-T-S, Jets. I might beleive, but not quite Y-E-T, yet.
14. Tennessee Titans -- Freaky team, better get unfreaky in the Meadowlands.
15. Houston Texans -- All gun, no bullets, as we say in the club.
16. Green Bay Packers -- Cheese puffs. I just see me some Cheese puffs.
17. Arizona Cardinals -- Yeah, receivers. Couldn't carry my gloves.
18. Seattle Seahawks -- Can't name you five of them.
19. San Francisco 49ers -- 2-0 gonna be Oh-Oh in Miami this week. Just you watch.
20. Miami Dolphins -- Wildcat, baby. When I get back, I'm playing me some quarterback, too.
21. Denver Broncos -- Another 2-0 that could go down. I mean, Raiders suck, but still.
22. Cincinnati Bengals -- Interesting. Got a lot of former Bengals in jail here with me.
23. Buffalo Bills -- I can hear that T.O. jet revving up. He's not happy yet.
24. Carolina Panthers -- Welcome to Big D, Jake. As you're laying there on your back, have a look at that fine new video board.
25. Washington Redskins -- Four first-and-goals against St.L, three field goals. Sad stuff, baby.
26. Cleveland Browns -- Awful, and getting worse.
27. Jacksonville Jaguars -- Nasty bad, and it ain't even like you get to live in Florida. I mean, we're talking about Jacksonville.
28. Tampa Bay Bucs -- Guess Grudoggie Dog wasn't the problem, check?
29. Detroit Lions -- Will win a game. If you told me this week, I'm not sure you'd be lying.
30. Kansas City Chiefs -- Another coach ought to be sharing some cell time with PBurr.
31. Oakland Raiders -- This is too low, but that Al Davis dude freaks me out, man.
32. St. Louis Rams -- Can't score in women's prison with a pack of cigarettes.
--- --- ---
Lost the connection after that, but Plax promises to be back next week with new installment of the Power Rankings. He gets one phone call a week. Might as well be Post Patterns.