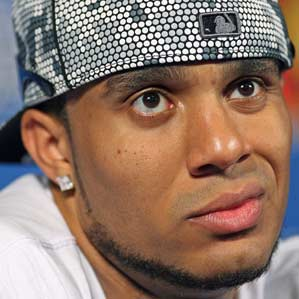 I know I'm still catching up with things after being out of town, and this is old news here, but THE FLYERS SIGNED RAY EMERY??
That is apparently the case. I had to make sure, so I went over to the site of team spokesman Tim Panaccio and, yep, he had it, too. Said the "dust had settled after another sandstorm in Flyerdom," which threw me off a little. I mean, was it dust, or was it sand?
Either way, it was Ray Emery, the new goaltender, by way of Ottawa, by way of Russia, by way of Wackoville. With both Marty Biron and Antero Niittymaki becoming free agents on July 1, I guess the Flyers had to do something -- re-signing Biron would have been my preference -- and, oh yes, they did something.
It's awful to be accused of second-guessing a team, waiting for the outcome to decide if the organization was right or wrong in making a move. So, let's get the first guess out of the way now. This is going to be an utter disaster. Guys don't change at 26. If they miss practices, show up late all the time, get into automobile accidents, become a joke in their own locker rooms in one place, it's going to happen in the next place as well.