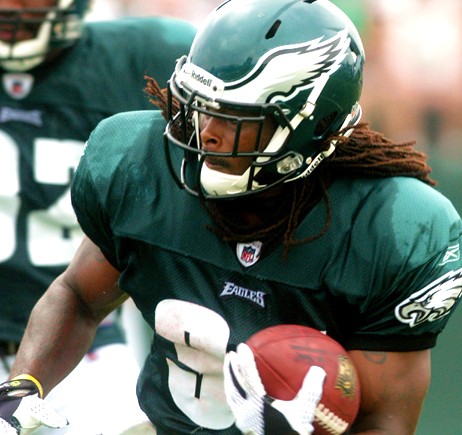 There's always a couple of surprises when the 53-man roster is announced, and predicting those are risky business. Figuring out what the Eagles will do today is no different, particularly as the race to put A.J. Feeley in another uniform speeds up.
One selection that would have been a surprise at the beginning of camp might no longer be that much of a shock. At the fourth running back position, behind Brian Westbrook, Leonard Weaver and LeSean McCoy, I'd put Eldra Buckley on the roster rather than Kyle Eckel. (If there are any Lorenzo Booker fans out there, best of luck with that one.)
Buckley, in the opportunities he has had, takes the ball, runs straight ahead and knocks people over. Those are three good things. If he makes the team, his contributions would probably be mostly on special teams and he's not that big (5-foot-9, 205), but he's earned a spot.
If it were my calls, I'd also keep cornerback Dmitri Patterson over Jack Ikegwunou, and linebacker Matt Wilhelm over Tracy White. I'm a little nervous about the middle linebacking position and Wilhelm has experience in the middle of the field, albeit in a 3-4 defense. Otherwise, the Post Patterns projection looks just about like everyone else's. Dan Klecko is really on the bubble to make the D-line as is either Brandon Gibson or Reggie Brown at wide receiver.
Should the Eagles swap Feeley to New England for a tight end -- Alex Smith and Ben Watson are the bubble boys there -- I'd cross Matt Schobel off the 53-man list, too.
As Andy Reid likes to say, "We'll see." At about 6 p.m.