Archive: April, 2009
Bob Ford, Inquirer Sports Columnist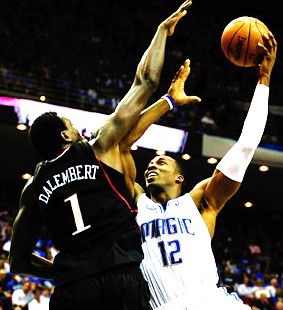 If you look at that elbow punch Dwight Howard threw at Sam Dalembert on Tuesday, it's clear the NBA had no choice but to suspend the Orlando center. That's as clear a violation as you can have and while the official who was right there called a technical right away, the rules called for immediate ejection.
Howard has a history of using his elbow in tight quarters or to shake himself loose when an opponent is hanging on him. Understandable, but not allowable.
Why wasn't Howard thrown out of the game against the Sixers? Probably a combination of things. Conspiracy theorists will tell you that the league would prefer Orlando advance, but that's not what's at play here.
Bob Ford, Inquirer Sports Columnist
Bob Ford, Inquirer Sports Columnist
Is the day gone, or did it ever exist, when professional players were willing to take less money -- even if "less" money is a pretty good living -- to stay with an organization where the likelihood of winning is better than whatever options are out there?
The New England Patriots traded cornerback Ellis Hobbs to the Eagles on Day 2 of the draft for a pair of fifth-round picks, apparently because the team and the cornerback weren't going to come to an agreement about a contract extension. That's a two-way street, of course. The Pats made their decision and Hobbs made his, and was honest about it.
If there is any team that, over the last decade, might expect that players would be willing to stay put for a few dollars less, it is the Patriots. Doesn't work that way any more, though, as Hobbs told the Boston Herald.
Bob Ford, Inquirer Sports Columnist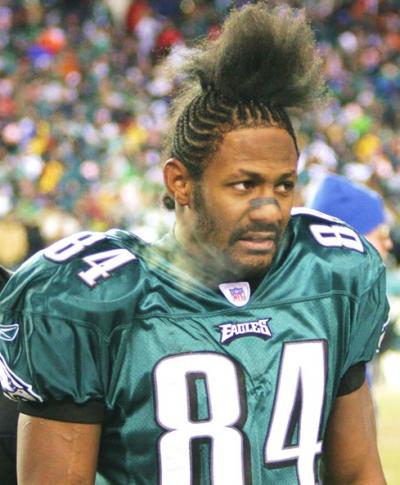 Of course, it's possible that you already know the truth about Freddie Mitchell, which is that he keeps saying hello long after it was time to say goodbye.
Nevertheless, believing that mass communiation is a good thing for us all, the online guru staff here at Post Patterns feels obligated to direct you to Freddie's new blog.
It looks legitimate. For one thing, it's crazy and it correctly lists the proprietor as a Sagittarius born in the year of the Horse.
Bob Ford, Inquirer Sports Columnist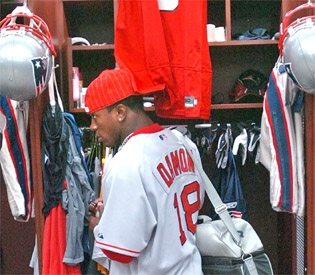 Why is it that the Eagles seem to have no problem making players happy who are dissatisfied with their contracts or looking to better their situations as long as they are on someone else's team.
In getting New England cornerback Ellis Hobbs (left) on Sunday, a solid and understandable acquisition, the Eagles sent a message to Sheldon Brown that he might be on the way out for the sin of wanting to have his contract redone.
Now, with four years remaining and very little leverage, Brown may have spoken and acted out of anger rather than reason, but he was being honest.
Bob Ford, Inquirer Sports Columnist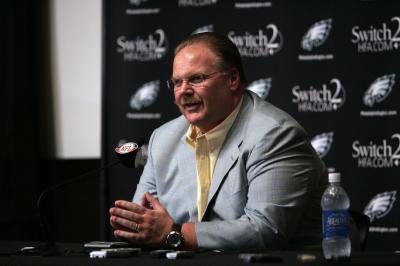 After getting offensive weapons Jeremy Maclin and LeSean McCoy in the first and second rounds on Saturday, the Eagles get to sleep on what they would like to target for their remaining seven picks.
They hold: one third-round pick (85), four fifth-round picks (141), (153), (157), (159), one sixth-round pick (194), and one seventh-round pick (230).
It is unlikely they will use them all. More likely at least one or two will be either packaged this year, or swapped for picks in upcoming drafts.
Bob Ford, Inquirer Sports Columnist
You want weapons? Andy Reid gave the offense weapons on the first day of the draft, adding Pitt running back LeSean McCoy in the second round after taking wide receiver Jeremy Maclin from Missouri in the first round.
McCoy is a 5-foot-11, 210-pound Brian Westbrook clone from Harrisburg who gives the Eagles more depth and versatility. He isn't described as a power rusher, but one who can burst outside and catch the ball well out of the backfield.
Put McCoy together with Westbrook, Maclin and DeSean Jackson and you can expect the Eagles to jump fully into the "Wildcat" trend of quick-hitting offense, with quick, multiple-position skill players capable of game-breaking plays. McCoy took snaps from center often for Panthers.
Bob Ford, Inquirer Sports Columnist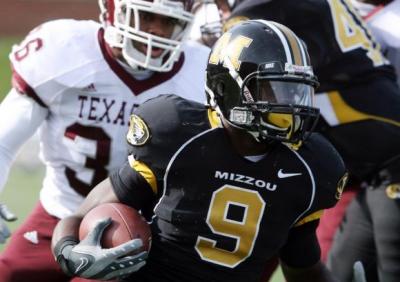 From the Quick Study department, one of the Post Patterns specialties:
* Jeremy Maclin didn't do well in his 40-yard dash times at the NFL Combine, but that was partially the result of a tumble during passing drills in which he suffered a hyperextension of his left knee and a bruised hip. He was timed at 4.45, but was given unofficial clockings that morning, before the fall, of 4.35 and slightly better.
* He was given a medical hardship prior to his 2006 redshirt season, after tearing the ACL in his right knee at the start of camp. He didn't miss any time because of the knee during either the 2007 or 2008 seasons at Missouri.
Bob Ford, Inquirer Sports Columnist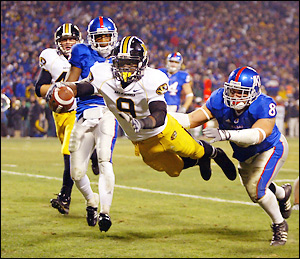 If you wanted a top tight end from the first round of the draft for the Eagles, or a running back, you were disappointed.
But if you were standing in the long time waiting for an elite receiver to pair with DeSean Jackson, the selection of Jeremy Maclin of Missouri with the 19th pick of the first round is a good one.
Combined with Jackson, Maclin will give the Eagles amazing versatility and another top return threat. Several draft boards and rankings listed Maclin as high as the 5th or 6th best prospect in the draft.
Bob Ford, Inquirer Sports Columnist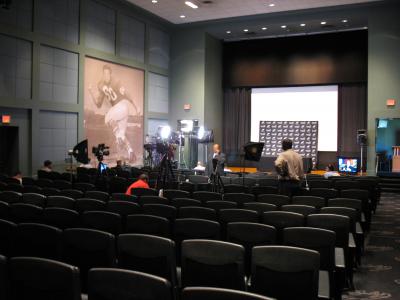 Knowshon Moreno, the running back from Georgia thought to be coveted by the Eagles, or at least by those who thought the Eagles should be coveting a running back, went to Denver with the 12th pick in the draft.
Will he stay there, or did the Broncos draft him for another team? The only real reason to wonder is that was a little high for Moreno to be taken, and the Broncos have already acquired running backs Correll Buckhalter, J.J. Arrington and LaMont Jordan during the offseason. Are they trying to collect the whole set?
Previous NovaCare posts today: