Archive: January, 2011
Bob Ford, Inquirer Sports Columnist
There was no way to know when it happened -- it seemed like mere garbage time in a one-sided game -- but at the start of the fourth quarter on Sept. 26, the third game of the season, David Garrard and the Jacksonville Jaguars accomplished something against the Eagles that no team would match the rest of the season.
The Jags were trailing 28-3, the eventual final score, and were facing a 4th-and-6 at the Eagles' 18-yard line. They went for the first down, of course, with Garrard dropping back to pass and attempting to locate receiver Ernest Wilford. He didn't succeed and the Eagles took over the ball on downs.
The significance? Well, during the 2010 season, opponents would drive inside the Eagles' 20-yard line -- the crucial red zone -- a total of 43 times. On 42 of those occasions, the opponent would come away with either a touchdown (33 times) or a field goal (9 times). Only Jacksonville couldn't manage the trick. Who knew?
Bob Ford, Inquirer Sports Columnist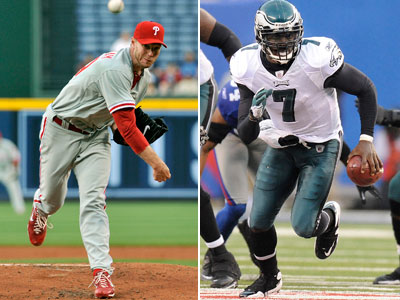 When the Phillies were coming down the stretch drive of their 2010 season, you might remember there was a little concern about Roy Halladay and whether he was wearing down from the long campaign and his new career record for innings pitched.
Big Roy had a few starts in August and September that were a cause for worry, and he himself said it would be nice to get some time off before the postseason. Fortunately for Halladay, the Phillies clinched in time for Charlie Manuel to give him a little rest and, well, you probably remember what Halladay did in his first postseason start. No-hitter. So, he had that going for him.
Here we are heading into the postseason of a different sports season and some of that same sort of conversation is taking place regarding Michael Vick. In his case, it isn't so much just wearing out, but the toll of being smacked around, which doesn't affect Halladay except in a figurative sense. And there is also the argument that NFL defenses, having watched a number of different approaches to limiting Vick's effectiveness, have settled on one that works – lots of blitz pressure and a soft umbrella secondary to stop the big plays.