Archive: June, 2013
Thomas Fitzgerald, Inquirer Politics Writer
Katie McGinty has landed the former head of the Pennsylvania Democratic Party, T.J. Rooney, as chairman of her campaign for governor and has tweaked the state paperwork to end the "exploratory" status of her committee. She's all in.
"As a former Democratic Party chair and state legislator, T.J. Rooney brings a wealth of statewide political experience to our campaign to create jobs, improve public schools and help families succeed," McGinty said in a statement.
Thomas Fitzgerald, Inquirer Politics Writer
Democratic powerbroker David L. Cohen has already crossed party lines to raise money for Republican Gov. Corbett.
Now, the executive vice-president of Comcast is holding a fundraising reception at his home for Pennsylvania Republican U.S. Sen. Pat Toomey.
Thomas Fitzgerald, Inquirer Politics Writer
Pennsylvania Gov. Corbett (R) is the "incumbent likeliest to lose if he makes it to November 2014," Sabato's Crystal Ball, a leading political newsletter, predicted on Thursday.
The newsletter, produced by the scholars and analysts of the Center for Politics at the University of Virginia, also downgraded its rating of Corbett's electoral health. A few months ago, the Pennsylvania governor race was considered a "toss-up." Now, it "leans Democratic."
Thomas Fitzgerald, Inquirer Politics Writer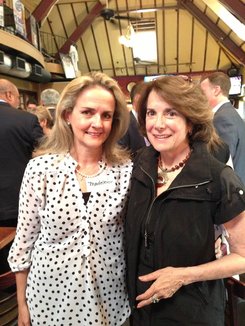 Democratic state Rep. Madeleine Dean, of Montgomery County, on Wednesday endorsed Marjorie Margolies in her bid to represent Pennsylvania's 13th District in the U.S. House.
"I have followed Marjorie's career for many years and I am inspired by her," Dean said in a statement. She praised Margolies' "courageous and correct" vote in the House in1993 that saved President Bill Clinton's economic plan. Margolies was representing the 13th at the time; she lost the seat in the 1994 election and is now attempting a comeback.
The district, in Montgomery County and Northeast Philadelphia, has an opening for representative because incumbent U.S. Rep. Allyson Schwartz (D) is running for governor in 2014 and is not seeking reelection to the House. The endorsement was announced by Margolies' campaign.
Thomas Fitzgerald, Inquirer Politics Writer
State Sen. Daylin Leach, a.k.a. "The Kid from Montco," has a thing for Rocky references.
He's hosting a big fundraiser Wednesday night for his campaign for the Democratic nomination in the 13th congressional district, and all the contribution levels are named for Rocky opponents. There's the Apollo Creed Level, at $2,600 a ticket; the Ivan Drago Level, which will cost you $1,000; the Clubber Lang level at $500 a ticket; and then the Tommy Gunn Level, $250.
Thomas Fitzgerald, Inquirer Politics Writer
Dear Congress: We hate you. Yours truly, America.
Just about 8 in 10 Americans told Gallup pollsters this month that they disapprove of the way Congress is handling its job. Or rather, the way it is not handling it. Fifty-nine percent of those polled said their negative rating of Congress was because of its ineffectiveness and gridlock; the voters are fed up with the endless partisan posturing and lack of legislation that seems relevant to their lives.
Thomas Fitzgerald, Inquirer Politics Writer
Most of the attention in Pennsylvania Democratic politics lately has shone on the candidates jockeying in the early going of the 2014 primary for governor.
But there's also a contest for lieutenant governor brewing, and Brad Koplinski, a Harrisburg city councilman, just landed a big prize in the race – endorsements from 118 elected officials and party leaders.
Thomas Fitzgerald, Inquirer Politics Writer
U.S. Rep. Allyson Schwartz called herself the "highest-ranking" elected woman in Pennsylvania in a recent interview with the Philadelphia Daily News.
Umm…