Archive: May, 2013
Thomas Fitzgerald, Inquirer Politics Writer
Triple M is now MM, but otherwise it's back to the future in Pennsylvania's 13th CD as Democrat Marjorie Margolies jumps into the race to for the U.S. House seat she lost 20 years ago after her decisive and fateful vote for President Bill Clinton's economic program with tax increases.
The district has the same number it did back in the day, but it's a vastly different place, as I explore briefly in today's Philadelphia Inquirer story – thanks to ongoing partisan realignment in the Philadelphia suburbs, and related GOP gerrymandering.
Thomas Fitzgerald, Inquirer Politics Writer
Marjorie Margolies said she is running to represent Pennsylvania's 13th district in the U.S. House, hoping to recapture the seat she lost two decades ago after a controversial vote, because Washington needs a woman's touch.
"The public is speaking, saying, 'Stop it. Get things done. Stop acting like children," Margolies said in an interview Thursday, speaking of the dysfunction of Congress.
Thomas Fitzgerald, Inquirer Politics Writer
Harrisburg bureau intern Megan Rogers filed the following report on the latest news in the 2014 governor's race:


Democratic gubernatorial candidate John Hanger Wednesday rolled out his job creation program.
Thomas Fitzgerald, Inquirer Politics Writer
Marjorie Margolies plans to file a statement of candidacy Thursday for the 13th District U.S. House seat that she held for one term in the early 1990s, sources close to the former congresswoman said.
Then-Rep. Marjorie Margolies-Mezvinsky cast the deciding vote to enact President Bill Clinton's economic plan, which increased taxes $241 billion. Much of the burden fell on wealthy taxpayers, but there was also a hike in the gas tax, and she had promised in her 1992 campaign to oppose tax increases.
Margolies, 70, who now heads Women's Campaign International, which develops female political leaders in emerging democracies, and teaches government at the University of Pennsylvania, has always defended her reluctant vote as the right thing to do. (She resumed her maiden name after a divorce.)
Thomas Fitzgerald, Inquirer Politics Writer
Rep. Daryl Metcalfe, a Republican from Butler County, is known as arguably the most conservative member of the Pennsylvania House, but his recent interest in a "dark money" advocacy group has put him crosswise with an ideological ally.
As chairman of the House's State Government Committee, Metcalfe has convened a June 5 hearing into campaign-finance disclosure regulations, keying off the activities of Pennsylvanians for Accountability, a liberal group that has sponsored TV ads ripping Gov. Corbett's record and targeted four GOP House members in vulnerable districts last year.
Thomas Fitzgerald, Inquirer Politics Writer
Emily's List, the powerful financier of feminist women in politics, on Thursday endorsed Democratic U.S. Rep. Allyson Schwartz for governor of Pennsylvania.
The nod from the national group, which has 2 million members and backs female Democratic candidates who support abortion rights, should boost Schwartz's fundraising. If she were to win the 2014 nomination and then defeat Gov. Corbett (R), Schwartz would be the first woman elected governor of the state.
Thomas Fitzgerald, Inquirer Politics Writer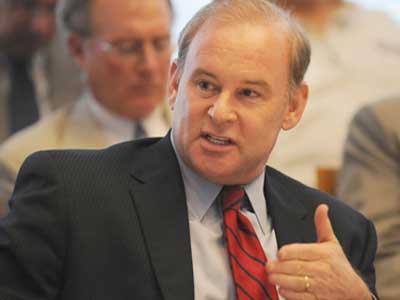 State Treasurer Rob McCord so far has been the quiet man in the Democratic race for governor.
Insiders assume he will be running, but, unlike at least six other candidates, McCord hasn't announced his intentions or even launched an official exploratory effort. But he has been making fundraising calls, just months after winning his second term as treasurer in November 2012.
Thomas Fitzgerald, Inquirer Politics Writer
Gov. Corbett's campaign web site has crackled to life again, with a rebranded splash page designed to get supporters' email addresses, recruit volunteers and accept donations.
It is a sure sign that the governor is warming up his political organization ahead of the 2014 reelection campaign, which has already attracted at least seven Democratic candidates eager to challenge him.