Archive: May, 2012
Thomas Fitzgerald

, Inquirer Politics Writer

First Lady Michelle Obama is scheduled to visit Philadelphia June 6 for a "grassroots" political event as part of the president's re-election effort, according to a campaign official.

Further details will be released in coming days, the official said. Stay tuned to this space or go to www.pa.barackobama.com for updates.
Thomas Fitzgerald

, Inquirer Politics Writer

Now, from Michigan, a Senate candidate takes the subculture of "birtherism" to new heights:

Former U.S. Rep. Pete Hoekstra, running for the Republican nomination to take on incumbent Democratic Sen. Debbie Stabenow, earlier this month called for the creation of a new federal agency to scrutinize the birth certificates of presidential candidates. He made the proposal in response to a voter's question at a tea party town hall meeting.

Democrats seized on Hoekstra's appearance with the Lapeer County Tea Party Patriots, which was first reported Wednesday by The Hill newspaper. Donald Trump and other Republicans have recently embraced the contention that President Obama was not born in the U.S. and thus is constitutionally ineligible for office, despite overwhelming evidence that the president was born in Hawaii.
Thomas Fitzgerald

, Inquirer Politics Writer

Now comes the Republican National Committee with an embarrassing video that shows the Obama campaign and Newark Mayor Cory Booker contradicting each other on the question of whether he was coached by the campaign before walking back his criticism of the attacks on Bain Capital.

Obama campaign spokesman Ben LaBolt said Monday in a television interview that there was no contact, and Booker released his clarifying video "of his own volition" on Sunday night. Yet Booker said in an interview on MSNBC Monday night that he had talked with campaign officials before releasing his video.

"If the Obama campaign spent as much time working with job creators instead of demonizing them and their defenders, our economy would be in much better shape," RNC Chairman Reince Priebus said in a statement. "It's sad to see the candidate of 'Hope and Change' descend into the president of dishonest attacks and dishonest cover-ups."
Thomas Fitzgerald

, Inquirer Politics Writer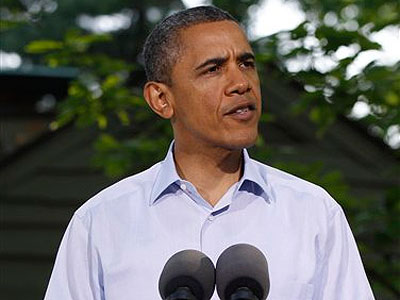 President Obama's re-election campaign is continuing its attacks on Republican Mitt Romney as a job killing profiteer during his career in private equity, launching a web video Monday centered on the experience of workers at Ampad, a paper company.
Bain Capital, where Romney was CEO, bought Ampad in 1992, mostly with borrowed money, then acquired other paper companies over the next several years. By 1999, the company carried $400 million in debt, and it went bankrupt in 2000. Bain realized a profit of $100 million on its initial $5 million cash investment.
The latest Obama video focuses on a paper company in Marion, Ind. that Bain-controlled Ampad bought in 1994; all 250 workers were immediately fired and made to reapply for their jobs – at much lower wages and benefits. That plant closed one year later. The video features interviews with several workers who saw their middle-class lives fall apart.
Thomas Fitzgerald

, Inquirer Politics Writer

Republicans are starting to use their SuperPAC network for air support in the presidential race, an advantage much feared by Democratic strategists..

Crossroads GPS, the independent group co-founded by Karl Rove, Wednesday announced a $25 million ad buy in Pennsylvania and other battleground states, matching President Obama's campaign dollar-for-dollar through the end of the month.

The ad argues that Obama has not kept his campaign promises, citing a continued wave of home foreclosures, taxes, the deficit and health care, among other problems that it says have not abated in the past four years.
Thomas Fitzgerald

, Inquirer Politics Writer

Mitt Romney wants voters to see his 15 years at the head of the private equity firm Bain Capital as his chief strength: he's a fix-it guy who knows how the economy works and how to create jobs.

President Obama's team knows that sluggish job growth is a weakness, so it is busy writing a darker Bain story, of Romney the "vampire" capitalist who sucked dozens of companies dry, laying off workers and looting pensions, so he and other super-rich investors could reap bigger profits.

On Tuesday a super PAC supporting Obama – Priorities USA -- bought $4 million worth of time on TV and online in the battleground states of Pennsylvania, Colorado, Florida, Ohio and Virginia. The spot is centered on the tale of GST Steel in Kansas City, Mo., shuttered in 2001, the same case study used in an Obama campaign ad released on Monday. (It will be shown Wednesday during the network evening news in the battleground states.)
Thomas Fitzgerald

, Inquirer Politics Writer

President Obama's campaign launched a new television ad Monday morning that goes straight at Republican Mitt Romney's chief credential, business experience, attacking him as a greedy corporate executive who killed jobs and was indifferent to the suffering of workers.

The two-minute TV commercial uses the example of GST Steel, a Kansas City steel mill that was purchased by Bain Capital, Romney's former private equity firm, then restructured and ultimately closed, costing 750 jobs. It features former workers who describe the devastation and the lost pension benefits.

"It was like a vampire," former GST Steel worker Joe Cobb said. "They came in and sucked the life out of us."
Thomas Fitzgerald

, Inquirer Politics Writer

Democrats continue to pounce on Republican presumptive nominee Mitt Romney's claim that he can "take a lot of credit" for the comeback of the U.S. auto industry, given his strong opposition to the federal bailout of General Motors and Chrysler in late 2008 and early 2009.

President Obama is betting that the decision to give direct loans to the automakers, who are now doing well, many help politically in areas where suppliers to the auto industry employ hundreds of thousands of people, including Michigan, Ohio and western Pennsylvania.

"Mitt Romney has made a long list of absurd statements, but this may be at the top," Michael Lamb, Pittsburgh city controller, said Wednesday on a conference call with reporters organized by the Obama campaign. "It's tone deaf and blind to reality…He'll say anything to get elected."