Archive: April, 2013
Thomas Fitzgerald

, Inquirer Politics Writer

Former state Revenue Secretary Tom Wolf, a Democratic candidate for governor, announced Monday that he has hired as campaign manager the strategist who managed two winning races for the governor of West Virginia.

Joe Shafer, a native of Athens, Pa., ran winning special election and re-election campaigns for Democratic Gov. Earl Ray Tomblin in 2011 and last year. He was Northeast regional political director for the Democratic Congressional Campaign Committee, based in Washington. In the 2008 election cycle, Shafer was executive director of the Pennsylvania House Democratic Campaign Committee.

"We are committed to running a campaign that we can all be proud of, holding Gov. Corbett accountable for putting special-interests over the interests of the middle-class," Wolf said in a statement. "We are lucky to have Joe on board. There is no better tactical and strategic mind in Democratic politics today than Joe's."
Thomas Fitzgerald

, Inquirer Politics Writer
Pennsylvania voters disapprove of Gov. Corbett's job performance 47 percent to 38 percent, the fourth straight month with a negative rating, according to the independent Quinnipiac University poll.
Three potential Democratic opponents each leads the Republican incumbent by 9 percentage points or more, the poll finds.
Thomas Fitzgerald

, Inquirer Politics Writer

U.S. Rep. Bob Brady, the influential chairman of Philadelphia's Democratic Party, has a favorite in the crowded 2014 primary for governor: state Sen. Mike Stack.

"He's smart, he knows the state government, and he's well liked," Brady said Wednesday. "Good family, good man."
Thomas Fitzgerald

, Inquirer Politics Writer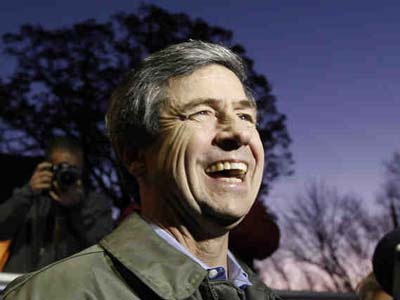 Whatever Joe Sestak's plans are remain locked inside his own mind, but there is a strong sign that he's running for something.
The former 7th District congressman and retired rear admiral raised $460,000 over the first three months of the year, according to a quarterly Federal Election Commission report filed April 20.
Thomas Fitzgerald

, Inquirer Politics Writer

The Republican Party of Pennsylvania has a new executive director who will be a familiar face to party insiders.

Bob Bozzuto was promoted from deputy director of the state GOP, and before that he had been in charge of the party's statewide political operations. Bozzuto takes over from Michael Barley, who earlier this month became campaign manager for Gov. Corbett's reelection effort.
Thomas Fitzgerald

, Inquirer Politics Writer

Hoping to clear the field in the looming Democratic primary for the 13th congressional district, state Rep. Brendan Boyle Tuesday touted the endorsement of U.S. Rep. Bob Brady, who also is chairman of the Philadelphia Democratic machine.

"I'm 100% behind Boyle," Brady said in a statement relesed by Boyle's campaign. "We need smart hard-working guys like him down in Washington. I look forward to campaigning with him and working together with him in Congress."

Boyle said in a statement of his own, "I'm honored to have the full backing of Congressman Brady." The words "full backing" were not underlined, but the import is clear.
Thomas Fitzgerald

, Inquirer Politics Writer
Rick Santorum, the former Republican presidential candidate and U.S. senator from Pennsylvania, has canceled his scheduled Monday trip to Iowa due to illness, according to his political organization.
Santorum was hospitalized in South Carolina Saturday for "gastrointestinal illness and dehydration," said Virgina Davis, spokeswoman for Patriot Voices. He remained hospitalized Sunday night and was not able to make the journey, she said.
Santorum had been scheduled to deliver the keynote at the 13th annual Spring Kickoff of the Iowa Faith & Freedom Coalition, an organization of religious conservatives that was an important element of his winning the Iowa caucuses last year. He had also planned to attend a luncheon for the John Paul II Medical Research Institute, an Iowa nonprofit that wants to developed advanced treatment for diseases without fetal stem cells.
Thomas Fitzgerald

, Inquirer Politics Writer
Democrat Mark Smith's support for same-sex marriage got him kicked out of the band.
A Bradford County, Pa. commissioner running for lieutenant governor, Smith said band mates in the Christian rock group One Floor Away recently told him he would have to quit as lead guitarist unless he changed his position on the issue.