Archive: March, 2012
Thomas Fitzgerald

, Inquirer Politics Writer

That rumble of cannon you hear in the distance means that the fight for the Republican presidential nomination is coming to Pennsylvania.

Mitt Romney held a telephone town hall with thousands of Pennsylvania GOP voters Wednesday evening, as a new poll showed that support for his chief rival, Rick Santorum, was plummeting in the state he had represented for 16 years in Congress.

During his 33 minute phone call, Romney attacked President Obama over the high price of gas, saying in response to a question that the incumbent was not committed to full exploitation of the nation's natural resources and wants higher energy costs to force conservation. The president, Romney said, "is not committed to the fossil fuels that drive our economy."
Thomas Fitzgerald

, Inquirer Politics Writer

Steve Welch of Chester County, the Republican U.S. Senate candidate with the state party's imprimatur, joined the campaign in earnest Tuesday with a statewide television ad, one month before the primary election.

The ad, first reported by Colby Itkowitz of The Morning Call, introduces the entrepreneur to voters by comparing him to well-known state conservatives.

"How did conservative business leader Steve Welch earn the support of the Pennsylvania Republican Party in the race for Senate?" a narrator says over pictures of the boyish Welch and his young children. "Simple. Grass roots Republicans saw in Steve Welch what they saw in Rick Santorum, Tom Corbett and Pat Toomey - a strong conservative who can win in November."
Thomas Fitzgerald

, Inquirer Politics Writer

Rick Santorum's image has taken a beating over the past month over the grueling Republican presidential campaign, but remains the stronger of the two leading contenders in the Rust Belt, according to a new Purple Poll of 12 swing states.

In February, when he began his surge as the chief rival to frontrunner Mitt Romney, likely voters in the purple states had a five-point net negative view of Santorum (38 percent favorable to 43 percent unfavorable). Now, a majority (53%) has an unfavorable view of Santorum, compared to 31% that see him favorability - a net negative swing of 17 points.

That was the good news. Independents in these crucial states have an even worse opinion of Santorum, the former Pennsylvania senator known as a culture warrior: 57 percent unfavorable, versus 26 percent favorable.
Thomas Fitzgerald

, Inquirer Politics Writer

It's back! Hide grandma and grandpa.

U.S. Rep. Paul Ryan, the Wisconsin Republican chairman of the House Budget Committee, plans to unveil his latest proposed federal budget Tuesday in Washington, and he has said the document will not back down from last year's controversial plan to convert Medicare health coverage for senior citizens into a voucher-based program.

Already, the campaign arm of the congressional Democrats has launched a preemptive strike against 41 House Republicans in competitive districts across the nation, including five in Pennsylvania and one in New Jersey.
Thomas Fitzgerald

, Inquirer Politics Writer

Rick Santorum, basing his Republican presidential campaign on the idea he is the purest conservative in the race, can't seem to escape reminders of past entanglements with former Senate colleague (and moderate) Arlen Specter.

On Sunday, Santorum said that his support for Specter's brief 1996 presidential campaign was a mistake that he wishes he could take back.

"I was his colleague in the United States Senate. He asked me to stand with him," Santorum told host Jonathan Karl on ABC's This Week. "That certainly wasn't one of my prouder moments I look back on. But look, you know, you work together as a team for the state of Pennsylvania," Santorum said. "I certainly knew that Arlen Specter was going nowhere. I certainly disagreed with a lot of things that he said."
Thomas Fitzgerald

, Inquirer Politics Writer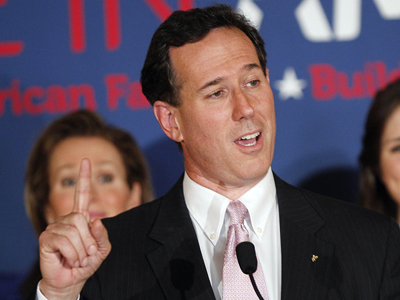 With Pennsylvania's late April primary suddenly looking like it will be a relevant inflection point in the Republican presidential race, a new Quinnipiac University poll Wednesday showed favorite son Rick Santorum with a commanding lead over Mitt Romney.
Santorum, who represented the state for two terms in the U.S. Senate, was the choice of 36 percent of registered Republicans in the survey, to 22 percent for Romney, the former Massachusetts governor who is the establishment choice for the GOP nomination but faces resistance on the right.
Texas Rep. Ron Paul drew 12 percent support, and former House Speaker Newt Gingrich got 8 percent, according to the poll.
Thomas Fitzgerald

, Inquirer Politics Writer

Rick Santorum's presidential campaign Tuesday named top-tier Republican operative Brian Nutt, the longtime adviser to Gov. Corbett, to head its primary effort in Pennsylvania.

The April 24 primary is shaping up as a crucial showdown for Santorum in the state he represented for 16 years in the House and Senate, a chance for him to gain ground as the conservative alternative to frontrunner Mitt Romney, who has amassed a lead in convention delegaqtes.

"Rick Santorum has been a strong, consistent conservative leader for not just Pennsylvania, but our entire country," Nutt said in a statement. "I have seen Rick Santorum's leadership first-hand. Senator Santorum stood up when many would back down. He is a fighter, and exactly what our country needs right now. I am excited to join his team and help him win his fifth race in Pennsylvania."
Thomas Fitzgerald

, Inquirer Politics Writer

President Obama is having gas pains.

Disapproval of Obama's handling of the economy has jumped, driven in large part by public anger over the rising per-gallon price of gasoline, according to a new Washington Post/ABC News poll released Monday. That movement, in turn, seems to have reversed gains Obama had enjoyed in re-election matchups against his potential GOP opponents in recent surveys.

In the new poll, 46 percent approve of the way Obama is handling his job, and 50 percent disapproval. That's a mirror image of his positive 50-percent-to-46-percent split early last month in the Washington Post/ABC survey.