Archive: February, 2012
Thomas Fitzgerald

, Inquirer Politics Writer

NOVI, Mich. – In the closing hours of Michigan's hard-fought Republican primary race, the Rick Santorum campaign is launching waves of automated phone calls urging Democrats to turn out Tuesday and vote for him to send a message to Mitt Romney.

The calls highlight Romney's opposition to the federal bailout of General Motors and Chrysler, credited with helping the domestic auto industry rebound, but a source of controversy because of the cost and the intervention with the free market.

Romney blasted his rival on Tuesday for "dirty tricks".
Thomas Fitzgerald

, Inquirer Politics Writer

NOVI, Mich. – As Michigan voters headed to the polls for the Republican primary Tuesday, President Obama touted his administration's bailout of the Detroit auto industry, saying that he had "placed my bet on American workers" while his GOP challengers would have let General Motors and Chrysler go bankrupt.

It was a preview of an attack the president will press in the fall campaign – both in the traditional swing state of Michigan and throughout the industrial Midwest -- against Mitt Romney, Rick Santorum or whomever emerges as the Republican presidential nominee when the chaos of a primary season sorts itself out.

By most accounts, the domestic auto industry is rebounding three years after the bailout. Sales for the Big Three – GM, Chrysler and Ford – are projected to pass 14 million cars this year, up from last year's 12.8 million. GM alone posted a record $7.6 billion profit in 2011.
Thomas Fitzgerald

, Inquirer Politics Writer

NORTHFIELD, Mich. -- President Obama's re-election campaign has jumped in to the fratricidal battling ahead of the Michigan Republican primary, airing an ad that attacks the GOP candidates for opposing the government bailout that saved General Motors and Chrysler from bankruptcy.

"When a million jobs were on the line, every Republican turned their back, even said 'Let Detroit go bankrupt,'" the narrator says in the 30-second spot. A freeze frame photo of Mitt Romney, who was born in Michigan and whose father was governor, appears with the headline of an op-ed Romney wrote in the New York Times that uses the word "bankrupt."

Romney and his fellow candidates say that it's not the government's job to pick winners and losers. They argue that a private process of bankruptcy reorganization could have saved GM and Chrysler without taxpayer involvement.
Thomas Fitzgerald

, Inquirer Politics Writer

While he seeks to emphasize his coal miner grandpa and industrial tax policy in the fight for Michigan and the Midwest, Republican presidential candidate Rick Santorum is finding it hard to avoid the social issues that have defined his career as one of the nation's most prominent conservative cultural warriors.

On CBS' Face the Nation Sunday, Santorum criticized President Obama's health-care law for requiring health insurance plans to cover prenatal tests that are used to detect fetal abnormalities and thus "encourage abortion." He has expressed the same idea in recent campaign appearances.

"The bottom line is that a lot of prenatal tests are done to identify deformities in utero and the customary procedure is to encourage abortions," Santorum told host Bob Schieffer. He said he was referring specifically to amniocentesis, in which fluid from the amniotic sac is drawn to test chromosomes for birth defects.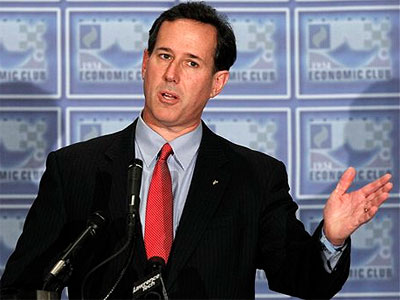 Republican presidential candidate Rick Santorum on Friday disavowed an off-color joke about contraceptives told by his superPAC sugar daddy, multimillionaire investor Foster Friess.
"I'm not responsible for every comment that a supporter of mine makes," Santorum said on CBS' This Morning. "It was a bad joke, it was a stupid joke, and it is not reflective of me or my record on this issue."
On Thursday, Friess made a crack during an interview with Andrea Mitchell on MSNBC when the subject turned to Santorum's past statements on contraceptives and the recent Obama administration attempt to require religious-affiliated institutions to provide free coverage for them to employees.
Thomas Fitzgerald

, Inquirer Politics Writer

Rick Santorum is going on the air statewide in Michigan with "Rombo," a 30-second rebuttal ad designed by chief strategist John Brabender to pre-empt the attacks that are already being launched against the latest Republican to rise up to challenge Mitt Romney.

The spot features a proto-Romney, a body-double actor with the candidate's recognizably perfect hair, cufflinks and wing tips, who slinks into a parking garage and spraying mud from a machine gun at a cardboard cutout of Santorum. "Romney" keeps missing, of course, and the mud splatters on the walls and the support columns of the structure.

"As the Romney figure engages, a narrator says: "Mitt Romney's negative attack machine is back, on full throttle. This time, Romney's firing his mud at RICK SANTORUM. [Sound of gunfire rises.] Romney and his super PAC have spent a staggering 20 million ...brutally attacking fellow Republicans. Why? Because Romney's trying to hide from his big-government Romneycare, and his support for job-killing cap-and-trade. And in the end, Mitt Romney's ugly attacks are going to backfire."
Thomas Fitzgerald

, Inquirer Politics Writer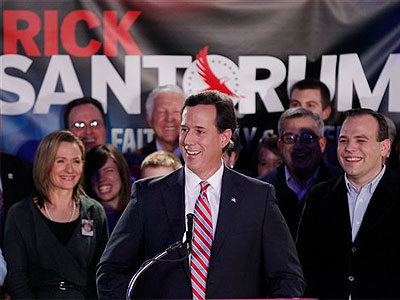 A Pew survey out Monday shows Rick Santorum edging Mitt Romney for the lead in the Republican presidential race by two percentage points, and a pair of other polls finds Santorum ahead by a comfortable margin in the upcoming Michigan primary.
In other words, the Santorum Surge looks real, and the GOP race once again has been turned on its head.
Increased support from white evangelical Christians and Republican voters who identify with the tea party conservative movement is boosting Santorum, the Pew survey found. The former Pennsylvania senator swept three states last week, and right-wing doubts about Romney have flared up again. Pew found a sharp increase in the percentage of Republican voters who say he is not a strong conservative.
Thomas Fitzgerald

, Inquirer Politics Writer

WASHINGTON – Fresh off his three-state sweep, Rick Santorum told thousands of conservative activists here Friday that Republicans can only defeat President Obama by drawing sharp contrasts.

"We're not going to win this election because the Republican candidate has the most money, with which to beat up our opponent," Santorum said. "It's going to be about who has the boldest contrast, who has the vision, who has the ideas."

Mitt Romney, who enacted a health care law as governor of Massachusetts that required people to buy insurance and was similar to Obama's national law, "would simply give that issue away in the fall," Santorum said.