Archive: October, 2012
Thomas Fitzgerald

, Inquirer Politics Writer

Mitt Romney's campaign has found the perfect way to remind voters right at the gas pump how much a gallon of fuel has increased under President Obama.

An ad created for those flat screen TVs atop pumps, is set to begin airing at up to 60 gasoline stations in the greater Philadelphia area, including a few in the Lehigh Valley, campaign officials say.

In the 40-second spot, a gas pump displays 2009's regional average price of $1.85 a gallon. As audio excerpts of Obama speeches play, the counter ticks higher, pausing at $3.69 a gallon, roughly today's price.
Thomas Fitzgerald

, Inquirer Politics Writer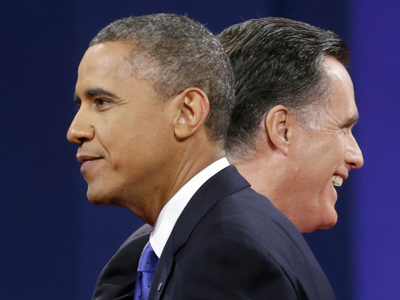 Mitt Romney is making a last-minute run at Pennsylvania – or else it's just a head fake designed to trick President Obama into spending money to defend a state where he has led for a long time.
Either way, Obama's campaign did buy $1.6 million on air time Tuesday to run 30-second and 60-escond spots through Election Day in the Philadelphia and Pittsburgh television markets.
Meanwhile, Romney's campaign had reserved at least $931,475 worth of time by late Tuesday afternoon in Philadelphia; Pittsburgh; Scranton-Wilkes Barre; Erie and Johnstown-Altoona, according to media buyers tracking political spending.
Thomas Fitzgerald

, Inquirer Politics Writer

Over the past couple of months, AFL-CIO volunteers have made more than 3 million voter contacts in Pennsylvania, the heart of organized labor's efforts to lift President Obama, Sen. Bob Casey (D) and Democratic congressional candidates in the state.

The campaign reflects AFL-CIO's expanded reach in the wake of the Citizens United Supreme Court decision that freed corporations and unions to spend unlimited money advocating for or against candidates for office.

Before the 2010 ruling, the nation's largest labor federation was allowed to communicate political messages to its membership but limited to general-issues advocacy when it came to other voters. Now, AFL-CIO has its own super PAC, Workers' Voice to connect with voters who might not be union members but are sympathetic to labor's causes and candidates.
Thomas Fitzgerald

, Inquirer Politics Writer

(Updated) Two Republican super PACs apparently are making a late play for Pennsylvania, placing a $3.2 million buy for airtime across the state in support of Mitt Romney.

Restore Our Future, the super PAC founded and financed by loyal former Romney staffers and donors, plans to spend $2.1 million for the last week of the campaign starting Tuesday, including in the expensive Philadelphia media market.

That's on top of the $1.1 million already committed by Americans for Job Security, a conservative GOP super PAC that has aired ads around the nation attacking President Obama and backing Romney for president and Republican candidates for Congress.
Thomas Fitzgerald

, Inquirer Politics Writer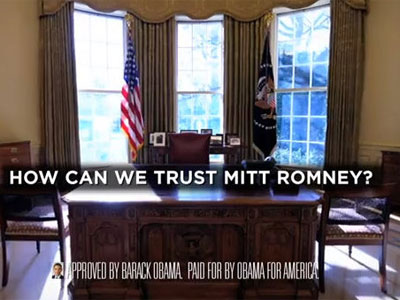 President Obama and his allies aired more TV ads in battleground states this month than Mitt Romney and his backers, despite being outspent by the Republican nominee and GOP party and PAC groups, according to a study released Wednesday.
The Obama re-election campaign and its supporters spent $77 million on 112,730 advertisements from Oct. 1 to Oct. 21, according to the Wesleyan Media Project, which tracks and analyzes political ad spending nationwide. Romney and friends, by contrast, spent more cash - $87 million – on 15,000 fewer spots.
One reason: the Obama campaign reserved air-time at lower rates earlier in the season, while the Romney campaign pays as it goes, at a premium. Romney's media strategists believe their approach works best because they have more strategic flexibility and, unlike Obama, they are guaranteed that a particular spot will run during precisely the program they intended because of the rates paid.
Thomas Fitzgerald

, Inquirer Politics Writer

The presidential campaigns are not advertising in Pennsylvania, but labor is.

Workers' Voice, the super PAC associated with the AFL-CIO, launched a TV ad called "Economic Traitor" in the Pittsburgh market attacking Mitt Romney's career at the Bain Capital private-equity firm.

It focuses on Bain's investments in companies that move American jobs to China, and features a worker from a Sensata plant in Northern Illinois, telling of how Bain executives made the staff take down the U.S. flag when after the plant was sold to a Chinese company and the new owners visited.
Thomas Fitzgerald

, Inquirer Politics Writer

Mitt Romney launched a new TV ad Tuesday called "Apology Tour," repeating conservatives' persistent attack on President Obama's foreign policy – criticism that major fact-checking groups unanimously agree is false.

The idea is that Obama, in several speeches abroad early in his term, including in Egypt, was apologizing for U.S. actions when he lamented that the sometimes-unilateral approach of the Bush administration had, in his view, damaged relationships with other nations.

Obama called it the "biggest whopper" his opponent has told when it came up in their third and final debate Monday night. The groups Factcheck.org; The Washington Post; and Politifact all have called "malarkey" on Romney's apology meme.
Thomas Fitzgerald

, Inquirer Politics Writer

A Republican super PAC dedicated to saving the party's House majority is launching a TV ad Monday against Democrat Shelley Adler in the 3rd Congressional District of New Jersey.

The Congressional Leadership Fund says it is spending about $650,000 on broadcast time in the Philadelphia market to hit Adler for voting to approve tax increases as a Cherry Hill councilwoman.

She is challenging first-term Republican Rep. Jon Runyan.