Archive: January, 2012
Thomas Fitzgerald

, Inquirer Politics Writer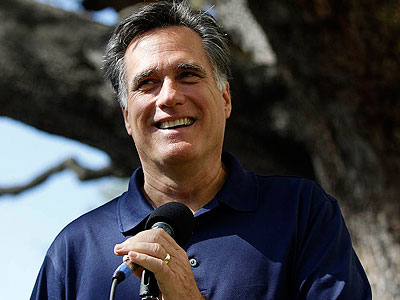 Even before the polls opened Tuesday morning in Florida, Mitt Romney had an estimated 50,000 vote lead that Newt Gingrich had to overcome – thanks to his campaign's aggressive courtship of Republicans who used the state's system of early voting.
By Monday, 603,459 early and absentee casts had been cast across Florida – 100,000 more than in the 2008 GOP primary. With more money and a slicker organization, Romney's campaign aggressively targeted voters who had requested absentee ballots – beginning in December – and encouraged identified supporters to avail themselves of opportunities to vote early at select polling places at polling places early.
Based on polls of early voters, Florida strategists say that Romney may have gone into the primary election with a lead of 50,000 votes - or more.
Thomas Fitzgerald

, Inquirer Politics Writer

MOUNT DORA, Fla. – An enraged Newt Gingrich railed against attacks launched by Mitt Romney and his allies Thursday, calling them "the desperate last stand of the old order" at a Tea Party rally here.

The assault is being financed by companies that have profited from foreclosing on the homes of struggling Floridians, Gingrich said, mocking Romney for holding large investments in banks and the government mortgage giant Freddie Mac.

"You are watching ads paid for by companies like Goldman Sachs, recycled back into ads to try to stop you from having a choice in this election," Gingrich thundered on the shores of Lake Dora. "That's what this is all about."
Thomas Fitzgerald

, Inquirer Politics Writer

While Mitt Romney's organizational and cash advantage in the massive, expensive-to-campaign-in state of Florida should not be underestimated, momentum matters too – and a pair of fresh polls shows that Newt Gingrich's South Carolina surge seems to be continuing in the Sunshine State.

Public Policy Polling's new survey, out Monday, had the former House speaker leading Romney 38 percent to 33 percent. Newt was keeping together the Tea Party-evangelical coalition he got in South Carolina, according to poll's crosstabs. PPP surveyed (by touch-tone telephone polling) 921 likely Republican primary voters in Florida on Jan. 22 and 23, immediately after Saturday's South Carolina primary and before the Monday NBC News/National Journal debate; the error margin on the results is plus or minus 3.2 percentage points.

And the latest survey from Rasmussen Reports out Monday found that Romney's 22-point Florida lead of two weeks ago had melted away. It found Gingrich with support of 41 percent of likely GOP voters, and Romney at 32 percent. Rick Santorum was running third with 11 percent, while Texas Rep. Ron Paul was at eight percent.
Can Mitt Romney win in the deep south? Will Newt Gingrich's sudden surge - despite allegations from his ex-wives - rule the day? And can Rick Santorum and Ron Paul win enough votes to continue on into Florida next week? Follow the action through live tweets from Inquirer reporters Tom Fitzgerald and Matt Katz who are in South Carolina for the primary.
Thomas Fitzgerald

, Inquirer Politics Writer

COLUMBIA, S.C. - Texas Gov. Rick Perry bowed to the inevitable Thursday morning and dropped out of the Republican presidential race just two days before the pivotal South Carolina primary, endorsing the surging Newt Gingrich as he made his exit.

"This mission is greater than any one man," Perry said during an appearance at a hotel in North Charleston, S.C. "I discovered this incredible resiliency of our people. They haven't lost hope. They haven't stopped believing in the American dream…We are too great a people for that. What's broken in America is not our people; it is our politics."

Perry made an emotional statement just hours before a CNN debate in Charleston, which begins at 8 p.m. It remains to be seen if his move will aid the strategic goal of many conservative leaders to unite behind a single champion to stop Mitt Romney. Conservative candidates have been splitting the vote on the right, especially among social and religious conservatives, enabling Romney to move forward with establishment GOP support, moderate voters and fiscal conservatives.
Thomas Fitzgerald

, Inquirer Politics Writer

COLUMBIA, S.C. - It looks now as if Rick Santorum actually won the Iowa Republican caucuses earlier this month, as Mitt Romney's narrow lead evaporated while state GOP officials were certifying the vote count.

Instead of winning by eight votes, "Landslide" Mitt Romney ended up trailing Santorum by 34 votes, the Des Moines Register reported Thursday. But that tally is not the final word and there probably won't be a final word – because votes from eight Iowa precincts are missing "and will never be recovered and certified," the newspaper said.

Romney was declared the winner in international news coverage and the result, along with winning the New Hampshire primary a week after the Jan. 3 caucuses, boosted his momentum toward the nomination. Santorum also received a bump from his narrow finish.
Thomas Fitzgerald

, Inquirer Politics Writer

Rick Santorum is up with a sharp contrast ad statewide on cable and broadcast television in South Carolina that takes aim at front-runner Mitt Romney.

Romney supported the bank bailouts, instituted a health care program in Massachusetts that formed the basis for President Obama's and bragged he was to the left of Ted Kennedy on social issues.

"Why would we ever vote for someone who's just like Obama, when we can unite around Rick Santorum and beat Obama," the ad concludes.
Thomas Fitzgerald

, Inquirer Politics Writer

FLORENCE, S.C. – Texas Gov. Rick Perry referred at least twice to Rick Santorum's Catholic faith Tuesday as he criticized the former Pennsylvania senator's record as a conservative, an intriguing signal to send in a heavily evangelical Protestant state.

Perry, who an evangelical Christian who is in a battle with Santorum was asked by reporters to contrast his record with Santorum's.

"Rick Santorum is a good man," Perry said. "He is a good father. He is a good Catholic. But he hasn't always been a good conservative." He ripped Santorum, a noted opponent of abortion access and same-sex marriage for voting to confirm "pro-abortion" Justice Sonya Sotomayor to the U.S. Court of Appeals several years ago, putting the liberal jurist on track to her present position on the Supreme Court.