Archive: May, 2013
Thomas Fitzgerald

, Inquirer Politics Writer

U.S. Rep. Allyson Schwartz on Wednesday netted what may be the first union endorsement in the 2014 Democratic primary for Pennsyvlania governor.

United Steelworkers Local 10-1 backed Schwartz, citing her work with other political leaders to keep open refineries in Marcus Hook, Trainer and Philadelphia. Sunoco and Conoco Phillips threatened closure in 2011, putting 2,600 jobs at risk.


"When faced with the possibility of a devastating plant closure, Congresswoman Schwartz immediately went to work on our behalf without waiting to asked," USW Local 10 President Jim Savage said in a statement. "We appreciate her efforts and we know that all Pennsylvania working families will benefit from her leadership, which we experienced first-hand."
Thomas Fitzgerald

, Inquirer Politics Writer
Gov. Corbett had his monthly hourlong radio show Tuesday morning with host Dom Giordano on WPHT 1210 the Big Talker. Some highlights:
Corbett said news reports of protests during his commencement speech at Millersville University over the weekend were exaggerated. "Now there was a large crowd --. 1200 people sitting on the football field in front of us. Some turned their backs. Fine. They were courteous; they didn't disrupt the ceremony for anyone else. That's why we have the First Amendment, it's a wonderful tool."
The governor also said he was confident that there would be a liquor privatization bill on his desk by June 30, though he did betray some irritation with the Senate's slow pace.
Thomas Fitzgerald

, Inquirer Politics Writer

If Democrat Joe Sestak wins his party's primary and runs against incumbent Republican Sen. Pat Toomey in 2016, it would be the first rematch of major party candidates in Pennsylvania's history of U.S. Senate elections, according to a review by the blog Smart Politics.

Pennsylvania has held 38 special and general elections for U.S. Senate since 1914, when the state began choosing senators based on direct popular vote. In that time, a defeated candidate has never sought and earned the right to take another shot at the victor, Smart Politics found. The data-driven blog is written by Eric Ostermeier, a researcher at the University of Minnesota's Humphrey School of Public Affairs.
Thomas Fitzgerald

, Inquirer Politics Writer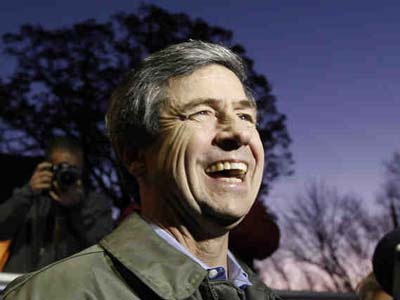 Former U.S. Rep. Joe Sestak announced in an email Tuesday morning that he is forming an exploratory committee to run for the Senate in 2016, setting up a likely rematch with incumbent Republican Sen. Pat Toomey.
That explains where the $460,000 Sestak raised in the first quarter is going to go. The announcement also comes a day after Pennsylvania Republicans filed a complaint with the Federal Election Commission, saying Sestak had violated campaign-finance regulations by raising the money without declaring what office he was seeking.
Democrats, too, have been trying to divine Sestak's intent. He was the party's 2010 nominee for U.S. Senate, losing to Toomey, but had been talking to some supporters about possibly jumping into the Democratic primary for the nomination to run against Gov. Corbett in 2014.
Thomas Fitzgerald

, Inquirer Politics Writer

Former U.S. Rep. Joe Sestak (D.,Pa.) likes to hold his plans close, saying that he is interested in "public service" but refusing to discuss whether that means he is aiming at the 2014 governor's race, or the Senate race two years later.

Sestak's strategic vagueness is illegal, according to the Pennsylvania Republican Party, which has filed a complaint with the Federal Election Commission arguing that since Sestak has raised more than $5,000 in his federal campaign account, he must file a statement of candidacy that describes the office he is seeking. Sestak also should have filed a personal financial disclosure, the complaint says.
Thomas Fitzgerald

, Inquirer Politics Writer

It's become an article of faith in national politics that Pennsylvania is pretty much out of reach for Republican presidential candidates.

But Amy Walter, the top-flight analyst who is national editor of The Cook Political Report, argues in a new piece that Pennsylvania holds the biggest promise for the GOP in 2016. Not only is it gettable, but it has a big enough cache of electoral votes to offset losses elsewhere.
Thomas Fitzgerald

, Inquirer Politics Writer

This is becoming a drumbeat: Wednesday brings another bad poll for Gov. Corbett.

Only one in four Pennsylvania voters believes he has performed well enough in office to deserve reelection, according to a Franklin & Marshall College poll released Wednesday. Perhaps it's not surprising that the number is even lower among Democrats (12 percent) and even independent voters (20 percent), but the pollsters also find that 48 percent of his fellow Republicans believe Corbett deserves reelection.
Thomas Fitzgerald

, Inquirer Politics Writer

U.S. Rep. Allyson Schwartz on Tuesday announced the appointment of nine top operatives for her campaign for the 2014 Democratic nomination for governor:

Rich Davis, partner in the Davis/Dixon Media Group, will be the media consultant. Davis has worked with Schwartz for 14 years, including her 2004 election to Congress. The firm's clients include Govs. Martin O'Malley (Md.) and Maggie Hassan (N.H.) as well as U.S. Sens. Claire McCaskill (Mo.) , Kirsten Gillibrand (N.Y.), Debbie Stabenow (N.Y.), Kay Hagan (N.C.), Mazie Hirono (Hawaii),Mark Udall (Colo.), Jeff Merkley (Ore.), and Brian Schatz (Hawaii).

Pete Brodnitz, Beneson Strategy Group, will be the pollster. In Pennsylvania, he worked for Kathleen Kane last year, helping her win the Democratic primary and go on to become the first woman elected attorney general in state history. He is perhaps best known for two wins in Virginia – Gov. Tim Kaine in 2005 and Sen. Jim Webb in 2006 – widely considered the breakthrough that turned the perception of the state from red to purple.