Thomas Fitzgerald

, Inquirer Politics Writer

CHARLESTON, S.C. – Jeb Bush called for a U.S.-led coalition to use "overwhelming force" to defeat the Islamic State during a speech Wednesday at The Citadel, the military college of South Carolina.

The national-security speech was scheduled to dwell on the former Florida governor's plans for rebuilding the strength of the U.S. military, but it was retooled following last week's terrorist attacks in Paris to encompass his view of the proper strategy to use against ISIS.

"Here is the truth you will not hear from our president," Bush said, speaking to several hundred gray-clad cadets and invited guests.
Thomas Fitzgerald

, Inquirer Politics Writer

The super PAC supporting Sen. Lindsey Graham of South Carolina in the Republican presidential race will run a television ad Tuesday blasting Fox Business Network for excluding Graham from the debates it is broadcasting.

Security is Strength PAC argues in the 30-second spot that it is galling for the network to snub Graham, the only military veteran in the GOP field, on the eve of Veterans Day.

"Fox News decided to use an NBC/WSJ poll that did not even include Senator Graham's name (among others) in the polling (questions)," Andrew King, executive director of Security is Strength.
Thomas Fitzgerald

, Inquirer Politics Writer
Fox Business Network is arranging for a broader audience of cable and satellite customers to have access to its broadcast of the Republican presidential debates Tuesday.
Distributors that charge extra for Fox Business – including DIRECTV, Suddenlink, Mediacom, Frontier, Wide Open West, Cable One, as well as several smaller carriers in the National Cable Television Cooperative – have agreed to "unbundle" the channel, making it available to their entire subscriber bases for the debates.
"We are grateful that our distribution partners, like us at FOX Business Network, recognize the importance of providing the debate to as many subscribers as possible," said Tim Carry, executive vice president of distribution for the network and its big sister, Fox News Channel.
Thomas Fitzgerald

, Inquirer Politics Writer
Philadelphia is a blue city in a blue state, but Republican Jeb Bush was planning to scoop up some green for his presidential candidacy there Thursday evening.
He's scheduled for some private-time with leading GOP donors at the Comcast Center on JFK Boulevard at 5:45 p.m. – because fundraising never stops, even if, like Bush, you are working hard on the trail to reset your campaign.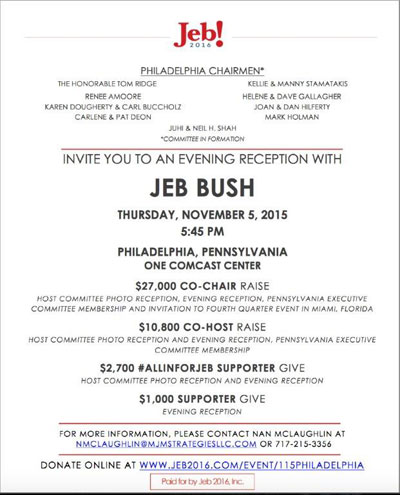 Thomas Fitzgerald

, Inquirer Politics Writer

Katie McGinty has won the backing of a major southeast Pennsylvania union in her bid for the Democratic nomination for U.S. Senate.

United Food and Commercial Workers Union Local 1776 Thursday announced its endorsement of McGinty in her battle with former U.S. Rep. Joe Sestak, a retired Navy rear admiral. The winner of the primary will take on incumbent Sen. Pat Toomey (R.,Pa.).

"Katie is the candidate running for U.S. Senate that stands out when it comes to understanding and addressing the needs of hard-working people," Local 1776 president Wendell Young IV said in a statement.
Thomas Fitzgerald

, Inquirer Politics Writer

Florida Sen. Marco Rubio may be 44 years old, but he demonstrated during Wednesday's Republican presidential debate that he is no punk or political naïf.

He waved away an attack from Jeb Bush as a matador does a bull, faced down Donald Trump and used what he termed a biased news media as a foil. For nearly two hours, Rubio was calm and effective, displaying for a broader audience the range of political gifts his backers have long touted. On the morning after Thursday, many Republicans were asking whether the Marco Moment had come.

Rubio also had the most sustained and sharpest attack on Democratic front-runner Hillary Clinton, who was mentioned a bare 14 times in the debate.
Thomas Fitzgerald

, Inquirer Politics Writer
Now it can be told: Iowa is slipping away from developer Donald J. Trump.
A new poll of Iowa Republicans, released Monday, shows Ben Carson has opened a double-digit lead over Trump, reinforcing the findings of two other recent polls that captured the retired neurosurgeon taking the lead in the state that casts the first votes in the presidential campaign.
Trump had held the lead in all Iowa polls for 78 days before the Quinnipiac University and Bloomberg News/Des Moines Register surveys last week put Carson in the lead.
Thomas Fitzgerald

, Inquirer Politics Writer
Hillary Clinton received a boost from her showing in last week's Democratic presidential debate, according to the latest national survey from Monmouth University, released Monday.
Clinton has the support of 48 percent of Democrats and Democratic-leaning voters, up from 42 percent in September, the poll finds. Bernie Sanders gets 21 percent, essentially the same as the 20 percent support he registered last month. Vice President Biden, who is thinking about entering the race but is undeclared, has 17 percent support, down from 22% in September.
"The specter of a Biden candidacy still hangs over this race, but Clinton can take comfort that she has appeared to win back some support with a solid debate performance," said Patrick Murray, director of the independent Monmouth University Polling Institute in West Long Branch, NJ.