Archive: April, 2012
Thomas Fitzgerald

, Inquirer Politics Writer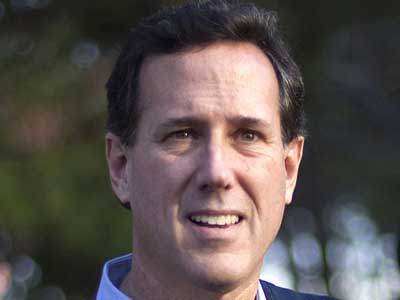 Facing long odds and an aerial ad bombardment from frontrunner Mitt Romney, Republican presidential candidate Rick Santorum plans to resume campaigning Tuesday in his home state of Pennsylvania, according to a schedule of events released Saturday morning.
The Santorum campaign trail next week will run along US 30, the iconic Lincoln Highway that spans the state. He is to begin Tuesday morning with a rally at a sportsmen's club in Bedford, Pa., continuing to an evening appearance at Lancaster Bible College along with religious right leader James Dobson and the candidate's wife, Karen.
On Wednesday, Santorum is scheduled to be in the Philadelphia metropolitan area, at a "Red Meat" tour event hosted by WPHT-AM conservative talker Chris Stigall. The former senator will attend the Westmoreland County GOP spring dinner in Greensburg, PA.
Thomas Fitzgerald

, Inquirer Politics Writer

Mitt Romney is leading Rick Santorum in a new Public Policy Polling survey of Pennsylvania Republican voters, 42 percent to 37 percent – representing a 23 point swing in the race compared to a PPP poll taken a month ago.

Romney gained 17 points, going from 25 percent to 42 percent. Meanwhile, Santorum has dropped six percentage points, from 43 percent to 37 percent.

"The momentum in Pennsylvania is moving completely against Rick Santorum," said Dean Debnam, president of PPP, a Democratic firm in Raleigh, N.C. "Mitt Romney has a great opportunity to deliver a final crushing blow to his campaign on April 24."
Thomas Fitzgerald

, Inquirer Politics Writer

When Rep. Allyson Schwartz (D.,Pa.) holds a roundtable in Philadelphia Thursday with Democratic National Chairwoman Debbie Wasserman Schultz to tout the federal health-care overhaul known by opponents as "Obamacare," one topic is not likely to come up: a powerful board empowered to cut payments to Medicare providers in order to control costs.

That is because Schwartz, an expert on health policy who helped draft parts of the law, has become an important ally of House Republicans who are pushing to repeal the Independent Payment Advisory Board.

The 15-member board can begin slashing payments if Medicare costs rise. Opponents argue that this power will result in a de-facto rationing of health care to seniors.
Thomas Fitzgerald

, Inquirer Politics Writer

Pennsylvania Democratic Sen. Bob Casey, who clobbered Rick Santorum six years ago by 17 percentage points, wants his former opponent to keep running in the Republican presidential primary as long as possible.

"The internal fight that they're having in their party is having an adverse impact on Republican prospects, so I don't want to do anything to slow that down," Casey told Pittsburgh's KDKA television.

Ironically, Democratic voters are helping Santorum continue making his case that he is the true conservative in the GOP race.
Thomas Fitzgerald

, Inquirer Politics Writer
An influential Philadelphia-based tea party organization Monday endorsed western Pennsylvania businessman Tom Smith in the Republican primary, saying he epitomized the movement's ideal of a smaller government.
"Among the four conservatives in the race, Tom Smith appears to be the one candidate who can unite the various factions in the Republican Party while still appealing to Reagan Democrats and independents," said Don Adams, president of the Independence Hall Tea Party PAC. He praised Smith's "wholesome, down-to-earth sincerity."
Smith, a former coal company owner from Armstrong County, is a longtime donor to conservative causes, although he also has been a Democratic committeeman there. Smith has been active in the tea party movement that arose in 2009 in protest of President Obama's stimulus program and his health-care plan.