Archive: October, 2012
Thomas Fitzgerald

, Inquirer Politics Writer

OK, this is getting close.

President Obama now leads 50 percent to 46 percent in Pennsylvania as Republican Mitt Romney has narrowed a 12-point gap since September, according to a new Quinnipiac University poll of likely voters released Tuesday.

Obama was up 54 to 42 percent in the state in the universities independent poll Sept. 26. The change comes even though neither campaign nor allied groups have advertised much on Pennsylvania broadcast TV, with no ads aired since late August.
Thomas Fitzgerald

, Inquirer Politics Writer

President Obama and Mitt Romney are set to meet at 9 p.m. EDT at Hofstra University in Hempstead, N.Y. for a 90-minute debate that, since the president was so listless in their first encounter two weeks ago, has assumed outsized importance in the campaign. Since the Oct. 3 clash in Denver, Romney has seized the momentum. The debate has a town-hall format, with questions, probably around a dozen, posed by a pool of undecided Long Island voters chosen by the Gallup polling organization.

Here are a few things to watch for:

Free Range Moderator?
Thomas Fitzgerald

, Inquirer Politics Writer

The Obama campaign relased a new television ad, "Main Street," Monday that features a series of regular working people who testify the economy is improving, to the tune of 5.2 million newly created private sector jobs over the past 30 months, and the lowest national unemployment rate since 2009.

"Stick with this guy," a man says at the end of the spot. "He will move us forward."

The ad is scheduled to air in Colorado, Nevada and Virginia, campaign officials said.
Thomas Fitzgerald

, Inquirer Politics Writer

President Obama's lead over Republican Mitt Romney has narrowed in Pennsylvania, according to a pair of new independent public-opinion surveys released Monday.

Obama leads 49 percent to 45 percent among likely voters, the Muhlenberg College/Morning Call poll finds, after those leaning toward one candidate or the other are factored into the equation. That is down from 51 percent to 40 percent in Muhlenberg's mid-September survey. Obama's lead was 49 percent to 42 percent in late September.

The Muhlenberg/Morning Call poll is based on telephone interviews with 438 likely Pennsylvania voters, conducted from are based on interviews with 438 likely voters in Pennsylvania, conducted from Oct. 10 through Sunday, and the results are subjec to a margin of error of plus or minus 5 percentage points.
Thomas Fitzgerald

, Inquirer Politics Writer

Noting that Mitt Romney downplayed his opposition to abortion rights in an Iowa newspaper, the Obama campaign on Wednesday accused the Republican nominee of attempting to hide extreme views on reproductive health in order to moderate his image and "close the deal" with skeptical women voters.

"There's no legislation with regards to abortion that I'm familiar with that would become part of my agenda," Romney said in an interview Tuesday with the Des Moines Register editorial board.

That marked a fairly recent change of tone for Romney who, earlier in his career, changed from being a supporter of abortion rights to an opponent. During the Republican primaries this year, Romney asserted his anti-abortion bona fides, saying repeatedly that Roe v. Wade should be overturned and that all federal funding for Planned Parenthood should be eliminated. He has also said he would appoint Supreme Court justices committed to overturning the landmark decision that legalized abortion.
Thomas Fitzgerald

, Inquirer Politics Writer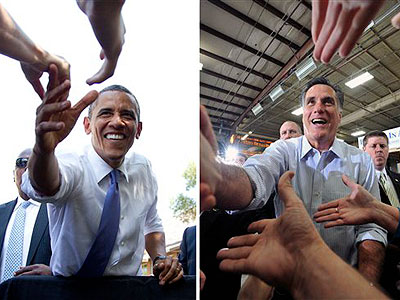 Pennsylvania's 20 electoral votes seem up for grabs in a new Siena Research Institute Poll that shows a tight race, with President Obama leading Republican Mitt Romney 43 percent to 40 percent.
The Siena College survey finds 12 percnet of the state's voters undecided. It shows Romeny winning in the Philadelphia suburbs. "With a month and two more debates to go, Pennsylvania's direction on the road to the White House remains in doubt," said Don Levy, the poll director.
Obama is viewed favorably by 49 percent of the voters, to 44 percent who view the president unfavorably, while Romney's ratio is 40 percent favorable to 49 percent unfavorable, the poll finds.
Thomas Fitzgerald

, Inquirer Politics Writer

DENVER – Obama advisers admitted Thursday that the president delivered a lackluster performance in the first presidential debate, and said that the campaign would tweak its strategy, which centered on taking a calm and cautious approach to Mitt Romney, for the next one.

An animated Romney set the terms of the 90-minute debate at the University of Denver Wedneday and stayed on offense, while Obama avoided delivering the sharpest attacks his campaign has used against the Republican nominee – on his private-equity career, his offshore bank accounts, his attack on 47 percent of Americans who pay no federal income taxes as moochers, and more.

Neither did Obama hit Romney on his conservative social views or history of shifting positions on the issues.