Archive: January, 2012
Thomas Fitzgerald

, Inquirer Politics Writer
MYRTLE BEACH, S.C. – It was a must stop for all the five remaining Republican presidential candidates Monday: the huge white tent pitched amid the pines by the Faith & Freedom Coalition, an organization of evangelical Christian conservatives.
"Whoa, look at this," Romney said when he came out on stage in a blazer and skinny jeans. "This is an old-fashioned tent revival."
Romney, whose Mormon religion has spurred skepticism among some conservative Christians, did not discuss his faith or invoke God, unlike many of the other speakers at the afternoon rally – but he did get a rousing reception as he attacked President Obama for seeking to make the U.S. a "secular nation." Romney vowed to stop what he called the administration's push for same-sex marriage, and pledged his continuing opposition to abortion rights.
Thomas Fitzgerald

, Inquirer Politics Writer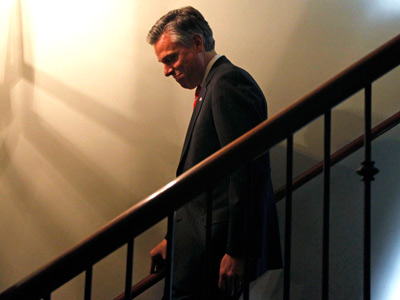 COLUMBIA, S.C. – Well, this is awkward.
Jon Huntsman once called Mitt Romney "a perfectly lubricated weathervane on the important issues of the day," often said that his rival lacks "a core" and said that he didn't trust the guy. Not only that, but Romney had changed his positions so much that he had rendered himself "completely unelectable" against President Obama.
So when Huntsman dropped out of the Republican presidential race on Sunday night, he planned to endorse…Romney. Cognitive dissonance!
Thomas Fitzgerald

, Inquirer Politics Writer
MYRTLE BEACH, S.C. -- When former Utah Gov. Jon Huntsman Jr. abandoned his campaign for the Republican presidential nomination Monday, he endorsed Mitt Romney and bemoaned negative tactics on his way out the door.
He was polling at about 1 percent in South Carolina ahead of next Saturday's crucial primary, so it was unclear how strategically significant the endorsement; after all, voters attracted to the moderate-toned Huntsman are more likely to go with Romney than any of the other candidates competing fiercely to be the purest conservative alternative.
"Ultimately, this election is about more than the future of one campaign or one party, it is about the future of our nation," Huntsman said in a brief appearance before a cluster of six U.S. flags in a hotel ballroom. "I believe it is now time for the party to unite around the candidate best equipped to defeat Barack Obama. Despite our differences and the space between us on some of the issues, I believe that candidate is Gov. Mitt Romney."
Thomas Fitzgerald

, Inquirer Politics Writer

Mitt Romney's presidential campaign announced Wednesday that it will report having raised $24 million in the fourth quarter of 2011 and that it has $19 million cash on hand for the next phase of the Republican nomination battle in the South Carolina and Florida primaries.

"Mitt Romney's growing financial support is representative of the growing momentum for our campaign," said Spencer Zwick, the national finance chairman for RFP.

It's no coincidence that the Romney folks made the announcement the day after his sweeping victory in the New Hampshire GOP primary, which exit polls show garnered him support from across the demographic and ideological spectrums. Now it's time for Romney to bring the hammer down in hopes of putting away the nomination against less organized opponents. Conservatives and evangelical conservatives, however, are still seeking to unite around one of the candidates remaining who stands to Romney's right.
Thomas Fitzgerald

, Inquirer Politics Writer

In a weird ideological twist, the stretch run of the New Hampshire Republican primary has been dominated by searing attacks on capitalism that would seem right at home in a contemporary Occupy encampment or, perhaps, in the long-ago Socialist presidential campaigns of Eugene V. Debs.

Desperate to knock frontrunner Mitt Romney from his high horse, GOP opponents have gone after his former career as chief executive of corporate raider Bain Capital, focusing on mass layoffs at some of the companies the investment firm purchased, stripped and flipped or reorganized over the years.

Former House Speaker Newt Gingrich, who was demolished in Iowa by attack ads from a pro-Romney independent "super PAC," has led the charge. He portrays Romney as an economic grim reaper who destroyed communities and lives.
Thomas Fitzgerald

, Inquirer Politics Writer

Mitt Romney is in his own backyard in New Hampshire but getting bashed by his Republican rivals. Will that hurt him in the polls? Can Rick Santorum maintain his Iowa momentum? Inquirer political reporter Tom Fitzgerald is on the ground and tweeting the primary action.
Thomas Fitzgerald

, Inquirer Politics Writer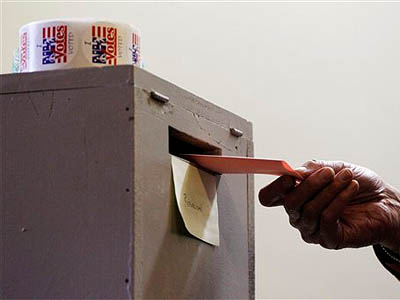 MANCHESTER, N.H. – The storylines to watch as the returns come in Tuesday night in the New Hampshire Republican presidential primary are pretty straightforward, though when "real people," also known as the voters, elbow aside the cud-chewing pundits and start sorting things out, strange things can and sometimes do happen.
ROMNEY: Is it big enough?
Former Massachusetts Gov. Mitt Romney went into Tuesday with a slightly melting but still substantial lead, and seemed poised to win by double digits. If that happens, the talk of Romney as the ultimate nominee should reach a crescendo and Republican establishment-types will continue rallying around him. A win would make Romney the first Republican candidate to win the first two nominating contests since 1976, when Iowa and New Hampshire cemented their places as the leadoff states. That's impressive no matter what.
Thomas Fitzgerald

, Inquirer Politics Writer
New Hampshire's primary has, to some extent, felt anticlimactic, with Mitt Romney assumed to be headed to a solid victory here and the real battle over second place. Several candidates have spent at least parts of the past week in South Carolina, the state with the next contest.
Yet, crowds have been huge at retail campaign events, swollen by "primary peepers" from across the nation and the world looking to participate for entertainment and/or educational purposes.
Journalists – who have caused more than a few mob crushes themselves with their notepads, pens, cameras and other paraphernalia, plus their nosiness – have complained to each other that it is sometimes hard to find honest-to-goodness New Hampshire voters to interview at candidate events. People from Massachusetts to California and beyond, however, are everywhere. (They usually have interesting things to say, to be sure, but are irrelevant in terms of trying to go deeper on the thought processes of the primary voter.)