The Romney campaign on Saturday Aug. 4 posted this update to Mitt Romney's Facebook account:
President Obama's lawsuit claiming it is unco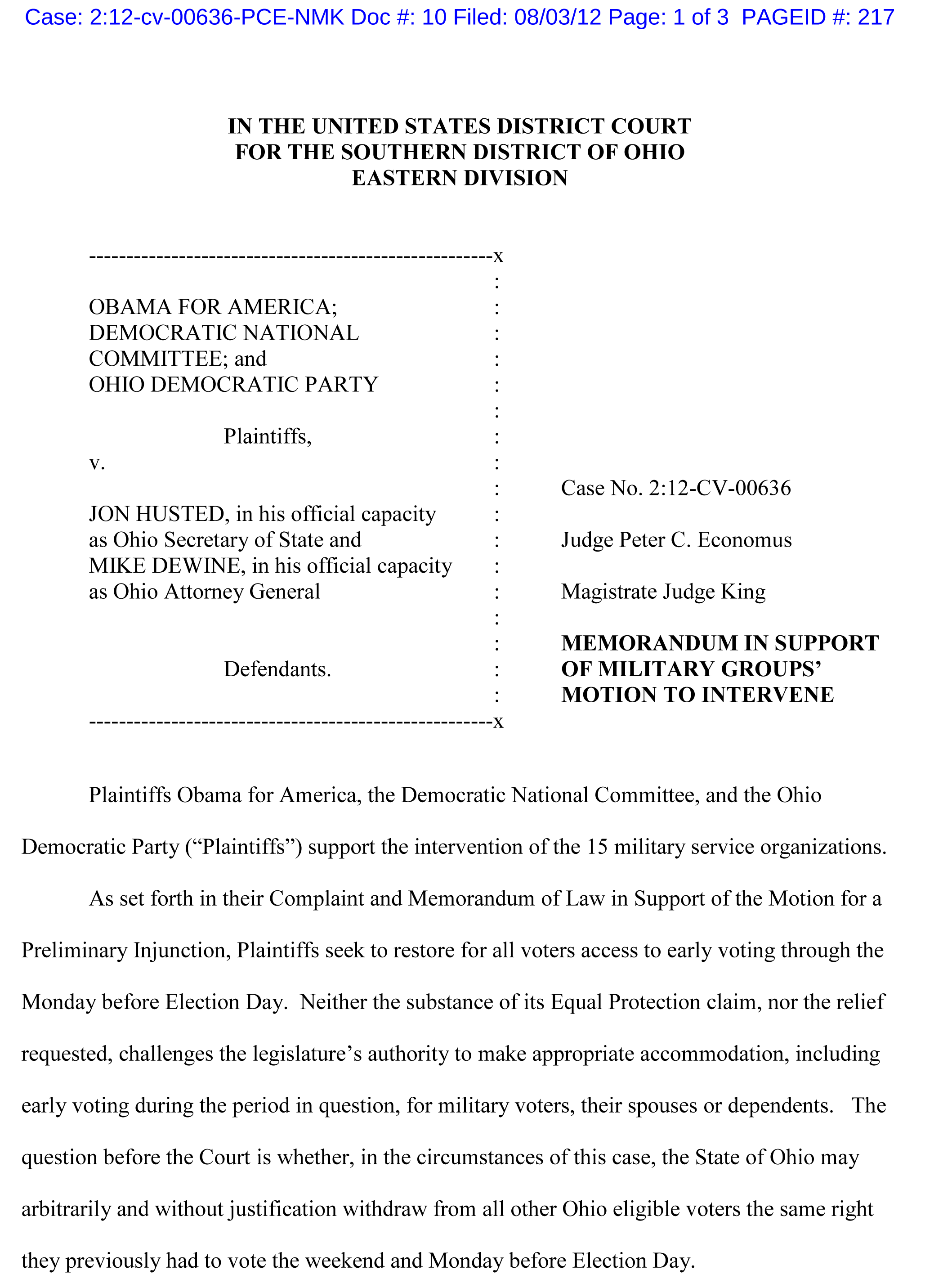 nstitutional for Ohio to allow servicemen and women extended early voting privileges during the state's early voting period is an outrage. The brave men and women of our military make tremendous sacrifices to protect and defend our freedoms, and we should do everything we can to protect their fundamental right to vote. I stand with the fifteen military groups that are defending the rights of military voters, and if I'm entrusted to be the commander-in-chief, I'll work to protect the voting rights of our military, not undermine them.
One problem. It's not true.
The Romney campaign has turned the suit on its head.
According to Factcheck.org, up until the 2008 election all Ohio voters could cast ballots in-person up through the Monday before Election Tuesday.
But in 2011, Ohio's GOP-controlled state legislature changed the law and limited in-person early voting for nonmilitary residents. Members of the military can still vote in-person up until Election Tuesday, but civilians were given a deadline of 6 p.m. on the preceding Friday.
Members of the military tend to vote Republican.
Ohio is a crucial swing state in the 2012 presidential election.
The complaint explicitly states it intends to restore the right to vote in the three days prior to Election Day "for all Ohioians."
The case, Obama for America et al. v. Jon Husted, in his official capacity as Ohio Secretary of State, was filed July 17.
As Factcheck points out: "the lawsuit challenges last year's legislation in Ohio on the grounds that the unequal treatment of different citizens violates the equal protection clause of the 14th Amendment."
If that didn't make it plain enough, a memo filed on Aug. 3 removes any ambiguity:
Neither the substance of its Equal Protection claim, nor the relief requested, challenges the legislature's authority to make appropriate accommodation, including early voting during the period in question, for military voters, their spouses or dependents. The question before the Court is whether, in the circumstances of this case, the State of Ohio may arbitrarily and without justification withdraw from all other Ohio eligible voters the same right they previously had to vote the weekend and Monday before Election Day.
How many other ways does the Obama campaign have to state it has no intention of limiting the voting rights of the military?
- Sam Wood