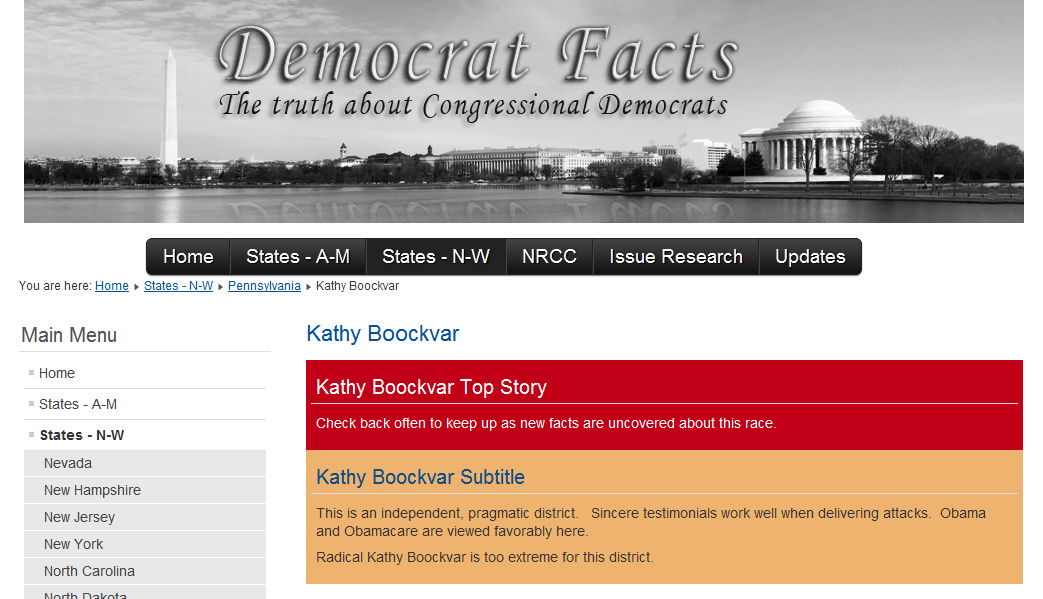 Normally, the various arms of the Repulbican Party are coordinated in calling President Obama's health care overhaul an extreme socialist freedom-stomping expansion of government.
So it was interesting to see this contrary statement, about the 8th Congressional District of Pennsylvania, on a website run by the National Republican Congressional Committee, the party's U.S. House campaign arm: "This is an independent, pragmatic district. Sincere testimonials work well when delivering attacks. Obama and Obamacare are viewed favorably here." (Emphasis added)
The reference is on "Democrat Facts: The Truth about congressional Democrats," a site NRCC uses to disseminate opposition research and other information about opponents.
It may well be that the party's internal polls find Obama and Obamacare relatively popular in the 8th, centered in the mostly affluent suburban Philadelphia county of Bucks.
If that is the case, though, why did the NRCC say the opposite in a Politics PA story about the launch of a tumblr attacking Kathy Boockvar, the Democratic nominee challenging U.S. Rep. Mike Fitzpatrick (R.,Pa.) in the district?
"Boockvar's troubling past makes her unfit to represent the people of Bucks County," NRCC Communications Director Paul Lindsay was quoted saying.
"With Washington Democrats' big-government takeover of health care and reckless spending sprees that hamper economic recovery, Pennsylvania families don't want a radical activist with a partisan agenda representing them in Congress."