Thomas Fitzgerald, Inquirer Politics Writer
IBEW Local 98, one of the most politically active unions in Pennsylvania, handed U.S. Rep. Allyson Schwartz a $100,000 check Wednesday night as it endorsed her candidacy in the Democratic primary for governor.
The union, led by its influential manager business manager John J. Dougherty, announced its decision ahead of a fundraiser it hosted for Schwartz at the union hall in the Spring Garden section of Philadelphia Wednesday night.
Thomas Fitzgerald, Inquirer Politics Writer
Businessman Tom Wolf has snagged the deputy executive director of the Pennsylvania Democratic Party for his 2014 gubernatorial primary campaign.
Mark Nicastre, who has headed communications strategy for the party since August 2010, is slated to begin with the Wolf campaign next Monday.
"In Tom's experience in both the private and public sectors he has shown he is a different type of leader," Nicastre said Friday in a statement. "His vision to change Pennsylvania and fresh policy ideas will make him a strong governor, and I look forward to working with him."
Thomas Fitzgerald, Inquirer Politics Writer
Pennsylvania U.S. Rep Bob Brady (D) is endorsing fellow U.S. Rep. Allyson Schwartz Thursday for the Democratic nomination for governor, a source close to the Schwartz campaign said.
"I have gotten the opportunity to work with Allyson for almost ten years in Washington," Brady, who also is chairman of Philadelphia's Democratic Committee, said in a statement prepared for the announcement.
"There is no one who is more effective at fighting for Pennsylvania families," Brady said. "As governor, she will bring that record of accomplishment and effective leadership to our Commonwealth. Allyson is smart, tough and principled. I am proud to strongly support her."
Thomas Fitzgerald, Inquirer Politics Writer
As the deadline for raising the nation's debt ceiling approaches Wednesday, U.S. Rep. Mike Fitzpatrick (R.,Pa.) was scheduled to attend a fundraising reception in his honor in New Hope.
But the $250-per-person event at the Clairmont Estate was canceled, said Michael J. Mabin, the chairman of Fitzpatrick's reelection campaign.
"Congressman Fitzpatrick will not be there," Mabin said in a statement released Wednesday evening, adding that the hosts maintaned the event to make a surprise wedding announcement. "No donations solicitations for Fitzpatrick for Congress will be made or collected at the now-private event," Mabin said.
Thomas Fitzgerald, Inquirer Politics Writer
The government shutdown is taking a bite out of the standing of U.S. House Republicans who represent two dozen battleground districts, according to a new series of polls in those districts.
Conducted by Public Policy Polling for the liberal group Moveon.org Action, the surveys suggest the shutdown may already be taking a bigger toll than most analysts think.
In Pennsylvania, the Seventh District of Republican U.S. Rep. Patrick Meehan and the Eight District of Republican U.S. Rep. Mike Fitzpatrick were surveyed.
Thomas Fitzgerald, Inquirer Politics Writer
Pennsylvania Gov. Tom Corbett (R) likened gay marriage to incest between siblings Friday during an appearance on a morning news show in Harrisburg.
The remark went viral and Democrats running to challenge Corbett in 2014 criticized the governor.
The governor was speaking about same-sex marriage on WHP-TV when one of the anchors asked about a statement administration lawyers had made in a court filing, comparing the marriage of gay couples to the marriage of children because neither can legally marry in the state.
Thomas Fitzgerald, Inquirer Politics Writer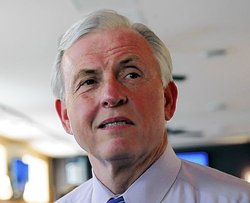 Imagine if you will a wall map of Pennsylvania, stuck with eight red pins representing the declared candidates in the 2014 Democratic primary for governor: They're all clustered in the eastern half of the state.
The western front is wide open.
No wonder former state auditor General Jack Wagner, of Pittsburgh, is considering getting in the scramble for the nomination to take on Gov. Corbett.
Thomas Fitzgerald, Inquirer Politics Writer
Democratic gubernatorial candidate Tom Wolf has picked up important backing from western Pennsylvania, earning the endorsement of former U.S. Rep. Ron Klink of Pittsburgh, who called Wolf a leader with a fresh approach.
"Tom Wolf has proven through how he treats his workers and his innovation as Secretary of Revenue, that he'll be a different kind of leader for Pennsylvania," Klink said in a statement. "Tom built his business by investing in its workers, giving them a living wage and good benefits. As Secretary of Revenue, he improved the state lottery instead of privatizing it. And as governor, he'll help lift up the middle class by focusing on workers, creating jobs that support a family, and reversing Tom Corbett's disastrous education cuts."
Wolf runs his family building-supply business, the York-based Wolf Organization, and was the revenue secretary in the Rendell administration. He has stressed his business experience – Wolf rescued the company from ruin in the depths of the recession, diversifying it and strengthening it in the process – as a qualification for governor. Wolf also has said he would use up to $10 million of his own money for the campaign.