Archive: August, 2013
Will Bunch
In all the excitement last week, I forget to tell you...I'm on vacation/furlough/whatever until deep in September. By the time I resume regular blogging, the Syrian War will be over and the Eagles will be looking ahead to 2014. So talk about whatever's on your mind, but here's a conversation starter. A lot of Republicans are talking about the inevitable impeachment of President Obama:
Sen. Tom Coburn (R-Okla.) said at a town hall Wednesday that President Obama may not have committed impeachable offense yet, but that he's getting "perilously close."
Will Bunch
On an average day, about 40 people are murdered in the United States. That, in and of itself, is unconscionable, but there are some killings that are so beyond awful that they reach out -- sometimes from the other side of America -- and punch you in the gut. The violent death of an Australian baseball player named Chris Lane -- gunned down, according to police, by three teenagers in a passing car as he jogged through the streets of Duncan, Oklahoma -- is one of these.
The story is at turns maddening and revolting. Lane was a handsome and fit 22-year-old with a devoted girlfriend who left his homeland to come halfway around the world to master the sport that Americans invented. Instead, he was killed -- ironically, for "sport" -- by total strangers, a interracial gaggle of gang wannabes who told police they murdered Lane (and, for what it's worth, threw the rest of their own lives away) because they were "bored" and had nothing else to do.
Will Bunch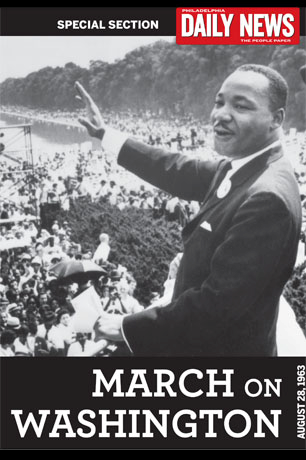 Pick up a copy of the Daily News on Friday for a special 16-page pullout section marking the 50th anniversary of the March on Washington for Jobs and Freedom, and Dr. Martin Luther King's epic "I have a dream" speech. Here's an excerpt from my main piece.
Will Bunch
Bradley Manning is an Army private who as an act of conscience released government documents aimed at exposing misconduct in the wars in Iraq, Afghhanistan, as well as hypocrisy in U.S. foreign policy. He was just sentenced to 35 years behind bars (with a chance for parole in about 10-ish years.)
Hosni Mubarak is a corrupt former dictator of Egypt who controlled a torture-happy security force and who is responsible for the deaths of scores of protesters in a futile bid to hold onto power in 2011 He is now free to move about the country.
Will Bunch
There's good news for lovers of actual news: Al-Jazeera America is on the air tonight. It's good news because unlike certain cable news channels whose full names I don't want to reveal -- I'll disguise them by using their initials....CNN, MSNBC, and FNC -- the new AJAM is committed to covering real, reported news and not just shouting heads. That includes more reporting from the Middle East -- where as you may have heard, AJAM has some connections -- but also from around America, since Al Jazeera America has established bureaus in places like New Orleans that gets short shrift from America's penny-pinching networks. (If you live in the Philly area and have Comcast, as I do, it's probably on Channel 107.)
So what's the bad news? In order to get any cable systems to carry AJAM, it had to promise not to stream its broadcasts on the Internet, and even cut off the feed of its sister channel Al Jazeera English, which has won awards and kudos for its documentaries and its extensive coverage of the Arab Spring. What's more, early reports about AJAM's extensive hiring suggested that viewers hoping for the kind of international coverage not currently on U.S. cable would be disappointed, that the plan called for Americanizing AJAM into a bland pulp, a kind of a CNN Lite. That would be a huge disappointment.
Will Bunch
Texas Sen. Ted Cruz (above, at left) -- the Tea Party favorite and presumptive 45th president of the United States (because we haven't hit rock bottom yet) -- is doing something that many Americans can only fantasize about. He's renouncing Canada!
Will Bunch
"This is police-state stuff." There go those crazy bloggers in the basement with their pajamas again -- except it's not. Those words come from the staid Columbia Journalism Review, and the fact that they're freaking out about the U.S., the U.K., and the out-of-control surveillance state means that we're crossing some sort of Rubicon here:
Miranda was serving as a human passenger pigeon, shuttling encrypted files on USB drives between filmmaker Laura Poitras and Greenwald because, as the whole world now knows, the Internet is fully bugged by the US and UK governments. So the UK, using an anti-terrorism statute, arrested Miranda on arrival at Heathrow, interrogated him for 9 hours, threatened to arrest him, and took his stuff. The war on whistleblowers has now escalated to disrupting journalists' communications.