Archive: August, 2008
Will Bunch
I'm shocked, my money was on John Cleese.
Seriously, my first reaction about McCain's pick is that...it's a great pick. What little I know about Alaska Gov. Sarah Palin is that she is a highly principled conservative, a fighter of corruption and government waste, including killing the infamous Bridge to Nowhere. She's the mother of five who's oldest son is shipping off to Iraq -- she has a quite a story to tell. I think the debate between her and Joe Biden will be an elevating moment for American democracy.
Will Bunch
I don't know a lot about a reporter for the Associated Press named Charles Babington who also spent a lot of time at the Washington Post -- it seems like he's written things over the years that have annoyed the left and and annoyed the right, which means either he's a "balanced" journalist or maybe a lot of his articles are just bad. I'm suspecting the latter after reading his analysis of Obama's speech tonight, a speech he conceivably may not have even watched as he filed his analysis just about 26 minutes after it ended.
One interesting thing about Babington is he doesn't seem to care about an informed electorate. This is what he said earlier this year on PBS with Gwen Ifill:
Will Bunch
Watch this clip with a hat tip to Josh Marshall, who has a pretty good analysis up, noting correctly that "the aim of this speech was not eloquence but strength."
Will Bunch
"John McCain likes to say that he'll follow Osama bin Laden to the Gates of Hell – but he won't even go to the cave where he lives."
That was classic Karl Rove -- go right after the guy's supposed strength. Obama seemed most animated, in fact, when he challenged McCain on national security. What was the worst moment of the speech? Hard to say -- seemed like he did all the things he needed to do....spelled out his policies better than before, took the fight to the GOP without being nasty about it, didn't shy away from the "celebrity" or "patriotism" issues but tackled them head on.
Will Bunch
A couple of days ago I noted that aside from the human impact on the Gulf Coast that we all fear, Hurricane Gustav might have a political impact as well by arriving at the start of the GOP convention in St. Paul. That said, I didn't expect this potential development:
Republican officials said yesterday that they are considering delaying the start of the GOP convention in Minneapolis because of Tropical Storm Gustav, which is on track to hit the Gulf Coast, and possibly New Orleans, as a full-force hurricane early next week.
Will Bunch
Read advance highlights of Barack Obama's speech here.
Will Bunch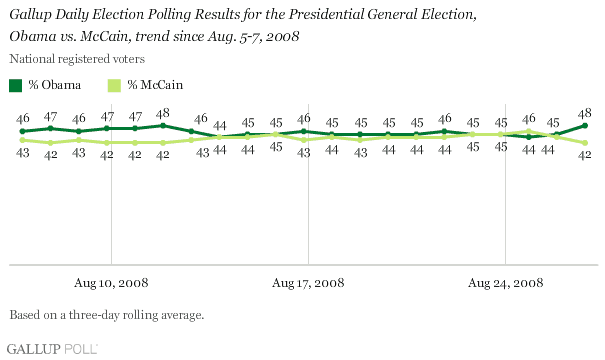 Midway through the Dems' convention, Obama gets a 5-point bump in Gallup's daily tracking poll. Maybe the surge is working after all -- you wouldn't sense that if you watch a lot of cable TV.
Will Bunch
Will Obama's decision to give his acceptance speech before 75,000 at Denver's Invesco Field -- a decision made before Democrats realized that the GOP's main slam on their candidate would be that he has a Messiah complex -- give the Republicans a boatload of new ammunition to blast the Illinois senator as a "worldwide celebrity."
Or will millions of voters capture the excitement of an electrifying moment?