Archive: June, 2013
Will Bunch
If only Franz Kafka were alive to write the sequel. A good title would be "The List." Mother Jones has a remarkable story about an American citizen of Pakistano descent who left the United States in perfectly good standing, but on the way home found himself apparently on the "no fly" list:
The basic outrage here is obvious: in a liberal democracy, no citizen should be subjected to this kind of treatment without due process. And the no-fly list not only doesn't incorporate due process, it goes out of its way to be the most Orwellian possible denial of due process imaginable. You are on a list. Maybe. But we won't tell you. How can I get off the list? Well, who says you're on a list in the first place? But I can't fly. Sorry, we can't comment on that. Rinse and repeat.
Will Bunch
Not all states are created equal.
Texas had state Sen. Wendy Davis, her pink sneakers -- and an amazing (albeit perhaps temporary) victory.
Will Bunch
WASHINGTON — Four Central Intelligence Agency officers were embedded with the New York Police Department in the decade after Sept. 11, 2001, including one official who helped conduct surveillance operations in the United States, according to a newly disclosed C.I.A. inspector general's report.
Will Bunch
Over the last few years, this has become a numbing ritual. A major civil -rights breakthough takes place -- New York passes a gay marriage law, or President Obama comes out in support of same-sex weddings, or today's landmark ruling by the Supreme Court to strike down the Defense of Marriage Act, yet another example of Orwellian doublethink. A big party breaks out -- in the Castro District of San Francisco, or outside New York's Stonewall Inn. In Pennsylvania, we just sit here, perplexed.
Why can't us?*
Will Bunch
"It is awful, it's a sad day, I never thought that I would see the day when the U.S. Supreme Court would put a dagger in the heart of the Voting Rights Act of 1965."
-- John Lewis, 1960s civil riights leader and U.S. congressman from Georgia.
Will Bunch
Why yes, the Supreme Court ruling gutting the Voting Rights Act is -- as it says on that fireman's jacket -- a "BFD." More on this later today.
Will Bunch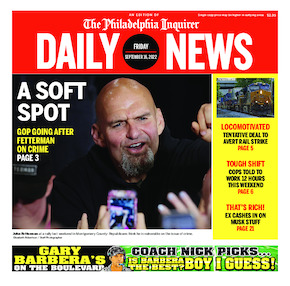 Story complaing about high city taxes (even as it shutters schools and lays off thousands of school workers)? Check. Conservative columnist praising the wisdom of our corporatist Supreme Court? Check. In lifestyle news...hey, that Paula Deen's not really so bad, is she? I'd like to give a special thanks to today's guest editor, Sean Hannity.