Archive: June, 2009
Will Bunch
...isn't the start of the Al Franken 6/10 Decade, but this highly sensible pronouncement about future policy in Afghanistan:
National Security Adviser James L. Jones told U.S. military commanders here last week that the Obama administration wants to hold troop levels here flat for now, and focus instead on carrying out the previously approved strategy of increased economic development, improved governance and participation by the Afghan military and civilians in the conflict.
Will Bunch
The gamblers thought it was an empty threat. Politicians talked about the casinos, of course, as sure as they talked about corruption and alcoholism. It didn't mean that vice was going anywhere.

But on Tuesday night, finally and anticlimactically, the games drew to an end -- a last spin of the roulette; the final blackjack hand; one more jangle at the slots.
Dang, too bad this is not Pennsylvania, but Russia. And I'll bet their casinos aren't even ugly like ours.
Will Bunch
At least he intentionally tried to be funny.
Will Bunch
When you're 50 years old these days, you're grateful for surviving the week....so it's an added bonus to learn, with gratitude, that this blog won a Third Place in the "blog column" category from the National Society of Newspaper Columnists. This was the very first time that "blog columns" were honored, so it's kind of cool to be something of a pioneer as journalism goes more and more online.
The (3rd Place) winning posts were about Obama's stance on prosecuting torture, the disgrace to journalism that Charlie Gibson and George Stephanopoulos perpetrated here in Philadelphia last April, and my favorite, Sarah Palin's "Speech to Nowhere":
Will Bunch
There's a great new essay out that attempts to explain why it would have been virtually impossible for successful, thriving newspapers back in the 1990s to have done the things to allow them to compete on the Internet in the 2000s. The problem, Michael Nielsen argues, is not a story of failure but of success -- newspapers had developed an elaborate architeciture to do the things they did well, and making changes to adjust to Internet start-ups would have done more harm than good.
For example, he notes that newspapers spend thousands of dollars to send the nation's best photojournalists out on a story, but now they must compete with Web sites or aggregators using stock photos or other low-cost alternatives. To compete, a newspaper could lay off that award-winning photo talent -- but at what cost to morale, to the paper's brand name, and to its internal way of doing business?
Will Bunch
A tragic, must-read column from Bob Herbert of the New York Times tonight:
No one seems to know how old Mohammed Jawad was when he was seized by Afghan forces in Kabul six and a half years ago and turned over to American custody. Some reports say he was 14. Some say 16. The Afghan government believes he was 12.
Will Bunch
I've seen a lot of Internet chatter recently that Matt Drudge of the Drudge Report is no longer at the top of his game (whatever that game was.) Maybe that's true. For years Drudge managed to present a version of reality that many found compelling even as that reality had, in contrast to the famous Stephen Colbert-ism, a pronounced right-wing bias. So when I saw the headline today that "Obama is chosing to be weak" and that the source was the staid Financial Times, I instinctively glanced over my right shoulder.
I should have looked to the left.
Will Bunch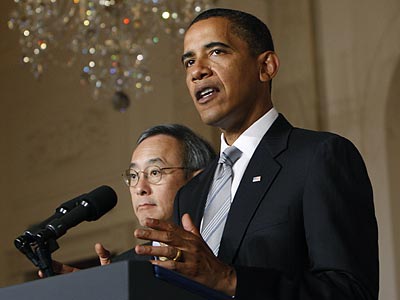 Just had a chance to catch some of Rush Limbaugh on the car radio -- El Rushbo was kind of all over the map but among the things that he was attacking President Obama for, the one that really stood out was that the president had the nerve to endorse low-energy lightbulbs today. He played a soundbite from this:
President Obama on Monday announced new federal efforts to promote energy efficiency in the United States, through stricter standards on fluorescent and incandescent light and other measures.

"I know light bulbs might not seem sexy," Mr. Obama said, "but this simple action holds enormous promise because 7 percent of all energy consumed in America is used to light our homes and our businesses."