Archive: June, 2008
Will Bunch
Olbermann, who else?
I'd be remiss if I didn't mention that one of your favorite bloggers is mentioned about 80 percent of the way into it.
Will Bunch
This is the funniest thing I've seen in ages. (More here).
Will Bunch
If I don't resort to shady tricks like this I lose my spot on the automated Philly.com homepage. Here's my most recent post.
Will Bunch
The Chicago Tribune goes where few would dare to tread after the Supremes overturn D.C.'s handgun law:
Some view this court decision as an affirmation of individual rights. But the damage in this ruling is that it takes a significant public policy issue out of the hands of citizens. The people of Washington no longer have the authority to decide that, as a matter of public safety, they will prohibit handgun possession within their borders.
Will Bunch
You know, the one against the people who ACTUALLY ATTACKED US!
This paragraph is just sad:
Will Bunch
With everything that's swirling around about guns and child rapists and bomb-bomb-bombing Iran and what not, Philly's Karen Heller raises about the most provocative question possible.
Should cheesesteak really be the unofficial official food of Philadelphia?
Will Bunch
The NYT's Paul Krugman has a good column this morning about Reagan, Clinton, and Obama:
The candidate's defenders argue that he's just being pragmatic — that he needs to do whatever it takes to win, and win big, so that he has the power to effect major change. But critics argue that by engaging in the same "triangulation and poll-driven politics" he denounced during the primary, Mr. Obama actually hurts his election prospects, because voters prefer candidates who take firm stands.
Will Bunch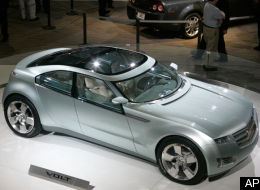 This is the electric-powered Chevy Volt, which a headline on the Huffington Post inexplicably touts as "The Barack Obama of Automobiles."
Does that mean that once it gets halfway to its destination, the car starts veering steadily to the right?