Archive: December, 2008
Will Bunch
...already here in Sydney (in Phillies red!), coming soon to a town near you. After the Eagles win the Super Bowl on Feb. 1 in Tampa, to the musical accompaniment of Bruce Springsteen, what else do we hope for in the New Year? Because someone told me that change is coming.
Program note: I'll be off until this Sunday (Jan. 4). Have a great holiday (didn't we just have one of these?)

(Photo credit: AFP PHOTO/Torsten BLACKWOOD)
Will Bunch
Even though it's been eight months or so, interest in my question-and-answer with Barack Obama at the Daily News offices back in April -- in which he discussed the possibility of criminal prosecution for crimes committed by the Bush administration -- continues to rise as his presidency approaches. Here, my new online friend Ari Melber at the Nation cites the interview in urging the incoming president to name a special prosecutor to probe the White House greenlighting of torture:
The Obama transition team is taking questions again at Change.gov, throwing open the site this week for citizen input. The first run of this experiment was a mixed bag. The platform was open and transparent, but the official answers felt more like old boilerplate than new responses. When the submitted questions parrot toics in the traditional media, of course, the exchange can feel like a dated press conference. But here's a vital question that few reporters have ever presented to Obama:
Will you appoint a Special Prosecutor (ideally Patrick Fitzgerald) to independently investigate the gravest crimes of the Bush Administration, including torture and warrantless wiretapping?
That question ranked sixth in voting last time -- out of over 10,000 submissions -- but the transition team only answered the top five questions. Now that Vice President Cheney confessed his support for waterboarding on national television, flouting the rule of law, the issue is even more urgent. Activist Bob Fertik, who has submitted the question twice, explains how you can vote to press this issue on the transition team:
Will Bunch
Let it be.
People are understandably outraged that Illinois Gov. Rod Blagojevich -- not far removed from his arrest on corruption charges amid allegations he wanted to sell his appointment to the U.S. Senate seat that Barack Obama is vacating -- went ahead and named someone anyway, after both national Democratic Party and state officials from Obama on down warned him not to. Blago's pick is 71-year-old Illinois career pol Ronald Burris, a one-time rival of the incumbent governor who is the state's former attorney general.
Will Bunch
For me, today was the day that all Americans fear. My AARP card showed up in the mail. Like, they couldn't have waited for the actual day. For the record, I'm about 30 years away from my planned retirement, although probably a couple of weeks from my forced retirement.
The music of Blue Oyster Cult is speaking to me with more cowbell than ever:
Will Bunch
The new Vanity Fair has what looks like a fascinating oral history of the Bush administration from insiders who are more chatty than I'd expected they would be. The angle that's getting the headline is how Bush's presidency basically ended after Katrina -- no surprise there -- but I think former Colin Powell aide Lawrence Wilkerson's comments on Dick Cheney are a lot more revealing:
Lawrence Wilkerson, top aide and later chief of staff to former Secretary of State Colin Powell, said that as a new president, Bush was like Alaska Gov. Sarah Palin, the 2008 GOP vice presidential nominee whom critics said lacked knowledge about foreign affairs. When Bush first came into office, he was surrounded by experienced advisers like Vice President Dick Cheney and Powell, who Wilkerson said ended up playing damage control for the president.
Will Bunch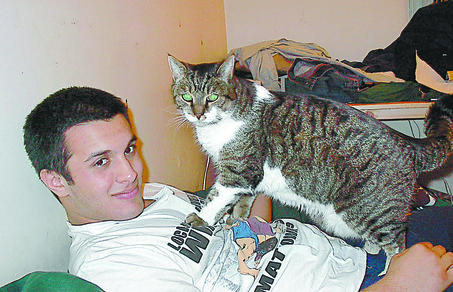 Earlier this month, there was a lot of discussion about the tragic suicide of 23-year-old Zal Chapgar, and how the media covers suicide and related issues of mental illness. The Inquirer's Melissa Dribben, who did the initial story about Chapgar's leap from the Loew's Hotel and the aftermath, is back with the rest of the story:
Then he headed toward the wall of windows looking east over the city, opened his backpack and took out a hammer.
Will Bunch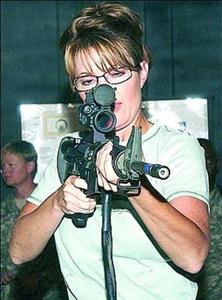 What a Tripp! Sarah Palin is a grandma!

ANCHORAGE, Alaska (AP) -- The teenage daughter of Alaska Gov. Sarah Palin, whose quest for the vice presidency began to go downhill the day she announced the pregnancy, has given birth to a son, a magazine reported Monday.

Bristol Palin, 18, gave birth to Tripp Easton Mitchell Johnston on Sunday, People magazine reported online. He weighed 7 pounds, 4 ounces. Colleen Jones, the sister of Bristol's grandmother, told the magazine that ''the baby is fine and Bristol is doing well.''

The governor's office said it would not release information because it considers the baby's birth a private family matter.

The father is Levi Johnston, a former hockey player at Alaska's Wasilla High School.



Um, about that wedding....




(Footnote: The lede on the AP story is waaaay off base here. The pregnancy was revealed two days before Palin's convention speech and the high point of her campaign, which only "began to go downhill" when she was finally asked unscripted questions in TV interviews.)



Will Bunch
For a couple of days now I've grappled with what to post on the situation in Gaza. The one idea I've read and can wholly endorse is that the American people are not well-served by the way the conflict is covered in our media. Beyond that, everybody needs a better policy than the one they've got, everybody needs to stop the wanton killing of civilians. You know, I'm about to turn the big 5-0 in a few weeks, and in my entire lifetime I've seen nothing in the Middle East but people doing the same violent things again and again, and expecting a different result each time.
Isn't that the definition of insanity?