Archive: October, 2009
Will Bunch
Philadelphia's been a punchline for as long as I can remember -- long before most of us were around, even. After all, it was way back in 1940, in a movie with Mae West called "My Little Chickadee," that W.C. Fields famously stood on the gallows and told his executioner, ""I'd like to see Paris before I die. Philadelphia will do." Back in Fields' day, the knock on the City of Brotherly Love was just that it was so dull -- closing up at 10 o' clock, second prize is two weeks in Philadelphia, yada yada yada. Over the next seven decades, as pro sports increasingly became the city's remaining portal into the nation's consciousness, you could add the epithet "boorish" to "boring" -- there were snowballs at Santa Claus (sort of) and catcalls for just about anyone.
Oh, and did I mention that we're fat?
Will Bunch
I've decided I don't post enough right-wing conspiracy theories on Attytood, so here goes:
Will Bunch
The world comes to Philadelphia this weekend.
The buck -- and the World Series -- stops right here.
Will Bunch
A.J. and Pedro each mowed down the side in the 1st -- looks like another battle.
Discuss.
Will Bunch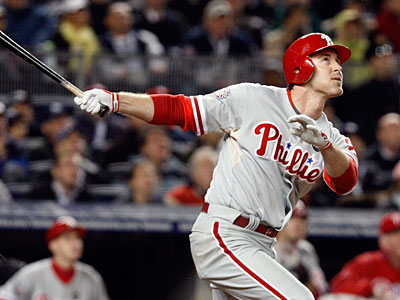 Quick prediction: Phillies in 6, with Pedro Martinez FTW a week from tonight.
Discuss the game below.
Will Bunch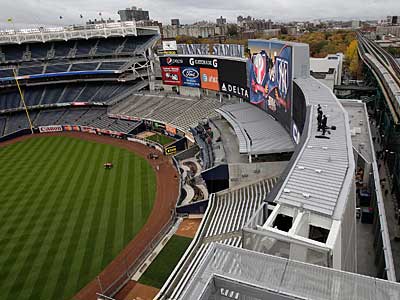 I'm the Under Assistant West Coast Promo Man again.
Will Bunch
Philadelphia was remarkable in its own right. Almost unthinkably—although it wasn't known at the time—the National League Most Valuable Player award would go to a relief pitcher, 33-year-old veteran Jim Konstanty, who logged almost unheard-of numbers out of the Phillies' bullpen. Konstanty appeared in 74 games, threw 152 innings, saved 22 games and won 16 more, lost only seven and posted an ERA+ of 152.
Will Bunch
UPDATE: Some 68 percent of his constituents in Connecticut favor the public option, but Joe Lieberman is instead siding with his campaign contributors: $2,395,369 from the health sector and $1,033,402 from the insurance industry during his undistinguished Senate career. Researchers at the Harvard Medical School say that 45,000 Americans die from lack of insurance coverage every year, so extending that to Connecticut's roughly 3.5 million people, that would be about 1,000 every year just in the Nutmeg State alone. I wish Lieberman could be forced to explain his position to the families of every blessed one of the deceased.