Archive: October, 2008
Will Bunch
OK, the Supertrain it was not.
There are estimates that as many as 2 million people attended the Phillies' victory parade today -- we'll never know exactly but I think that it's a fair guesstimate that the number of people coming into Center City was about twice a typical weekday, maybe more. How could Philadelphia handle such an influx? Well...it didn't, and at the same time it did.
Will Bunch
Intelligence sources tell Attytood that Chase Utley has successfully developed the F-bomb. (h/t The 700 Level).
Will Bunch
There are three things certain in life -- death, taxes, and newspaper quotes from "regular Joe" man-on-the-street Greg Packer. The 44-year-old water treatment plant worker from Long Island is a living legend in the news business for getting quoted, usually up in the Big Apple:
NEW YORK He's not just another face in the crowd at concerts, book signings, and sporting events. Somehow, over the course of 10 years, one man has managed to become the media's go-to guy, quoted more than 100 times in various publications, including several prominent newspapers. Greg Packer is the "man on the street."

Packer, 40, of Huntington, N.Y., arrives early to media events. His latest accomplishment: being 15th in line in Washington, D.C., to pay his respects to former President Ronald Reagan. "I'm the best person to come to — anywhere," says Packer. "I always give time, and I always have an answer."
Will Bunch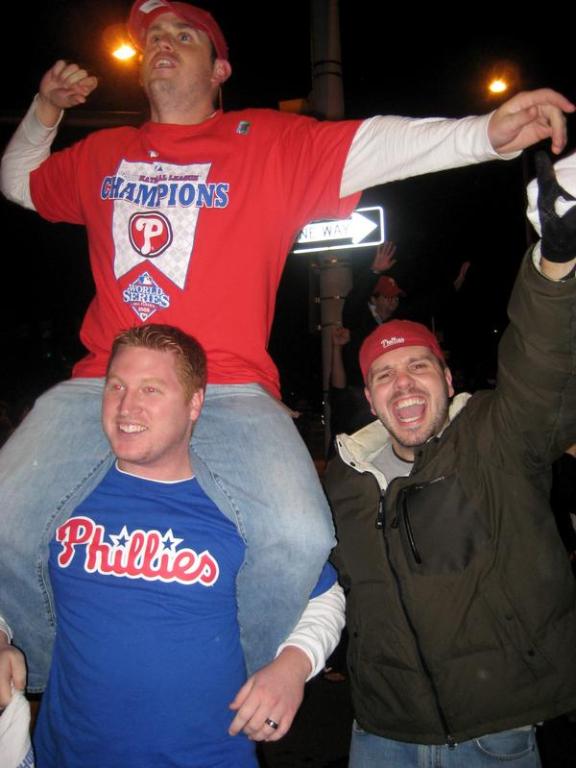 Why are you still on the computer? You're late for the party! See everyone tonight. Talk amongst yourselves.
Will Bunch
As any Philadelphia sports fan could have told you -- before YESTERDAY -- there's pretty much an 100 percent correlation between the terms "disarray" and "loser." In sports, when a winning team has a lot of infighting and intrique, they may get joked about like the 1970s' Yankees as "The Bronx Zoo" -- but a ballclub in disarray must be headed for an 100-loss season.
In the world of TV news, all we've been hearing this summer and fall is that MSNBC is a network in disarray. Here's a typical story from the Politico that ran during the Democratic National Convention on Denver:
Will Bunch
There's a million wonderful things about your team winning the World Series...and only one sort of bad one.
It means that there is no more baseball until 2009. I know it sounds weird, but as thrilled as I am about a parade down Broad Street tomorrow, a small part of me wishes there was a baseball game in South Philly instead of a parade.
Will Bunch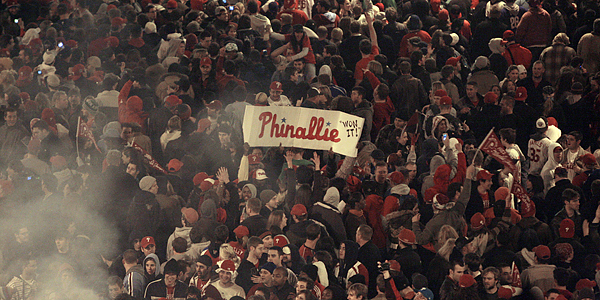 No, I'm not talking about the morons out there who think "a great baseball team" somehow equals "tipping over police cars."
I mean this graphic by master Phillies blogger Jason Weitzel of Beerleaguer, which captures the true meaning of Phillies' fandom.
Will Bunch
9:58: There is joy in mudville -- the Philadelphia Phillies are world champions!!!!!
9:50: Lights out Lidge has two outs to go. Prepare for lift off!!