Archive: September, 2008
Phils win, Phils win! 10 out of 11!
Their magic numbers? Three to make the playoffs, and four (assuming the Mets' score holds -- they're losing 9-4 in the 9th) to win the NL East. I'm stuck between writing a story and editing a story, so with no further ado here's Schoolhouse Rock to celebrate:
Jeez, I spent an hour not looking at the TV and now this happens:
NEW YORK (AP) - Oil prices spiked more than $25 a barrel Monday—the biggest one-day price jump ever—as anxiety over the government's $700 billion bailout plan, a weak dollar and an expiring crude contract ignited a dramatic rally.
From an article advancing today's John McCain-Sarah Palin rally in Delaware County:
McNichol said the phones were very busy and he even received a call from Longport, N.J., for tickets. Ticket-seekers were advised to wear red.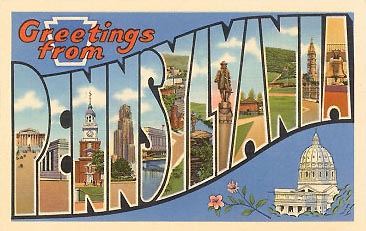 There's a new poll out this morning showing that Barack Obama is "winning" in Pennsylvania -- but it doesn't feel that way. A Mason-Dixon poll of Pennsylvania voters for NBC News -- which they've touted heavily on the air but haven't posted in detail on the Web for some reason -- shows Obama beating John McCain by 46-44 percent, which essentially means that it's a dead heat in a state that has voted Democratic in the last four presidential elections.
NBC's Chuck Todd has been saying that the underlying numbers show Obama underperforming among Catholics here and among Democrats in general, with an unusually large pool of "undecided" Democrats in the one-time steel-and-coal belt of Southwestern Pennsylvania. I put "undecided" in quotes because these voters received massive exposure to Obama in March and April -- if they're telling pollsters now that they haven't made up their minds...they probably really have.
At about 7:10 last night I had to pinch myself and remind myself that this is Philadelphia...city of winners! Flipping back and forth and watching the Phillies and Eagles slam the door on those imposters from South Florida and Pittsburgh made it a thrilling afternoon.
I was probably in the minority in that I was 85 percent watching the Phillies -- hey, it's the last week of a pennant race, the greatest treat in baseball. And watching Brad Lidge in action make you realize the whole MVP race is a bit of a farce, because has there been any player more valuable to his team making the post-season than Lidge. By the same token, watching the way this team performs for Charlie Manuel in the clutch leaves no doubt who the Manager of the Year should be.
Hello, hello....ola! I think I sense Saturday Night Live's opening sketch for next week in the offing:
ORLANDO, Fla. -- Palin will meet with the presidents of Iraq, Pakistan, Georgia and the Ukraine, as well as singer and activist Bono during her three-day trip to New York, the McCain campaign announced Sunday.
Thousands of Americans didn't need a Lehman Brother to know which way the wind was blowing:
A few tents cropped up hard by the railroad tracks, pitched by men left with nowhere to go once the emergency winter shelter closed for the summer.
The Phillies won their 7th straight game tonight to go 9-0 on the season at Atlanta's Turner Field -- thanks to Jayson Werth's 12-game hitting streak, Pat Burrell's 32nd home run (above, the game-winner), Brad Lidge's 38th-for-38 save, and Ryan Howard's 138th RBI.
They still lead the Mets by 1/2 game in the NL East, with 9 to play. Their safety net is that they're now two games better than the Brewers, who continue to fade in the wild card race.