Archive: August, 2008
Will Bunch
Blinq is back and it's better than ever, now with opinions! In this installment, the neverending Hillary question. In this bald, bearded man's opinion, she'll probably do the "right thing" and give a barnburner speech on behalf of Obama -- although the newsman in me is hoping she doesn't.
According to Dan:
Will Bunch
My guestimate was that it would take about 48 hours for this story to come out. And here it is, right on schedule:
During the years that Senator Joseph R. Biden Jr. was helping the credit card industry win passage of a law making it harder for consumers to file for bankruptcy protection, his son had a consulting agreement that lasted five years with one of the largest companies pushing for the changes, aides to Senator Barack Obama's presidential campaign acknowledged Sunday.
Will Bunch
Tomorrow's news today -- a sneak peek at my article in tomorrow's DN:
Before he was Barack Obama's running mate, Delaware Sen. (and ex-candidate) Joe Biden was famous for one moment in the 2008 race — when he delivered a body blow to Republican Rudy Giuliani by calling his campaign "a noun, a verb...and 9/11."
Will Bunch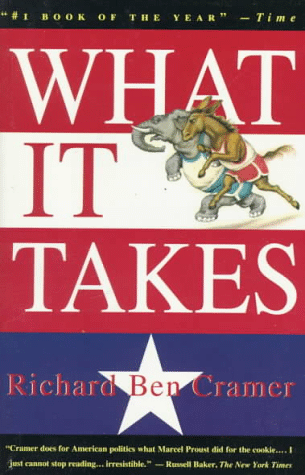 A book by legendary former Inquirer reporter Richard Ben Cramer about the 1988 election -- called "What It Takes: The Way to the White House" -- is considered by many political junkies to be the best book about a presidential race ever written (it's certainly the longest). In a year where the candidates didn't seem so interesting at the time, Cramer wrote fascinating portraits of many of them, but especially one Republican, Bob Dole, and one Democrat...Joe Biden.
So maybe it's not a surprise that the 16-year-old book is now No. 24 on Amazon.com's best seller list. Well deserved.
Will Bunch
Agreeing here with Michael Smerconish that Obama's Biden pick and other factors make Tom Ridge a more likely veep pick than a few days ago:
1) The choice of Scranton-born Biden was clearly aimed at Pennsylvania more than any other battleground state, so why wouldn't McCain see Obama's Biden and raise him a Ridge, a popular ex-governor here in Pa (or so they say).
Will Bunch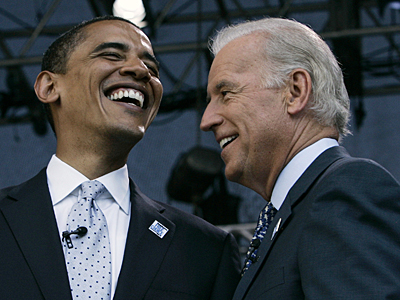 Does anyone else think the fact that Obama sent out his much ballyhooed text message at 3 a.m. was a giant twist of the knife in Hillary Clinton's back? Do you think any of the 1,900 Hillary fanatics out there in Denver might take it that way? Jeez. On the other hand, the fact that his choice Joe Biden will turn 74 in 2016 makes it a good chance he wouldn't be the candidate then, if things played out that way. That would clear the deck for younger candidate. Is 68 -- Clinton's age in 2016 -- young enough?
As for the pick of Joe Biden, it was the same Obama mode we've seen since June and that we're likely to see through November if not beyond -- safe, predictable, cautious, a tad boring. I've not been a huge Biden fan -- he sided with his home-state credit card companies and against the middle class in the 2005 bankruptcy bill -- but that's not something the Republicans are prone to use against him. The up side is that he's a little wacky, which means you can expect more gaffes like "slave state" but also some memorably good lines -- who can forget "a noun, a verb and 9/11"? And while he voted the wrong way on the Iraq war in 2002, he knows the consequences better than most pols -- his son Beau leaves for his second tour of duty there this fall.
Will Bunch
Waiting for Barack...no more. Think there must be a problem in Obamaland. I don't usually blog anything on Friday night or Saturday but maybe I'll have a pithy reaction if he picks someone like Tony Rezko or Ayman al-Zawahiri or Larry Mendte or the like.
However, I will be working and posting here this Sunday night, and throughout the two conventions, so come back early this weekend, and often. The whole world is watching, or so they claim.
Will Bunch
Believe it or not, somebody you never heard of -- Texas Rep. Chet Edwards -- is supposedly on Obama's short list, we now know.
Wow.