Archive: June, 2008
Will Bunch
That quote in the headline doesn't come from Michael Moore or some commenter on Democratic Underground or Daily Kos.
It comes from a retired major general of the U.S. Army, Antonio Taguba (top). It was Taguba, you may recall, that President Bush asked to investigate the original claims of detainee abuse at Iraq's Abu Ghraib back in 2004.
Will Bunch
You gotta say this about Sen. Arlen Specter: The guy's got gumption. That can be a good thing -- when he's bravely battling cancer, to be sure, and sometimes even politically, like a couple of decades ago when he helped save the nation from Justice Robert Bork.
And then there's Specter's jihad against the National Football League -- which is just getting surreal. It's amazing -- and sad, in my opinion -- how closely Specter's agenda matches his largest campaign contributors, Comcast, which is locked in a long feud with the cable giant over the NFL Network, and Comcast's lobbyists. Now that Specter is dropping the Spygate issue, he's going to investigate the league...for something:
Will Bunch
I was trying to think of something positive to say about Boston this morning, but all I could come up with was this video from 42 years ago.
It's the open thread -- talk about...things.
Will Bunch
Last summer, after watching and writing about the Democratic presidential debate held at the Yearly Kos (now called Netroots Nation) convention in Chicago, I wrote an article saying that the public really asks better -- and even more interesting -- questions of the candidates than our professional news media. And that was long before the now infamous Gibson-Stephanopoulos Massacre here in Philly.
Comes now Eric Boehlert with the case for getting the media out of the proposed Obama-McCain town hall meetings, and much of the rest of the race, too. He notes that the two candidates rejected an ABC News offer to hold a town hall meeting with the glitzy Diane Sawyer as moderator, that would only be broadcast on ABC and not any other outlet:
Will Bunch
I thinking of bailing on this newspaper thing while there's still time and growing corn in my backyard. I live on high ground so there's no danger of flooding. Brilliant, huh?
Will Bunch
As you've possibly read elsewhere, the creator of the most famous political ad in American history died this week. Tony Schwartz, who was 84, developed the celebrated 1964 "Daisy" ad for President Lyndon Johnson, which morphed from an adorable young girl counting daisy petals into a nuclear countdown and then a mushroom cloud. The spot suggested that tough-talking ultra-conservative Republican Barry Goldwater presented a risk of nuclear war; the ad only aired one time, but people have been talking about it ever since. Dick Polman has a good look at its impact.
You see the images a lot, but the words get less play. Here's what LBJ said in the voiceover:
"These are the stakes! To make a world in which all of God's children can live, or to go into the dark. We must either love each other, or we must die."
Will Bunch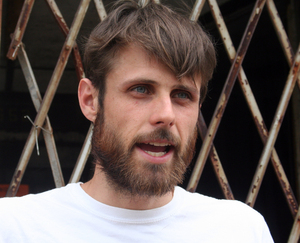 When Mayor Nutter announced late last year that he was hiring D.C. Charles Ramsey as his police commissioner, I said I would keep an open mind but I was dismayed at his treatment of anti-war protesters and his frequent clashes there over civil rights. So far, I've been mostly impressed with Ramsey -- murders have dropped slightly while he's taken a tough line on police brutality.
That said, I find the detainment of four community activists in the Francisville neighborhood to be more than a little alarming. The only thing that's clear from what's come out so far is that the four oppose police surveillance cameras. What's not clear is what laws they allegedly violated -- they ultimately were not charged with anything:
Will Bunch
Barack Obama's plan to visit Iraq and Afghanistan is probably good politics (although we'll see when he actually goes.) But he better hurry to Afghanistan -- unless he wants to make good early on that promise to meet with our enemies, since they may be running the country soon:
ISLAMABAD, Pakistan — Hundreds of Taliban fighters have swarmed into a strategically important district just outside Kandahar, the biggest city in southern Afghanistan, apparently in a push for control just days after 400 Taliban members escaped in a spectacular breakout from the Kandahar prison, officials said.