Archive: May, 2009
Will Bunch
Whether it's the United Auto Workers and my comrades-in-arms at the Newspaper Guild here in Philly, I think we can all agree that 2009 hasn't been a very easy or particularly exciting year for union members. Which is why I look on with a certain amount of bemusement as Major League Soccer officially unveiled our local franchise today: The Philadelphia Union.
Talk about a throwback! Was the name Philadelphia Stetsons unavailable? Among the other issues raised, the socialist-sounding name of the soccer club pegged for the new waterfront stadium down in Chester probably ensures that most WPHT listeners and other local conservatives won't be attending in any great numbers. But actually, even though the City of Brotherly Love is probably the strongest remaining organized labor outpost in America, the team didn't mean THAT kind of union:
Will Bunch
....because a) like Harry Truman said famously, it's a damn shame when anybody dies and b) I think Limbaugh should stick around for a half-century to understand the full impact of his noxious ideas and to watch as America overcomes them, as it always does. I also think Dick Cheney should enjoy long life and good health -- so he can be properly tried as a war criminal at some future date, so there.
As for Wanda Sykes, if you can't make fun of Rush Limbaugh -- Rush Limbaugh! -- without invoking 9/11 or wishing for his demise, you are one lousy comedian. The White House isn't pleased with her kind of humor, and neither was I, because we all have more important things to bloviate about. I will say this, and that is that inappropriate humor is far, far worse, to paraphrase Richard Nixon, when the president does it.
Will Bunch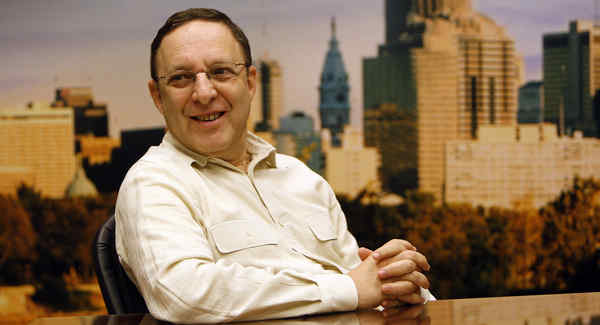 Maybe now that Joe Banner's been recognized for his good works, he'll be able to tolerate some criticism every now and then, although we're not holding our breath for that. Congratulations. Somehow it seems fitting that the public comments have been disabled for this article.*
* This was the post I was writing a couple of hours ago when my cheap-o computer mouse died. This is shaping up as one of those weeks, but hasn't that been true every week lately?
Will Bunch
What a great day -- Phillies notwithstanding. Tied up with Sunday night work, so it's a talk amongst yourselves kind of night. I''m trying to be a contrarian and not obsess over the "nerd prom," also known as the White House Correspondents' Association dinner.
Photo by Jim MacMillan.
Will Bunch
A lot of people wonder if the folly of the Iraq War could have been stopped, if only their had been a truth-telling journalist like a Woodward or Bernstein to expose all the flaws and all the lies. But there was such a reporter, and to add a layer of irony, he works at the Washington Post. His name is Walter Pincus and his scoops about the run-up to Bush and Cheney's splendid little war were buried on Page A19, where they could have minimal impact on public opinion.
Today, Pincus gives his overview of what went wrong with American journalism, and to ironically steal a phrase from those dark days of 2002-03, it's a slam dunk. It demands to be read from start to finish, and thus it's hard to excerpt. He does find plenty of fault to go around, such as:
Will Bunch
Tom Ridge, faced with a choice between making a ton of cash or hanging out with 99 whackjobs for six years, chooses sanity.
This means the GOP 2010 candidate will likely be Pat Toomey, meaning the next senator will either be a Democrat or an Arlen Specter.
Will Bunch
"Accidental" baseball drug abuse -- it's not just for J.C. Romero anymore.
Will Bunch
Believe it or not, there's actually a significant contribution that we here in Pennsylvania can make towards wiping some of the stain of torture off of our tarnished national soul. In addition to all the other various crooks and liars in the Pa. political pantheon, now it turns out that a bona fide war criminal still has a license to practice law in the Keystone State.
His name is John Yoo, not so proud alum of Episcopal Academy here, and when he's not spouting off on his seriously warped, dictatorial views of presidential power in supposedly respectable venues like the National Constitution Center, Berkeley Law School and op-ed pages of the Philadelphia Inquirer, he was inside the Bush White House devising the bogus legal justification for the disgraces that were perpretated in our names from Gitmo to Abu Ghraib.