Archive: April, 2013
OK, with the power of hindsight maybe yesterday wasn't the greatest day to roll out our brand new website, PhillyDailyNews.com. But consider this: The fact that me and my remarkable friends and co-workers at the Daily News threw outselves headlong into the horrors of the Boston Marathon attack and finding out how it affected people from the Philadelphia area literally from the second we saw the first post on Twitter (5 minutes before CNN even had the news) -- and dropped our plans to aggressively promote the new site -- gives you an insight into what really matters to us.
People here certainly hope that the kind of take-no-prisoners approach we take to the big stories also matters to you, the reader. The new websites -- which are available to paid subscribers (which can include our new weekend edition) -- are basically our free-market approach that will save on-the-ground reporting (by that I mean things like why there are so many guns on the street, not "the big story tonight is unseasonably warm spring weather") for Philadelphia and its immediate suburbs. If this experiment doesn't work, in a couple of years no one will be complaining about having to pay for quality journalism. People will be complaining how hard it is to find out what the mayor or City Council are really up to.
At roughly 2:40 p.m. this afternoon, Jill Beccaris-Pescatore of Glenside realized a long-time goal as she crossed the finish line of the Boston Marathon.
Just 10 minutes later, she was a block and a half away when she heard the explosions.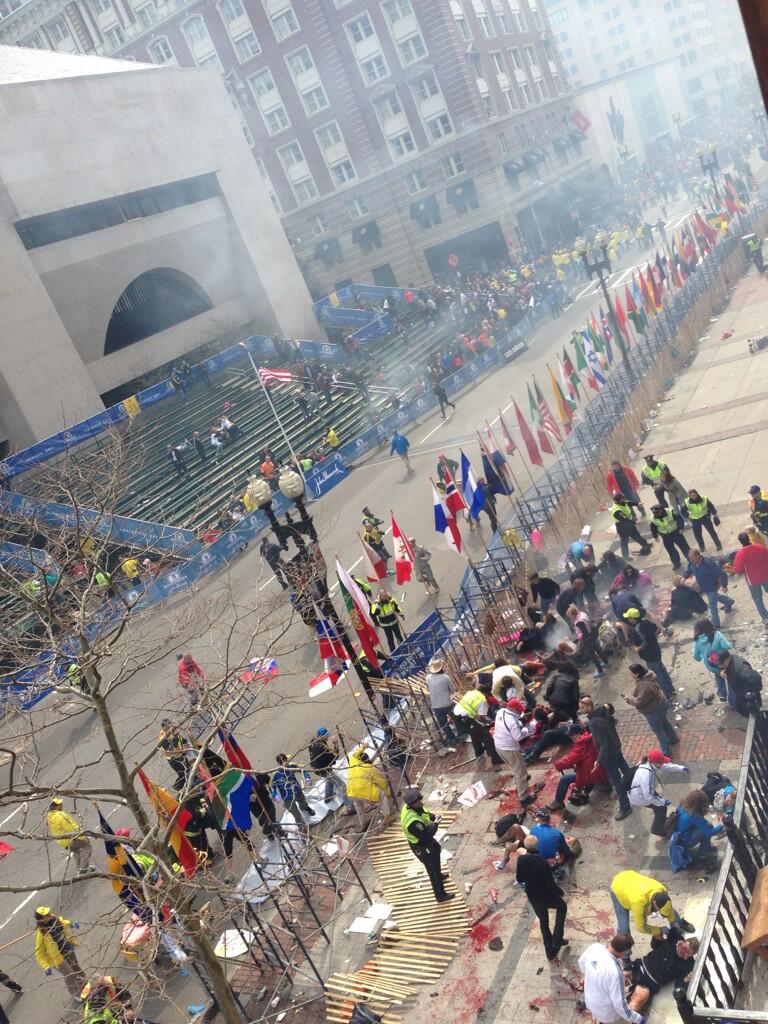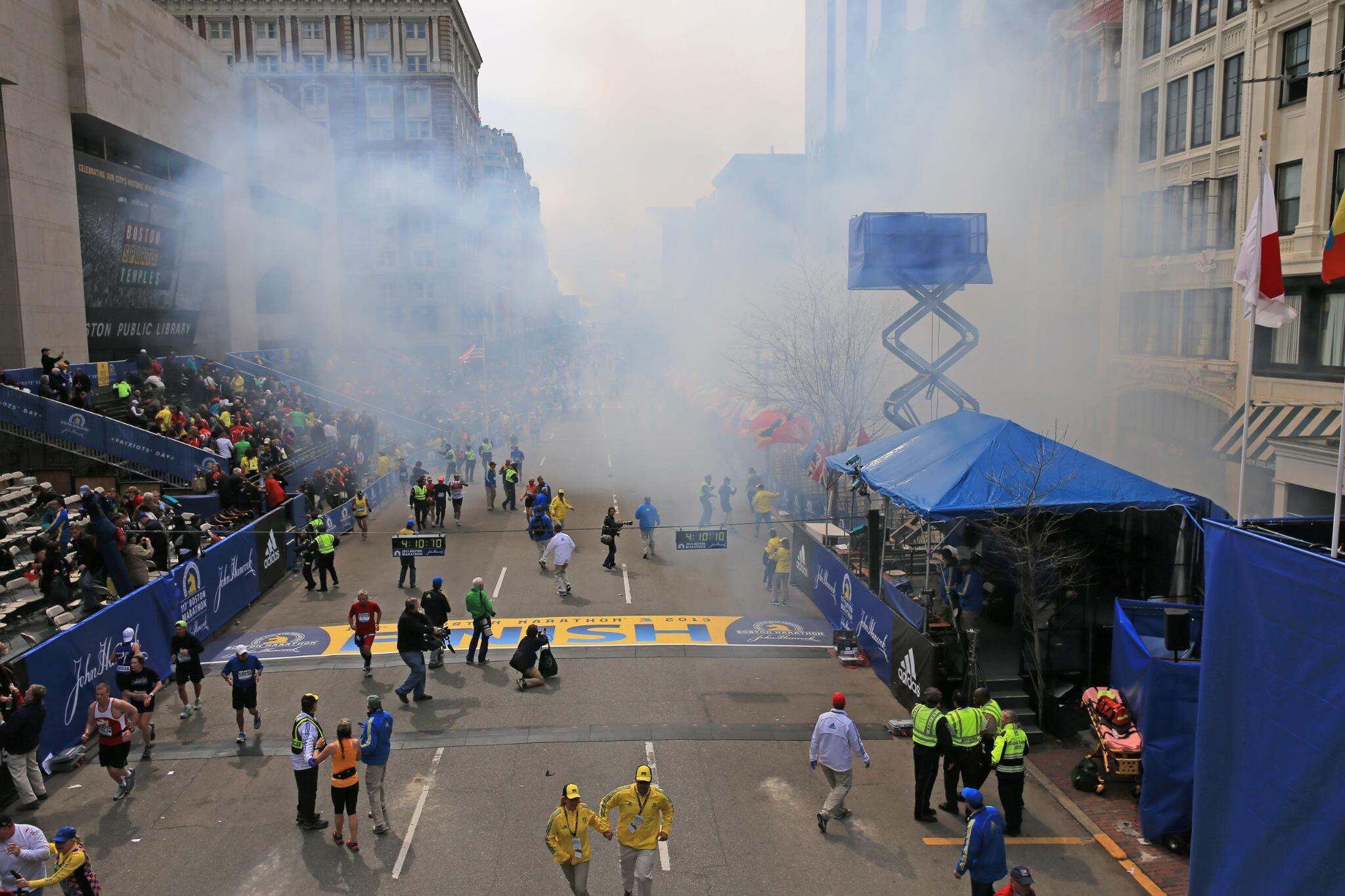 UPDATE:IV: Boston police are telling CNN that at least two people are dead and 22 wounded. Meanwhile, Boston police have reportedly detonated a third device near the Boston Public Library. (Just increased to 29 injured.)
Michelle Rhee has travelled a long way on the good name she made for herself by reporting higher student achievement as superintendent of schools in Washington, D.C. (never mind that her reforms were so unpopular that her patron, ex-Mayor Adrian Fenty, was voted out of office). Since leaving that post, Rhee has become a highly visible spokeswoman for corporate education reform -- high-stakes testing, charter schools, crushing the teachers' union and what not -- as head of the organization Students First. You may have seen her the other day on "The Daily Show" with Jon Stewart promoting her new book. She's doing very well!
But it's all built upon a shaky house of cards -- which is crashing down:
It's hard to know what to say about the Sen. Pat Toomey-brokered compromise on gun background checks. Regarding Pennsylvania's junior senator, although I still disagree with him on many things I admire his intelligence and political foresight -- he realized that a majority of his constituents wanted something done and he was smart enough to find what he could do without going against his core beliefs. I think that's how politics is supposed to work. But I understand, and a part of me agrees very strongly with, the New York Daily News crowd that this is a tepid compromise and kind of shameful that this was the best we could do.
But I've decided to look at the gun deal (which I think will pass with the help of "moderate" Northeastern Republicans, but we'll see...) from the glass-half-full perspective, and here are two reasons why. First, the National Rifle Association has won every single fight since 1994, and this whacked-out posse of conspiracy theorists needed to lose on something, to hopefully set the stage for much better gun legislation down the road. I don't think it will take much for these wicked witches to start melting.
Following up on my story earlier this week about a small but growing protest movement of parents opting their kids out of Pennsylvania's standardized PSSA tests, an official said the state Department of Education is "very concerned" about anecdotal reports of too much test prep and not enough conventional learning in the weeks leading up to the exams.
But Timothy Eller, the spokesman for the state Department of Education, also gave a full-throated defense of the high-stakes test that the state uses to evaluate which schools are rated as "failing" and will soon be used to grade teacher performance. Indeed, he compared the experience to an annual physical exam.
Great piece today on the front page of the DN today by my colleague William "Bill" Bender asking why Philadelphia still spends millions arresting dudes for small amounts of pot when the DA's office is no longer prosecuting them:
The SAM program, however, has created a gaping disconnect between how marijuana is treated on the street and in court: Thousands of smokers continue to be arrested every year, only to be told that prosecutors let the whole thing slide. For those who go through the SAM program, it's as if the arrest never happened - at least on paper.