Archive: April, 2010
Will Bunch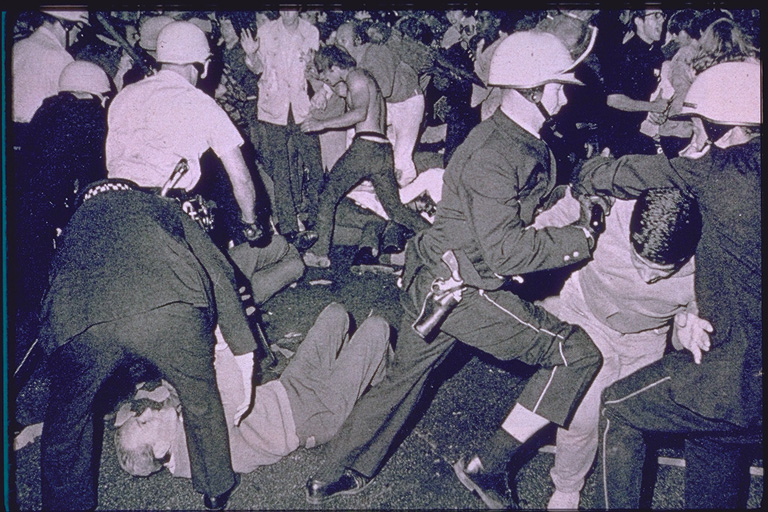 We can change the world...again?
Phoenix -- epicenter of the new war on civil liberties that's being waged in the name of curbing undocumented immigration -- is also on the short list for (and how appropriate would this be?) hosting the 2012 Republican National Convention:
Will Bunch
But then you've still got two other aspects of this issue that have to be resolved as well. We need to sit down as Americans and recognize these are God's children as well. And they need some protection under the law; they need some of our love and compassion. I want to assure you that I'll enforce the borders first. We'll solve this immigration problem.
Will Bunch
Sorry New York Post, but those golden eggs are fraudulent.
Will Bunch
Will Bunch
I was wondering when or even if the Democratic U.S. Senate primary between the incumbent party-switcher Sen. Arlen Specter and Delco U.S. Rep. Joe Sestak would ever heat up -- both sides are finally running ads, and the conventional wisdon is that Specter, who not long ago was a pro-Bush, pro-Santorum Republican, had skated far enough to the left on most issues like health care to at least beat back the rationale for Sestak's challenge. Maybe so, but there is still room on Specter's left.
Specifically, you can't consider yourself much of a progressive if you're still opposing closing the loophole that allows for purchases without background checks at gun shows, as Specter has done in his Republican past. Some 168 mayors from Pennsylvania are today begging Specter and his fellow anti-gun-control Democrat Sen. Bob Casey to change their minds on this issue, and this seems like one of those cases where good politics would actually be good policy.
Will Bunch
Two years before Arizona celebrates its centennial as the last of the 48 contiguous United States, I'm beginning to wonder if they can truly make it until 2012. If Republican Gov. Jan Brewer signs into law the harsh anti-immigration law recently passed by state lawmakers -- making racial profiling the law of the law in a manner in which the term "police state" is not hyberbole -- then the desert paradise will all but have seceded from the Union. Not legally -- not yet, anyway, although in a few years who knows? -- but morally.
Here's the proposed law:
Will Bunch
Tomorrow's news today:
Flyers' owner Ed Snider has just picked up another right-winger.This one won't help Philadelphia finally win another Stanley Cup, though.
The local sports mogul and long-time backer of conservative causes says he's a major investor in a new cable TV network that may have an even more difficult task than bringing hockey's crown back to Philly, and that is toppling the right-wing ratings champ, the Fox News Channel.
The Snider-funded
RightNetwork
— with a looser approach to conservative topics, including a comedy show and a jocular frontman in sit-com star Kelsey Grammer — is hoping to come to your cable box as early as this summer.
Snider — whose investment in RightNetwork is personal and not linked to his role as chairman of Comcast-Spectacor, which already owns the locally popular Comcast Sportsnet on cable as well as the Flyers, 76ers and the Wachovia Center — was not available for an interview.
"We're creating a welcome place for millions and millions of Americans who've been looking for an entertainment network and media channel that reflects their point-of-view. RightNetwork will be the perfect platform to entertain, inform and Connect with the American majority about what's right in the world."
Now, in entering the crowded and competitive world of politics on cable TV, Snider and his partners in the RightNetwork may have taken on a tougher mission than getting the 76ers back to the playoffs.
Ed Arke, who chairs the communications department as Messiah College in Grantham, Pa., said it will be difficult to convince conservatives to change the channel away from Fox News and its star line-up of Glenn Beck, Bill O'Reilly, and Sean Hannity. "Fox in particular, is a very personality driven network," Arke said. "They recruited star-power when they initially went on the air and had the benefit of having a stable of recognizable talent as they were building audience. 24/7 cable news can't survive on the promise something big is going to happen."
Like any cable start-up, the prospect of success for a venture like RightNetwork depends to some extent on the quality of shows but also its ability to get the nation's cable and satillite providers to carry it in a good spot on the dial.
As for programming, the proposed line-up on RightNetwork — as posted for a preview on its website, rightnetwork.com — is slanted more toward what could be called "conservative entertainment" and away from the newsier approach of Fox.
There is, for example, a right-leaning comedy show, "Evan Sayet's Right 2 Laugh," with standup comics making jokes about President Barack Obama's teleprompter and buying an Obama coin "because any collector will tell you a coin is worth a lot more when there's an obvious mistake on it." There's also a reality show called "Running" about six novice conservative candidates, and "Politics and Poker" with bombastic new-media star Andrew Breitbart.
There was considerable discussion yesterday — fueled by some confusion in initial news reports -- over whether Snider and the network would receive backing from another Philadelphia institution — Comcast Corp., which is currently seeking approval for its majority stake in NBC-Universal. Comcast Corp. issued a statement late yesterday that it is not an investor in RightNetwork and that it is evaluating the content of the new channel for possible addition to its channel lineup, as it would with any other start-up cable network.