Archive: April, 2009
Reporting, though, is only part of the equation: The motto around the Politico newsroom is to "win the morning, win the afternoon"--by which editors mean that Politico's stories need to be the most talked-about and cited in that day's news cycle.
Growing up a pro football fan starting as a kid in the late '60s, I can't say there was no hyping of the NFL draft -- certainly people speculated about the overall No. 1 pick when a college player like an O.J. Simpson was eligible, but it was nothing like the massive, months-long media drone that exists today. And as Ricky Watters might say, "For who? For what?"
Consider the Eagles, who electrified the city's already overloaded sports fans with two highly promising picks at two skill positions, wide receiver Jeremy Maclin out of Missouri (above) and running back LeSean McCoy from Pitt. In the many, many pre-draft articles that appeared in the Inquirer and Daily News, how many do think speculated that Maclin would be wearing the green this fall? That's right -- zero. This article goes on at length about the Birds' possible quest for a wide receiver, and Maclin is literally a footnote at the bottom, apparently because no one expected him to last until the Eagles' initial pick (which went from No. 21 to No. 19 in a last minute trade). McCoy was widely speculated as a Birds' draftee, but only with that No. 21 pick -- no one predicted that he'd last until the 53rd selection, where he ended up.
The New York Times has a great article in tomorrow's edition about how an interest group heavily funded by the oil and auto industries called the Global Climate Coalition was able to muddy the waters on manmade global warming, overriding scientists who said proof of this "greenhouse effect" was now beyond any doubt. Just who were these crackpot scientists that the industry-funded group ignored? Its own scientists. That's right -- even scientists who were getting paid by the likes of Exxon-Mobil were telling their funders -- privately, of course -- that denying manmade climate change was a joke.
You shouldn't surprised that the Global Climate Coalition (nice name, by the way) ignored all this and went ahead and used pseudo-scientific mumbo-jumbo to create enough "reasonable doubt" on the issue for the public and our elected pols to put off any tough choices on global warming. What's disturbing (although, again, not all that surprising) is the role that supposed "journalistic ethics" played in spreading this Big Lie, by cluelessly giving these charlatans equal play with the established science on the issue.
"Justice must be served. Retribution should not be a part of what we're talking about."
-- Senate Majority Leader Harry Reid (D-Nevada), April 23, 2009.
What is it with these people -- is there a more annoying surname in America? OK, "Eskin," but besides that....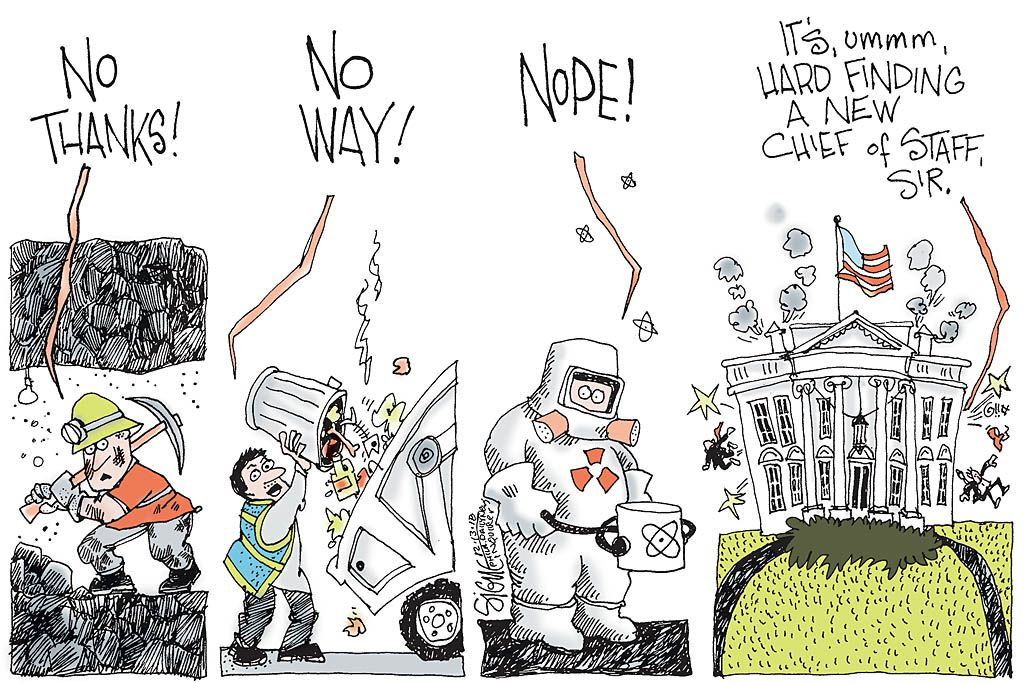 Signe has this great cartoon today, which is perfect because I'm too busy with other things (including -- gasp! -- a story for tomorrow's Daily News) to put up full-blown posts. So discuss Obama's first 100 days, the 2009 Phillies first 18 days, the Flyers' last day, the joke of casinos as your main economic engine, etc.
It's the most open thread in Attytood history!
We are America! I don't give a rat's ass if it [torture] helps, we are America! We do not (expletive deleted) torture! We don't do it.
You know the drill. Answer to come. No Googling.
Every picture tells a story, don't it? This one above, from the New York Times, shows the lunacy of a world where baseball teams and taxpayers spent billions to build new ballpark to cater to a class of wealthy people just as they are becoming non-existent.
Odd patterns have been forming inside New York's two shiny new baseball stadiums, ones not seen in years. Clumps of empty blue and green seats are painfully obvious because many of them are in the best sections or right behind home plate, while fans are concentrated in the more remote parts of Yankee Stadium and Citi Field.