Archive: March, 2011
Watching the rise of the Tea Party movement these last couple of years, the place where their argument against big government really falls apart comes over the need for regulations in a free-market capitalist system. A couple of things that week in particular drove home that idea. The first was watching Tea Party icon Sen. Rand Paul hawking his new book and stating his case with Jon Stewart on "The Daily Show" earlier this week. Paul tried to make the argument that all regulation is bad regulation -- but he couldn't.
He's right. [NPR fundraiser Ron] Schiller comes across as an effete, well-educated, liberal intellectual – just exactly the stereotype that critics long have used against NPR and other bastions of the news media. It's also a stereotype that NPR journalists try hard to combat every day in their newsgathering.
-- NPR ombudswoman Alicia Shepard, writing today on the flap that caused NPR chief Vivian Schiller (no relation) to resign.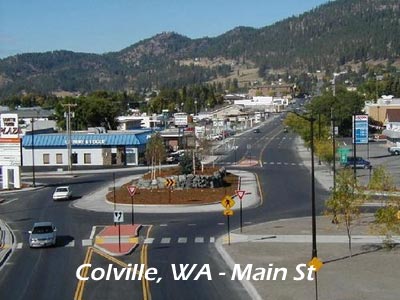 I promised not to forget this story, and now there's news:
The FBI has made an arrest in connection with the attempted bombing along the route of the annual Martin Luther King Jr. Day parade in downtown Spokane.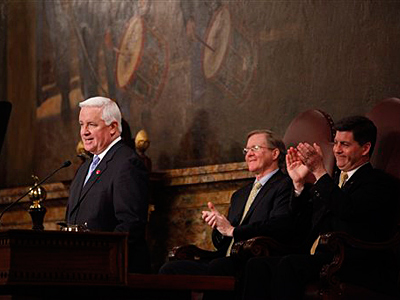 This is my front page (headline: "We're Getting Drilled!" -- see it here) opinion piece running in today's Daily News:
If there was a moral to the story that Gov. Corbett spun Tuesday in his much-anticipated, first-ever budget talk, it was that all wealth is not viewed equally - at least not when it comes to Corbett's notions about bailing Pennsylvania out of its $4 billion budget hole.
To middle-class state employees, to upwardly mobile college students at Pennsylvania-funded universities, to the working poor who've looked to Harrisburg for affordable health insurance, the newly inaugurated governor sent out more sacrifice signals yesterday than a third-base coach on a built-for-speed baseball team. He even urged that teachers take a one-year pay freeze — an issue not under his direct control.
The real story behind Charlie Sheen and his father, the 42nd-and-a-half man to serve as President of the United States of America.
Amazingly, some common sense emerged from Harrisburg today. The bad news is that it didn't come from Gov. Corbett, who'll be announcing his let-them-eat-cake-budget to the peasants of Pennsylvania at 11:30 a.m. It comes from Tim Briggs, outgunned Democratic state lawmaker from Montgomery County:
Even if we had the highest severance tax in the U.S., the companies would still drill and make billions. A tax wouldn't chase business away; it would protect local taxpayers from having to pay for the damage drillers cause to roads and drinking water.
The Mubarak of North Broad Street makes her move against free-speaking, Martin Luther King-invoking teacher Hope Moffett.
I guess we should be grateful that Arlene Ackerman doesn't have an air force.