Archive: February, 2013
Will Bunch
More evidence that Pennsylvania is totally fracked:
BUFFALO, N.Y. The oil and gas industry frequently argues that fracking means jobs. "This appears to be especially true for former regulators and other public officials in Pennsylvania," finds the Public Accountabiity Initiative, a watchdog group based here.
Will Bunch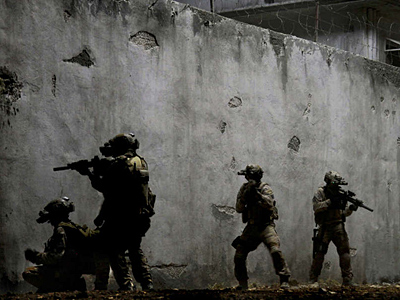 I'm going to back into this a little, but I finally, very belatedly got around to seeing "Argo" last night. Still a bit baffled by all the Oscar hype -- it's a very good movie (I did like how it evoked the great political thrillers of the '70s, when I was growing up) but nothing spectacular. And frankly I was a little troubled by the historical twisting of the facts -- the under-appreciation of the Canadian role in freeing six U.S. hostages from Iran in 1980, and the final airport drama that never happened. Ditto for (the solid but a tad dull) "Lincoln," which made Connecticut into a pro-slavery state for no other reason than to make a roll-call a tad more dramatic.
That's shameful and unnecessary -- but the killing-Bin-Laden movie "Zero Dark Thirty" is a completely different category. I got into it a bit -- also yesterday -- on Twitter, with Larry Mendteof all people, after the former Philly news anchor posted and promoting a video casting aspersions on how Hollywood's liberal "politics" had wrecked the Oscar chances of the Kathryn Bigelow-directed flick.
Will Bunch
Comes now the ever-salient Matt Taibbi of Rolling Stone with a good essay on why pretty much no one was ever charged with a crime for blowing up the U.S. (and world) economy in 2008. He said prosecutors became even more gun-shy about going after white-collar criminals after the 2002 prosecution and subsequent collapse of the accounting firm Arthur Andersen, when 28,000 jobs were lost. He writes that the threat of more employees getting laid off became like a hostage-taking:
I get that regulators are worried about job losses. They should be. But the long-term job losses are going to be much greater when investors around the world lose confidence in the U.S. financial system because they recognize that individuals do not face punishment for criminal activity. The individual incentive not to commit crime on Wall Street now is almost zero. Even the worst of the worst – like, say, a certain unindicted co-conspirator in an evolving insider trading case – is only threatened with individual prosecution after years of monstrous and obvious market manipulation, resulting in massive profits that he'll almost certainly get to keep most of, by the way, if previous settlements are any guide.
Will Bunch
A quick snapshot of a human rights outrage right here in our backyard:
Warren Hill has an IQ of 70 and has been declared by a state judge to be "mentally retarded" by a preponderance of the evidence. In other states, that would mean his execution would be an unconstitutionally cruel and unusual punishment. But not in Georgia, where a prisoner must prove his "mental retardation" beyond a reasonable doubt, a virtual impossibility given the inexact science of measuring mental disability.
Will Bunch
WASHINGTON -- On the same weekend that 40,000 people gathered on the Mall in Washington to protest construction of the Keystone Pipeline -- to its critics, a monument to carbon-based folly -- President Obama was golfing in Florida with a pair of Texans who are key oil, gas and pipeline players.
Will Bunch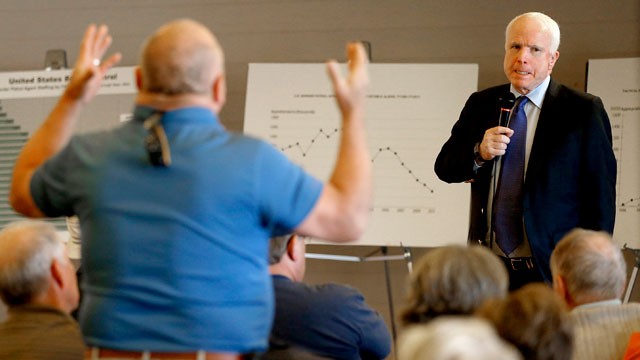 Sen. John McCain learned that Thomas Wolfe was apparently right: You can't go home again. Or maybe you can't keep flopping around on the immigration issue like a weathervane. Yesterday he held a meeting in an Arizona town called Sun Lakes (apparently one or two retirees live there) and tried to explain why he's gone from the godfather of immigration reform to Mr. Build-the-Danged-Fence (in 2010 when he had a Tea Party primary opponent, J.D. Hayworth, now polluting our local radio air here in Philly) to supporting a pathway to citizenship.
He explained to this gathering that was heavy on seniors and light on senors: "We are not going to get enough buses to deport them."
Will Bunch
It was the big story on Philly.com this morning, and for understandable reasons. In a world where our necks were already sore from the 24/7 never-ending tennis match between MSNBC and Fox, between the Obama-hating right and the Tea Party-loathing left, this one was a head exploder. How could such a prominent Pennsylvania Democrat -- a man who not only sat at the right hand of Ed Rendell in Philadelphia City Hall for a half-dozen years but hosted President Obama in his own home -- turn around and endorse Gov. Tom Corbett, a Republican who has ruled Harrisburg from the extreme right for the past two years?