Archive: February, 2011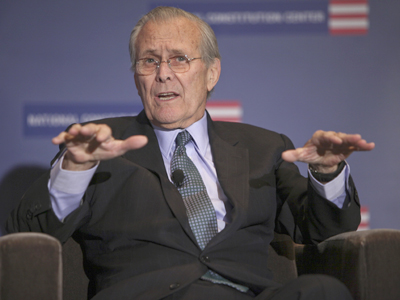 In our world, narratives and theories get strung out over a period of time until it's like they're chisled in stone as truth -- notwithstanding the fact they are totally based in mid-air without any roots or substance.
— Former defense secretary Donald Rumsfeld, speaking Wednesday night at the National Constitution Center in Philadelphia.
Rumsfeld, arguably the most contentious figure to run the Pentagon since the Vietnam era, wasn't talking about the controversial run-up to the Iraq War — when cases for weapons of mass destruction there and terror ties to al-Qaeda — vanished into that very same ether.
Come back to this space later tonight for predictably even-handed and bland coverage of Donald Rumsfeld in Philadelphia.
Remember those Commie trains to hell that Joe Biden proposed in Philadelphia yesterday. They've arrived in Congress already, and they're (gasp) dead!
The announcement was met immediately by deep skepticism from two House Republicans that could be crucial to the plan's success, raising questions about whether it can clear Capitol Hill.
Proposed new motto for McFadden's: If you can get past that guy who was killed after a fight here, the alleged racism and now the bigwig accused of sexual assault, you're going to have a really good time!
Seriously, why do the Phillies -- so concerned about their family friendly image -- allow these people to occupy such prime real estate at Citizens Bank Park?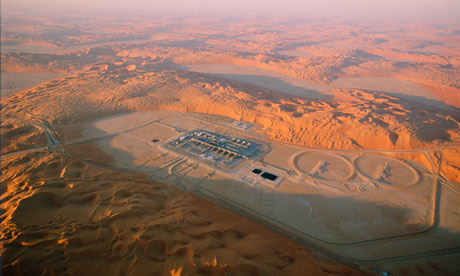 Hey, remember "peak oil"? I used to blog about that a lot back in the early days of this blog back in 2005 or so, and so did a lot of other libs. For a time it was on a par with global warming -- because a) oil prices were climbing well over $100 a barrel and b) it seemed to be the only logical explanation for the unholy actions that the Bush administration undertook in the Persian Gulf. But then Bush left office and the worldwide recession pressed down demand for oil so much that the price collapsed.
Personally, I never thought that the problem -- that the world had run out of "easy" oil -- went away, and in fact I think the thirst for hard-to-get crude and national gas was the driving force behind things like the deep-water drilling disaster in the Gulf and the environmental nightmare right here in Pennsylvania that is fracking.
CNN's Anderson Cooper was on fire last night -- I think when the new editor of the Daily News freed us from "the tyranny of the inverted pyramid," he was talking about something like this. But then, few situations are as intense as the people's uprising in Egypt:
"That is the truth of the Mubarak regime," he said. "They have blood on their hands...are they really going to change for themselves?" He also said he would expose the "lies" of the government. The word, he said, was "one we rarely use...but we can't think of another word right now to describe what the Egyptian government has been saying, because what they have been saying is the direct opposite of what they have been doing."
It turns out that Abe Lincoln was just another Big Government guy all the way. You see, "Honest" Abe (heh, indeedy) thought that Washington had the right to take some of your hard-earned dollars to build a governmental boondoggle called a transcontinental railway -- when a horse was perfectly capable of making the trip, albeit in slightly longer time. If only Lincoln had had Scary 21st-Century Supermarket-Aisle Soda Lady to tell him that "government is just too involved in people's lives."
Joe Biden came to 30th Street Station today to reveal the Lincoln scam:
This should get a gigantic thumbs up from the commenterati of Attytood:
Keith Olbermann, the former top-rated host of "Countdown" on the news channel MSNBC, will announce his next television home on Tuesday, and people familiar with his plans pointed Monday to a possible deal with the public affairs channel Current TV.