Archive: February, 2010
Will Bunch
The economic stimulus bill -- thanks to cash it's working:
Imagine if, one year ago, Congress had passed a stimulus bill that really worked.
Will Bunch
If you're a political junkie, there's been no better thrill ride than tracking the rise and fall of to-the-right-of-the-Tea Party Texas gubernatorial candidate Debra Medina. The protegee of sometimes out-there libertarian-GOP 2008 presidential candidate and Texas congressman Ron Paul stunned politics watchers when a poll showed her closing in on a sitting U.S. senator, Kay Bailey Hutchinson as the March 2 Republican primary neared -- a remarkable development that raised the possibility of a run-off with Gov. Rick Perry in an anything-can-happen year of anti-incumbent fervor.
But then Medina surely got knocked down a peg, if not several pegs, by an unlikely source: Glenn Beck, the non-titular head of the anti-Obama backlash. Last week, Beck interviewed Medina on his radio show and stunned her with a question -- did she think the U.S. government was involved in 9/11 -- which led to an equally stunning answer: "I think some very good questions have been raised in that regard." Medina's efforts to backpedal from that comment have not only been not very successful but linked her back to another mildly-popular-but-debunked idea, the "birther" theory that Obama is not a citizen.
Will Bunch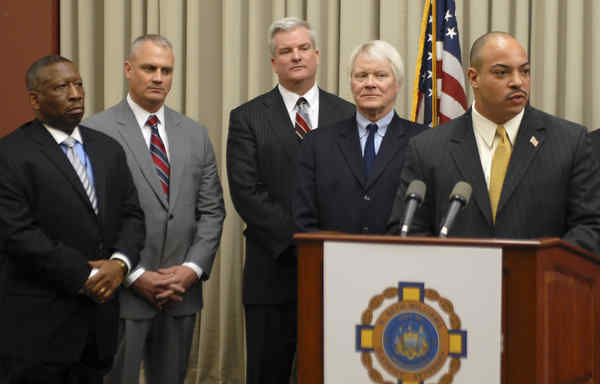 "Going to work in the morning is hell," [Ventura] Martinez sobbed. "Coming home from work is hell. I'm thinking that somebody is gonna...pop me from behind."

For seven years, Martinez has worked as one of the city's most productive police informants, bringing down more than 200 drug and gun dealers.

But Martinez now says that some of the police jobs were tainted, rooted in lies and motivated by power, greed and money. He says he admitted fabricating evidence to the FBI, the police Internal Affairs Bureau and the Police Advisory Commission. Martinez's admission could reopen and potentially overturn hundreds of cases, legal experts say.
-- "The informer, the cop & the conspiracy"; Philadelphia Daily News, Feb, 2, 2009.
Will Bunch
What in the name of God has happened to that great American institution....the "flash mob"? I'm so old that I can remember when "flash mobs" were supposed to be nerdy fun, way back in a prehistoric era when Dick Cheney was popular and the Phillies, not so much -- the bygone days of the fall of 2003. In fact, in my guise as an undercover investigative journalist for the Daily News, I attended what was billed as the first-ever Philly flash mob of that golden age.
Here (via Nexis, since Philly.com's archives policy is also still stuck in 2003) is the top of my exclusive report from Sept. 6, 2003:
Will Bunch
As noted in the comments section earlier today, Your Blogger is one Dirty (expletive deleted) Hippie who totally supports a revival of nuclear power in America, with President Obama announcing some baby steps in that direction earlier today. In 2010, the case for nuclear power is obvious: 1) The threat from greenhouse gases to our planet is real, and safe nuclear plants are a solution and 2) Unlike, say, the coal industry, where Americans die in order to produce energy every year, there have been operating nuclear plants for decades in the country with no fatalities from radiation.
But it wasn't always a slam-dunk issue. It's not surprising that in 1979 there were a lot of Americans who opposed nuclear power, considering that the near-meltdown at Three Mile Island took place that year. Also, what to do with spent nuclear fuel remains a problem, although today the issues are as much political as they are technological. So it's a little silly, in my opinion, for Matt Drudge to come out and make fun of all the artists who played at a "No Nukes" concert 31 years ago. Times change -- global warming wasn't even on the radar screen then. The only thing we can say with any certainty today about a "No Nukes" concert is...that it produced some great music. Here's the best video online from that show: a Young Elvis-ish Bruce doing "Thunder Road." Enjoy it -- regardless of your political persuasion:
Will Bunch
This is a tough one:
"Haven't thought a darn thing about the politics of this. I'm thinking about this good, active, speed-loving event that a lot of Alaskans, too, are really into. We've got our snow-machine races up there, and this is, of course, on a much greater scale, same type of sport though, same type of breath-taking, speed-loving, All-American event that we like to see up north."
Will Bunch
The NYT's Bob Herbert does Philly:
Gov. Ed Rendell likes to tell a story that goes back to his days as mayor of Philadelphia.
Will Bunch
Excerpts:
We are proud of and shall continue our far-reaching and sound advances in matters of basic human needs—expansion of social security—broadened coverage in unemployment insurance —improved housing—and better health protection for all our people.