Archive: February, 2009
Will Bunch
Neither let us be slandered from our duty by false accusations against us, nor frightened from it by menaces of destruction to the Government nor of dungeons to ourselves. Let us have faith that right makes might, and in that faith, let us, to the end, dare to do our duty as we understand it.
-- Abraham Lincoln, delivering his anti-slavery speech at New York's Cooper Union, Feb. 27, 1860.
Will Bunch
UPDATE: Fans of Attytood can tell me what they think of this blog in person tonight, when I talk about "Tear Down This Myth" and sign copies (which will be sold there by Joseph Fox) at Philly's legendary Pen & Pencil Club, at 1522 Latimer Street, at 7:30. See you there...bring your rotten tomatoes.
Roughly this time a year ago, inspired by the insanity that was the 2008 presidential race, I started working on Tear Down This Myth: How the Reagan Legacy Has Distorted Our Politics and Haunts Our Future." With a target publication date right before the Gipper's 98th birthday (or Reagan Day as modern conservatives have declared it), I did have one nagging worry. What if a decisive election victory last November by Barack Obama and congressional Democrats appeared to slay the Reagan myth for once and for all -- ushering in an Age of Aquarius in which government took a rational view of science, adopted economy policies that would actually help the middle class, and promoted a foreign policy in which our deeds matched our lofty rhetoric.
Will Bunch
* Offer only applies to aging Major League Baseball players. Not valid for former attorneys general or other Bush administration officials. Does not apply for Guantanamo or Abu Ghraib. Scandals in rear view mirror are closer than they appear.
Will Bunch
There are so many criticisms of Treasury Secretary Timothy Geithner's non-plan for dealing with the banking crisis -- liberal, conservative, Swahili, Martian -- that it's impossible to pick just one, but here's one that includes one of the greatest quotes ever:
That lack of specificity, said Johnson, isn't helping restore confidence, pointing to a sharp drop in the market today, especially in the financial sector. "The market is responding to vagueness," said Johnson. "This is not a plan. In the annals of plan-announcing, this is very vague."
Will Bunch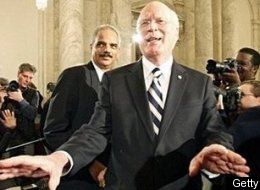 Kudos to Sam Stein from the Huffington Post yesterday for a) getting to ask a question at a prime-time presidential press conference as a reporter for a Web-only news site and b) asking a darn good question -- whether President Obama supports an idea backed by Senate veteran Patrick Leahy of Vermont for a national Truth Commission that would finally reveal all the facts on torture, rendition, wiretapping, political firings of U.S. Attorneys and other scandals of the Bush era.
Here's Leahy's proposal:
Will Bunch
The scoop from Philly.com (via email):
Good news: Comments will be re-enabled overnight tonight by Clickability.
Over the weekend, a Clickability release patch interfered with the display of our commenters' usernames on the site. Our Terms of Service promise our readers that we will not display their real names. We consider the Terms of Service a binding agreement and ban abusive readers for not meeting its terms; therefore we have to hold up our end of the agreement.
There were serious complications in trying to show previously-published comments separately from the comment input form. Plus, from Saturday onward, all comments came in with the wrong username applied. As a result, we had to pull the entire comment display down. Pulling comments down was our avenue of last resort.
When comments are re-enabled, anything posted by a reader between Saturday and Monday morning, should appear with "Anonymous" as a username. This is unavoidable. All older comments will have the correct username, and new comments will show the correct username as well.
We thank you for your patience on this matter.
Actually, a day without comments around here was kind of like an unexpected snow day.
Will Bunch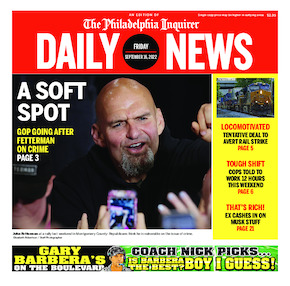 Suddenly, everybody in the world is talking about what we've been talking about here for nearly four years, about how to save journalism in a topsy-turvey information age. Now, a lot of folks are saying that newsrooms should charge for their online comment (which probably won't work, but I'll tell you why some other time), or maybe they'll just wait everybody else out like the New York Times apparently is. The only thing I know is this, which is that for journalism to survive in America, we need to start producing more stories like this one:
For seven years, Martinez has worked as one of the city's most productive police informants, bringing down more than 200 drug and gun dealers.

But Martinez now says that some of the police jobs were tainted, rooted in lies and motivated by power, greed and money. He says he admitted fabricating evidence to the FBI, the police Internal Affairs Bureau and the Police Advisory Commission. Martinez's admission could reopen and potentially overturn hundreds of cases, legal experts say.

Martinez, 47, claims that he and Officer Jeffrey Cujdik, a narcotics cop, lied about evidence in at least two dozen cases to gain illegal entry into homes and make arrests, for which Martinez got paid. Martinez says he did it for money, to bring down drug dealers, and because he and Cujdik were tight.