Archive: December, 2010
Will Bunch
Although the $120 billion payroll tax reduction offers nearly twice the tax savings of the credit it replaces, it will nonetheless lead to higher tax bills for individuals with incomes below $20,000 and families that make less than $40,000. That is because their payroll tax savings are less than the $400 or $800 they will lose from the Making Work Pay credit.
Will Bunch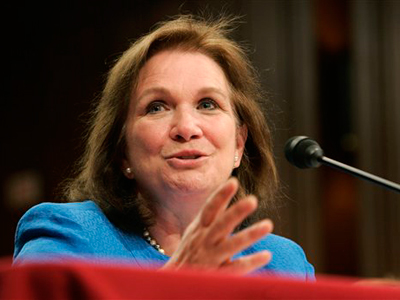 Elizabeth Edwards was a political spouse for the 21st Century -- smarter and maybe more driven than than her eventual cad of a husband, facile in the ways of the Internet, a Facebook friend to thousands of admirers but truly known by few if any. She was, quite simply, one of the most compelling figures on the American political stage, and no one was ready for her to exit stage left, But when it was announced yesterday that she had weeks to live, one feared that meant hours. She died today.
Jonathan Alter, a cancer survivor who came to know Edwards, wrote a eulogy that was everything she would have wanted, both touching and brutally candid:
Will Bunch
The United States announced that it will host World Press Freedom Day -- just as soon as we hunt down and assassinate Julian Assange. In addition to Lierberman's selection as MC, corporate sponsors include Amazon.com and MasterCard -- it's everywhere you want to be!
One of the facets of the May 2011 event:
Will Bunch
You've probably heard it a million times: Elections have consequences. Do they ever! In 2008, the coalition that elected Barack Obama and a sizable Democratic majority had little doubt that one consequence would be a dramatic shift on climate change, that after eight years of denial from the Bush administration there would be some concerted governmental effort to tackle global warming. Not only did no such thing happen, but now the political winds have pulled a 180.
Instead of legislation aimed at reducing the emissions of greenhouse gases in the United States, some leaders of the incoming GOP majority have called for McCarthy-style hearings going after leading climate change scientists, seeking to prove that the scientific findings that have been peer-reviewed and widely accepted were in fact manipulated to deceive the public. A centerpiece of such an investigation would be the hacked emails that became the debunked scandal called "Climategate" on the right.
Will Bunch
Turns out there was an extra enticement that brought ex-Phillie Jayson Werth to the nation's capital. In order to stimulate Washington's sluggish baseball economy, President Obama and his nemeses (nemisi?) in the GOP leadership announced tonight a deal to reduce Werth's federal income tax over the next two years. With the slugging right-fielder slated to make $36 million playing for the Nationals in 2011 and 2012, the compromise announced last night by Obama should mean an extra roughly $1.6 million that will be borrowed from China to pay Werth -- which apparently was the factor that tipped the deal to Washington and away from the perennially contending Boston Red Sox.
One side effect of the deal is that to make the arrangement pass Constitutional muster, the offer must be extended to all Americans making more than $250,000 a year, which will cost the federal treasury roughly $100 billion -- but after the loss of home-run bashing Adam Dunn to the White Sox, Washington is willing to overpay the Chinese banks to make sure that Nats' fans know their city is serious about winning.
Will Bunch
Who said it?
Our country is challenged economically as never before. You know, people talk about American exceptionalism and how there's sort of this automatic for America. Yes, we are exceptional, but we're exceptional when we do exceptional things, when we behave exceptionally. We're not doing that today. We're locked down into a gridlock status where other countries are racing by us. I'll give you an example. Over the next 20 years, $600 billion is going to be invested in green technology and green energy. New jobs. New jobs that could be for Americans. Ninety percent of that investment's going to be in other countries.
Will Bunch
There's very few headlines that have the ability to truly surprise anymore -- but was actually pretty shocking to learn late this afternoon that free agent Jayson Werth is leaving the Phillies for a lucrative-beyond belief seven-year, $126 million deal....with the Washington Nationals. That means will be seening the scruffy right-fielder 19 times a year for the foreseeable future. Almost all of the speculation had focused on Werth and his towering shots aiming for the Green Monster in Fenway Park -- I had not poured over every word of the coverage but I was not aware that the Nats were even in the ballpark for Werth. Wow.
I glanced at the comments on Philly.com and most were what you'd expect, about how awful the Nationals are and that Werth isn't going to change that. Perhaps. The Nationals have truly stunk their entire existence in Washington (not that Montreal was much better) and I have to believe they'll still be pretty stinky in 2011. But that could change in 2012. I think Phillies fans should be concerned about what's happening in the nation's capital, and not just because of the corrupt and inept people running the government there.
Will Bunch
Last night, Glenn Beck continued what is becoming a holiday tradition for him: A high-priced national movie theater simulcast, although this year he dropped the holiday pretense of 2009's "The Christmas Sweater." This time, the ostensible theme was Beck's latest tome -- "Broke: The Plan to Restore Our Trust, Truth and Treasure" -- and while the centerpiece at Pittsburgh's Benedum Center was supposed to be a restored 1965 Mustang (I'll try to explain later) the central prop became a massive sandwich from the Steel City institution Primanti Brothers, beef slathered in cole slaw and french fries. It was supposed to symbolize the federal budget apparently, but it seemed a fitting metaphor for the entire Beckian extravaganza: Overly stuffed yet offering only empty calories and most likely a severe case of indigestion for anyone not accustomed to a right-wing diet larded with misinformation.
The oversized sandwich offered Beck and his audience -- at 537 theatres across America as well as in Pittsburgh -- a chance to devour the red meat that it seemed to enjoy the most: Jokes about Michelle Obama. When the Fox News Channel and radio right-winger first shoved the sandwich toward the camera, he called it "Michelle Obama's worst nightmare" -- not unfunny, given the First Lady's anti-obesity crusade -- but later Beck piled it on, saying to loud applause that "I don't care if she's the Queen of Sheba, or I don't care if she's a Republican, but I don't need the First Lady to tell me what to eat or if I'm fat." By the end of the night, he somehow compared Michelle Obama to Darth Vader.