Archive: December, 2009
Will Bunch
Did I mention that my favorite music is power pop?
Will Bunch
My favorite Steve Martin riff from the era when comedy was something you bought on 33 1/3 RPM vinyl records was his tips on how you, too, can become a millionaire and never pay taxes!*...."First, get a million dollars..." Well, Dave Eggers (top) got a wad of cash for writing a best seller memoir called "A Heartbreaking Work of Staggering Genius," but he's actually paying it back, in part, by trying things that we mere working-stiff non-millionaire mortals can't. He threw his proceeds back into his love for writing, founding the cutting-edge literary journal McSweeney's. So what's his latest cutting edge project?
Will Bunch
I don't know if Sarah Palin is going for the White House in 2012 or the big house, as in a mansion paid for by selling a couple of million books in 2009, but I do know she's now the Queen of The 26 Percenters. Fresh off her seeming endorsement of the anti-Obama "birthers," Palin came out with a wintry, Twitter-y blast against climate change tonight, urging the president to boycott this week's global warming summit in Copenhagen over what she calls "snake-oil science."
Palin has a long record of saying things about global warming, since living in Alaska, she can see climate change from her house! And she's been nothing if not consistent in her amazing inconsistency on the subject. John Kerry could windsurf all the way from here to Bali on these shifting political blasts of hot air:
Will Bunch
Rock 'n' roll music in the 2000s was a little like space junk: The debris of skyrocketing careers launched in the 1970s and 1980s continue to orbit the world of pop music, cluttering up the atmosphere for any new missions. The irony is that some of the old supergroups that refused to go quietly into the musical night made some of their best music in years during the decade-with-no-name. You just didn't hear it, because they're "classic rock" artists but "classic rock" radio can't play any songs from after 1985, or it might melt. In the last couple of years, R.E.M. and the B-52s actually released great albums, except their fans were all out working PTA bake sales, and the kids just don't understand. Here's R.E.M.'s non-hit single from 2008, "Supernatural Superserious."
Will Bunch
It's beginning to look a lot like the hacking of private emails by scientists at a British global-warming research center -- the unlawful act that touched off the controversy now known as "Climategate" -- was not an isolated incident. Instead, there is new evidence of a coordinated, global campaign to discredit researchers who've endorsed the theory of manmade global warming, on the eve of the critical multi-nation summit on climate change that begins today in Copenhagen.
You don't think the "Climategate" revelations are getting the media attention they deserve (even though it was the top of the hour story this morning on both CNN and liberal-only-after-dark MSNBC...just sayin'...)? Well, that's a debate worth having. But this needs to be also included in the debate as well:
Will Bunch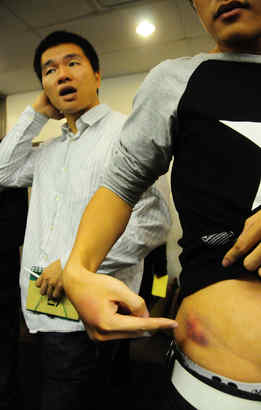 Last week in Philadelphia was a time for I-can't-believe-this-kind-of-thing-still-happens-in-2009 stories. First was had the case of Joaquin Rivera, a leader of the city's Puerto Rican community who walked into a hospital ER with chest pains, was ignored as he sat there dying over 11 minutes and then was robbed of his watch by three thugs. Then we had the case of South Philadelphia High School, where in just one day more than two dozen children were hunted down and assaulted for one reason: Their race. The attacks on Asian-Americans by fellow students -- mostly African-Americans, by most accounts -- are an outrage, one of the biggest stains on this already much-scarred city in a long time.
I just edited the Daily News story for tomorrow's paper and I see that while at least 10 kids have been suspended -- meaning that authoritries know some of the alleged perpetrators of the violence -- no one has been arrested. Why not? I realize that normally "a fight in school" is something that should be handled through school discipline, but what happened in South Philadelphia High seems to have gone well past that, and I think it's going to take a little more than increased sensitivity training to send a message to both the students who were involved and their parents. And the school's principal certainly also merits a closer look from her higher-ups, for allowing the situation at the school to deteriorate to this disgraceful point.
Will Bunch
It's a sad sad story when a mother will teach her
Daughter that she ought to hate a perfect stranger
And how in the world can the words that I said
Send somebody so over the edge
That they'd write me a letter
Sayin' that I better shut up and sing
Or my life will be over
-- "Not Ready to Make Nice," the Dixie Chicks, 2006.
How many of the bozos who burned the Dixie Chicks CDs have said far worse about our current "war president," (sigh), Barack Obama. The great thing about Natalie Maines and Co.? They stood their ground. And they didn't back down.