Archive: November, 2008
"The adjectives tumble over one another. He is not only the handsomest, the best-dressed, the most articulate, and graceful as a gazelle. He is omniscient; he swallows and digests whole books in minutes; he confounds experts with his superior knowledge of their field. He is omnipotent."
I'm sure you can guess, but answer to come later today. (No Googling!)
isn't so liberal, it turns out.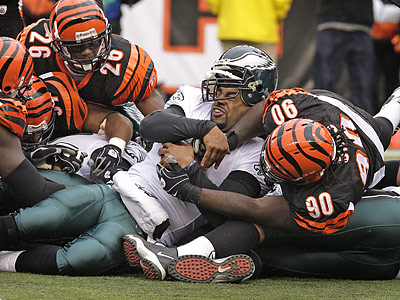 I thought I was done thinking -- let along blogging -- about today's Eagles' debacle but this is so stunning I have to put it out there. Donovan McNabb apparently played the entire overtime period in the 13-13 tie -- the first tie in pro football in six years -- with the Bengals without knowing one of the basic NFL rules, that regular season games end in a deadlock if no one scores in the 15-minute stanza:
No one was more surprised than McNabb that it ended so soon—3 hours, 46 minutes after the opening kickoff. The 10th-year quarterback thought it would keep going until someone scored, just like a playoff game.

Wrong.
The bad news is that 1968 is finally over here at the Daily News, but the good news is that the Inquirer has picked up the ball and run with it and carried it across the 1969 goal line, with a magical history tour back to the site of that year's Woodstock music festival. These articles answer two questions: A) What is the target age group for Philadelphia Media Holdings and b) which of the two main U.S. Senate hopefuls from Minnesota was in attendance that fateful weekend 39 years ago?
The answer may surprise you.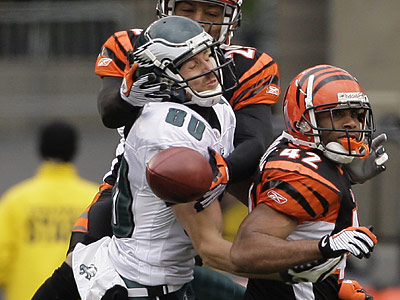 The Eagles have just established a new modern record for the worst game ever that did not result in a loss. Their 13-13 ties with the Bengals was quite an achievement....for suckitude. (It was also virtually unwatchable, which should not be the case with an overtime game in the NFL.)
As noted here earlier, pitchers and catchers report to Clearwater on Feb. 14.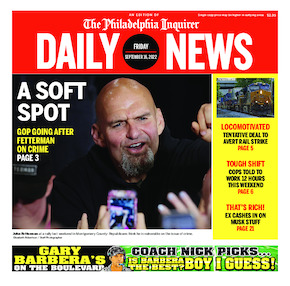 Today's Daily News came with a large "OBAMA! POSTER INSIDE" as noted on the front page -- hopefully that sold like a million papers and saved my job for the next few weeks.
You should have seen the hot "McCAIN!" poster that we had all worked and ready to run if the Republican ticket had won, not to mention our nifty set of commemorative "McCain Palin/Country First" gold-plated coins we were going to sell on Philly.com, alongside our Chase Utley F-Bomb Bobblehead for $9.95 plus shipping and handling.
Hey, it's not much more dumb than some of the things they really are doing.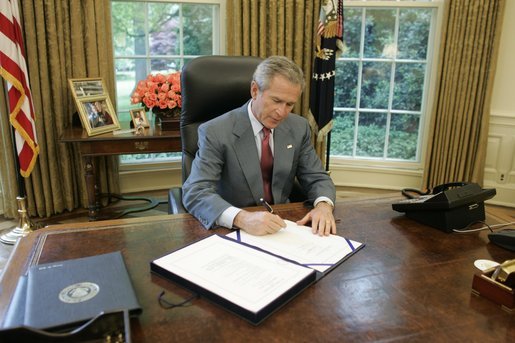 Earlier this week, I told you about the likely battle raging behind the scenes over future criminal probes of the Bush administration, which -- if pursued -- could even land a few of the president's men and women behind bars. Today, Charlie Savage of the NY Times, who won a Pulitizer Prize for writing about the frightening growth of presidential authority during the Bush 43 years, takes up the issue (including a shout-out to Attytood's Q-and-A with Barack Obama last April).