Archive: October, 2009
Charlie Manuel (see below).
The Dodgers -- along with his ex-teammate Phillie Pedro Martinez -- seem to be under the impression that Manny Ramirez' leadership skills can carry L.A. past its 3-1 deficit:
Three players from that resilient Boston squad are participating in this series: the Dodgers' Manny Ramirez and Doug Mientkiewicz, and Phils pitcher Pedro Martinez.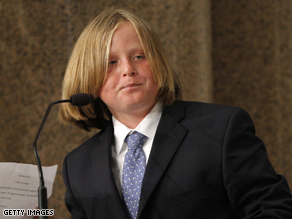 I've never met anybody who says they're pro-"indoctrination," have you? Indeed, over the years we've all seen stories about classrooms with teachers who've spouted their political views or punished a kid for his beliefs or for wearing a particular message on a shirt, and everytime it happens -- regardless of whether the offender is conservative or liberal -- it is, indeed, infuriating. The job of teachers -- in a public school, at least -- is to help teach kids how to think for themselves, not to tell them what to think.
That's why -- although I think the reaction by conservative protestors was a bit...OK, actually way, over-the-top -- I do agree on a certain level that those kids at that South Jersey elementary school singing that song about Obama was a mistake. Today, it inspired a Daily News op-ed by local 1210-The Big Talker radio host Dom Giordano on what he sees as a growing issue of indoctrination:
According to the Pennsylvania GOP, by way of John L. Micek by way of the Pittsburgh Post-Gazette. So why did they suggest such a thing, in the ad above:
"I think we were obviously trying to get some attention to this important race,'' said Michael Barley, spokesman for the state Republicans.
Like a lot of people, I don't really understand the Obama administration's "war" on the Fox News Channel, especially the politics of it all. It's not going to change any behavior at FNC or do anything but keep the anti-Obama crowd that watches Fox in the same perpetual state of agitation that it's always in; of course, liberals already have their mind made up against Fox and as for those mostly mythologicial "swing voters" out there, do you think any of them could care less about this, months away from the next federal elections?
So it seems like a big waste of time, especially because....well, you know what else is kind of a waste of time? The Fox News Channel -- which can get so worked up about stuff that can't matter to the average struggling American, like all those unemployed Americans who've been home all day and are bored out of their minds by the time Glenn Beck comes on at 5 to rile 'em up. As Jason Linkins of the Huffington Post notes:
Another way Fox has simply left the fold of legitimate news organizations is by placing a nonsensical amount of emphasis on bizarre issues. Rationally speaking, White House communications director Anita Dunn and the Mao quotes she cites in lectures are simply not going to have a measurable impact on America. But skyrocketing unemployment certainly is. Similarly, the war in Afghanistan is a gripping issue in which all Americans have a huge stake -- in some cases, a life-or-death one. But the White House "Pay Czar" is only going to have an impact upon a certain population of Wall Street executives, who could end up being merely super-super-wealthy instead of super-super-super wealthy. Yet Fox would rather concern itself with the latter issue, at the expense of the former. As Dave Weigel pointed out a few days ago, when Fox places their emphasis on covering Anita Dunn instead of, say, skyrocketing unemployment, you get "news" that is "obscure and...disconnected."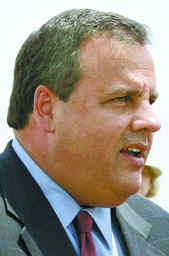 They always say that it's better to be lucky than good -- just ask New Jersey Gov. Jon Corzine. The guy practically walked into his 2009 re-election campaign with a giant "Kick Me" sign on his back: Not only has his leadership of the Garden State been uninspired at best and sleazy at its worst, using childish campaign tactics, but he's a multi-multi-millionaire Wall Street guy at a time when most of the public -- regardless of ideology -- thinks that an old-fashioned tarring-and-feathering would be too good for these people.
But the GOP put up a supposed tough-guy prosecutor -- Chris Christie (top) who upon further review is actually the most corrupt candidate in the race, which in most New Jersey elections is not a good place to be. And there's a compelling indepedent candidate who probably can't win but can siphon thousands of votes from these two, but mainly from the anti-Corzine independents who were once flirting with Christie. The bottom line is that Corzine can win with maybe as little as 40 percent of the vote on Election Day -- as frustrated voters go with the New Jersey devil they know.
There's a lot more 2009 baseball left in South Philly, but this is my only chance to see Bruce at the Spectrum. So I'll see you guys tomorrow!
UPDATE: It was an amazing night to be in South Philly -- when Springsteen performing the entire "Born to Run" album and saying goodbye this week to the Spectrum is only the sidebar, you know that there's major good karma in this city right now. This song was one of the highlights of the show last night -- do you think the energy waves carried across the street to J-Roll?
Have you no sense of decency, sir, at long last? Have you left no sense of decency?\
-- Joseph N. Welch to Sen. Joseph McCarthy, Army-McCarthy hearings, June 1954.