Archive: October, 2009
Will Bunch
There's a big debate -- and it's one worth having -- over whether people spend too much time worrying about Glenn Beck, Rush Limbaugh, and company. As some have pointed out, the most popular primetime host on the Fox News Channel, Bill O'Reilly, draws just a fraction of the ratings that the supposedly dying network nightly newscasts receive. That's true, but the cumulative exposure to these right-wing gabbers -- especially Limbaugh, who even critics admit gets about 13 million daily "Dittohead" listeners -- is huge; they tend to control the conversation at places like the Thanksgiving dinner table, and they can influence the millions of folks mostly watching "American Idol" instead of American politics.
Case in point: Global warming. These conservative voices have been out on a limb these last few years, disputing what most of the world's top scientists report, which is that manmade pollution from greenhouse gases is warming the planet, with serious likely consequences. Are folks getting the conservative message? You bet.
Will Bunch
Finally I asked her, "What do you think our boys fought for at Omaha Beach?" I haven't seen much, so much blood and guts, so much suffering, much sacrifice. For what? For freedom and equality. These are the values that give America a great nation, one worth dying for.
-- Philip Spooner, 86-year-old Republican World War II veteran from the great state of Maine.
Will Bunch
Unfortunately, we're down 4-0 in the Series...but we can come back!
Will Bunch
It's both! Heh, indeedy.
Will Bunch
This week, it seems that our state of Pennsylvania is coming the poster child for over-the-top right-wing speech. First we had the state Republican Party of Pennsylvania make the McCarthyist suggestion that the president of the United States is a Communist, by placing a hammer-and-sickle in the "O" in Obama -- a ploy party officials laughed off as a way to get people to pay attention to an underpublicized statewide judicial race. Now we have the bizarre case of a Republican state lawmaker from western Pennsylvania, Daryl Metcalfe.
I don't think there's anyone who doesn't think that greenhouse gases and climate change is a complicated issue. When Americans can't agree a) on how serious the problem is and b) what, if anything, to do about it, especially when the potential long-term remedies will have a short-term impact on an economy that's already struggling, people are going to have strong opinions. But when we call people who disagree with us on that issue "traitors" and "Benedict Arnolds" -- even if they are soldiers who fought for the U.S. in Iraq and Afghanistan...well, that's remarkably sad, but that's America in 2009 for ya. It should be shocking when it comes from an elected official, but it's not.
Will Bunch
The closing of the Spectrum has been the most drawn-out affair since the 2000 election, maybe since the death of Generalissimo Francisco Franco. Bruce would have been a fitting end, but there was AC/DC and now there's Hall and Oates and then, finally, four Pearl Jam concerts. But actually, you know what's taking even longer to close?
Gitmo.
Will Bunch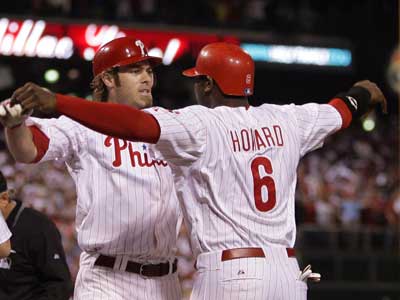 Let other cities bring our their assault vehicles and other high-tech anti-riot gear. This is Philly, and we're greasin' the poles. Whoo-hoo! Go Phillies tonight, and then Katy, bar the door!
UPDATE: Once again, J-Tann is your man for the game. Meanwhile, it's already 1-0 Dodgers. Who needs greased poles when you have Cole Hamels to tamp down your celebrations?