Archive: October, 2008
Will Bunch
But Pat and I have the satisfaction that every dime that we've got is honestly ours. I should say this, that Pat doesn't have a mink coat. But she does have a respectable Republican cloth coat, and I always tell her she'd look good in anything.
-- Richard Nixon, "Checkers" speech, Sept. 23, 1952.
Will Bunch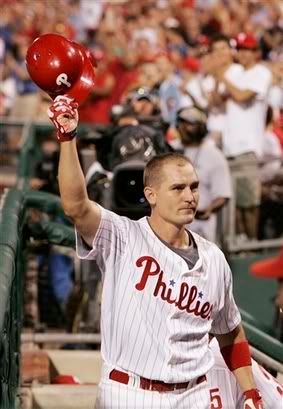 There's been a lot of speculation on who might step up as a hero for the Phillies to deliver the city's first major championship in a quarter-century. Part of me wouldn't care if it's a 12-year-old kid in the stands who robs Tampa of a home run or some guy on the grounds crew...just as long as the Phillies win the World Series. But another part of me -- the writer part -- is rooting for backup catcher Chris Coste to write a Hollywood ending to his remarkable story in Game One tomorrow night.
He may not be on the A-list, not on a team with MVPs and maybe a couple future Hall of Famers in Howard, Utley, Rollins, Hamels, etc., but the Fargo native is a hero to those who like a good yarn and to Phillies' fans, ahem, of a certain age who believe it's never too late in life for someone to break through a barrier, if they push hard enough and long enough. Coste spent more than a decade fighting his way from North Dakota obscurity by way of a tiny Division III college and a start in the low, low independent minors in Fargo with a team that had him working in the front office by day.
Will Bunch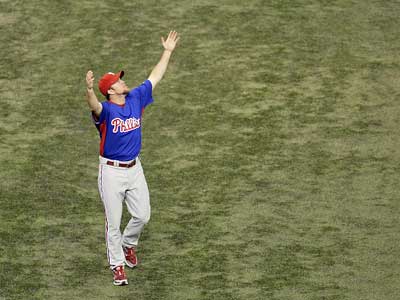 Yes?
Some of you may have already heard this (or even figured this out for yourself) but the Phillies, in going to their sixth World Series, have pulled off the unusual achievement of having a different opponent every single time: Boston (1915), New York (1950), Kansas City (1980), Baltimore (1983), Toronto (1993) and now Tampa Bay (2008). That's weird, and four of those pre-2008 times were against teams from the current American League East -- Red Sox, Yankees, Orioles and Blue Jays -- and each of those times they lost.
Will Bunch
Barack Obama's dangerous associations: In 1991, as a promising but obscure editor of the Harvard Law Review, Obama spoke at the school that produced radicals like Keith Olbermann, banned-by-McCain columnist Joe Klein, and Your Blogger, as explained in this student-written article (PDF file) and on Olbermann's "Countdown" segment below:
Will Bunch
The DN editorial board takes the tough stand: In favor of earmarks:
What is clear is that John McCain's continuing attempt to conflate "earmark" and "waste" is just plain wrong. Among the more expansively defined earmarks is $3 billion in aid to Israel. Even the more narrowly defined earmarks include grants for infrastructure, funding for universities and museums and medical research. No one can say how many of the current programs funded by earmarks would, if the earmark were eliminated, have to be funded another way
Will Bunch
OK, I must be the last blogger in America to post this (h/t John A.) , but at the bottom is the lost outtake from last Wednesday debate. McCain -- I mean, the Penguin, got off the best line of the night.
Penguin: ...but I intend to stick to the issues. Now what are the issues? There is only one. Batman. Who is he?
Will Bunch
If you're rooting for the LOLPhils in the World Series, we have a new slogan:
Judge for yourself: It's "Why Can't Us?"