Archive: October, 2008
Will Bunch
How come all the blather tonight on 1210, Comcast Sports Net, Fox and all those other stations isn't billed as "The Mid-Game Show."
Why did Manuel announce that Ryan Madson was his 7th inning pitcher -- and give the Rays a couple of extra hours to prepare for that.
First pitch in one hour.
Will Bunch
You know it's funny, but I predict this bizarre little 3 1/2 inning showdown in South Philly will be the most watched baseball game of the last few years. The TV ratings for the Series have been as terrible as expected, in part because Tampa is a great baseball team with no stars in an era when sports viewership can be as much Britney Spears as anything else (including politics). Who these millions of Americans who only watch the Yankees or the Red Sox in the World Series are, I have no idea...but it annoys the heck out of me.
Will Bunch
Those whining fans from Tampa Bay wouldn't have lasted five minutes here back in 1911, when snowballs were just a gleam in Santa Claus' eye. Here's the New York Times on what happened when the not-to-be-forgotten Philadelphia A's were in the 1911 World Series, and there was a massive rain delay:
Hostilities were already high as the Philadelphia Athletics and the New York Giants traveled back to Philadelphia's Shibe Park with the A's leading, two games to one. Christy Mathewson, the Giants' otherwise gentlemanly ace, had accused A's groundskeepers of wetting the infield in Game 2 to slow down New York's famous running game. In what was perhaps a related incident, the Giants' Fred Snodgrass spiked the popular A's third baseman Frank Baker and left him a bloody mess.
Will Bunch
You would have thought for a minute that Bud Selig -- on some bizarre whim -- had announced that he wanted to wrap up the World Series right into the very worst of Mother Nature's Octoberfest here in the Philadelphia area, and to prove his arbitrary nature had also decided to do so not at Citizens Bank Park but on a mud-soaked college quad 20 minutes away. It would be hard to imagine what else -- besides a Phillies world championship -- could draw so many people on a day when rain poured down in chilly sheets, as wind whipped off the Delaware River and the thermometer struggled to stay above 40.
Nobody had to be there on an ungodly day -- but here they were, 9,000 maniacs, lined up around the entire south side of the Widener University campus in Chester, rounding a corner with no end in site, all awaiting admission to a mud-soaked field with no shelter from the elements, all to hear a 25-minute speech by the Democrat who wants to be the next president of the United States. As the growing, mostly young throng sunk into mud that was more than ankle deep in spots, it was a little like Woodstock without the three days of music or the brown acid.
Will Bunch
If I'm not mistaken, I believe I heard Bug Selig blame the Weather Underground for last night's debacle. I mean, he blamed everyone else.
There's two ways to look at this thing. If the Phillies win, it will be something to tell our grandchildren about, one last crazy hurdle that the baseball gods placed in their way -- it's surely given talk radio about a year or two's worth of fodder already, and this thing could go on for days.
Will Bunch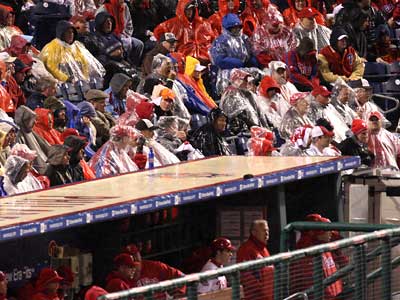 UPDATE: Game called for tonight, with a likely resumption in prime time tomorrow for three and a half remarkable innings in South Philadelphia.

Baseball-wise, it's a whole new ballgame. In theory, the Phillies could send out their Game 6 starter Brett Myers, but I don't think that's going to happen. My totally uninformed guess is that Madson and Lidge would be the main pitchers, with a possible cameo from J.C. Romero. The Rays, on the other hand, may counter with starter James "Big Game" Shields, who beat the Phillies in Game 2.
Will Bunch
10:40: Heart stopped there on liner to center, caught by Victorino. 2-2 going into the bottom of the 6th.
Gut-wrencher. Reminds me too much of another Philly-Tampa Bay game at the sports complex, different sport, different stadium.
10:33: Lots 'o delays as the ground crew tries to work through this. The infield has become mud as Pena gets an infield hit and steals second through the slop. Could they really call a decisive World Series game in less than 9 innings. How about suspending this and picking up tomorrow afternoon at the Bank...that would be a once in a lifetime experience. Charge fans $500 each at the door to fans wanting to see the Phillies win a World Series, and give all the proceeds ($20 million?) to charity.
Will Bunch
Is may be the final insult from the "dead or alive" Bush administration: the 9/11 murderer they vowed to bring to justice -- before suffering war ADD -- is not only still a free man but has also inked a book deal:
ISLAMABAD: World's most wanted fugitive, al-Qaida chief Osama bin Laden is reportedly writing a book on the struggle of his terrorist network that dispenses money, logistical support and training to radical groups in over 50 countries.