Archive: January, 2011
Last night at around 7:45 p.m., dead eagles started dropping from the skies over South Philadelphia. Another sign of the End Times, or just a sign that another football season was ending in Philadelphia the way it always does?
You have to be philosophical. No one expected the 2010-11 Eagles to go to the Super Bowl at the start of the season, and everybody was right. You don't win an NFL championship with one of the worst offensive lines in football. or with a young defense that is decimated by injuries. But Michael Vick, DeSean Jackson, and company gave fans more excitement than we expected, so, in the end....it was what it was, and the Eagles were who we thought they were.
All of us -- myself included -- are still reeling emotionally from yesterday's nightmare in Tucson. We express our deep condolences are for those who lost loved ones. and we pray for those like Rep. Gabrielle Giffords who are fighting for their life. There will be plenty of time for talking about the rhetoric of rage in America, and when we do have that conversation I hope it will be a rational one. But this afternoon is a time to focus on grief and the tragedy of what was taken from this earth in just a matter of seconds.
The loss of Christina Green -- born in Pennsylvania on Sept. 11, 2001 -- is sad beyond belief.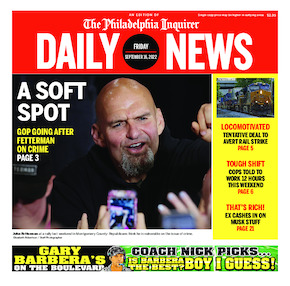 I've been flipping through this morning's Daily News -- looking for my paper's crusade to save the jobs of dozens of salt-of-the-earth Philadelphians about to lose their jobs in this era of 10 percent unemployment, when people without a highly specialized high-tech or knowledge-based skill, or of a certain age (i.e., over 50) may never be able to work ever again. I know some of these folks who work at my nearby Acme -- one of five Acme supermarkets about to shut down. So it's a minor inconvenience for shoppers like me, but a life-changing experience for the checkers, the stockers, the cleaners, and all the other hard-working folks employed there. The reasons their jobs are, as the expression goes, "no longer viable" are complex, but the lion's share of the blame belongs where it usually does, with dumb corporate management, blitzed by Wegman's on the strong side and Pathmark on the weak side.
I'll bet there's a strong overlap between Acme workers and Daily News readers, but -- like I said -- I can't find the passionate campaign to keep the supermarkets open. It must have run in the same place in the paper as our memorable campaign to block Dow from shutting the iconic Rohm & Haas plant that once dominated Bridesburg, or our clip and save petition that tried and failed to keep open that Express Scripts pharmaceutical shop open, up in Bensalem.
China to build new high-speed rail line....in California?
Please do not relay this information to Gov. Rendell.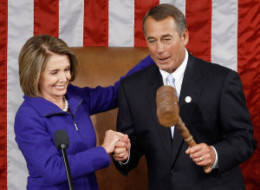 It turns out he has a giant gavel.
Interestingly, it also appears to be very tan.
Glenn Beck's new year started a few days late, with a signal that he's hoping that 2011 will be even more momentous than the first two years of the Obama presidency, when his massive resistance to the White House catapulted the right-wing media icon onto the cover of Time magazine and made Beck a millionaire many times over.
"We cannot survive as a nation much longer," said Beck in a New Year's message posted on his website, not unless there is a "fundamental transformation" -- quite an ironic statement since many of Beck's biggest fans turned away from Obama because of the president's use of that very same term.
The second-best surprise of the hours-away-from-ending Ed Rendell administration in Harrisburg (the first best, of course, being his nomination of me for a Pulitizer Prize in the new category of Weather Rants) was the Democratic's environmental record. He didn't seem especially "green" during his tenure as mayor of Philadelphia, but as governor he was a strong advocate for alternative energy. He wasn't perfect, though -- while he was smart to realize the income potential of taxing the hydraulic "fracking" of valuable natural gas in the Marcellus Shale, his administration could have done much more to regulate the dirty "gold rush" upstate.